6-01-02 Berkeley, CA
---
Philzone.org - Philzone Phansite Community Discussion Board: Setlists and Reviews: Phil Lesh & Friends: 2002: TABA Summer Tour 2002: 6-01-02 Berkeley, CA
---





By Taperrob (Taperrob) (172.169.80.117) on Saturday, June 01, 2002 - 04:23 pm: Edit Post

from Admin:

Phil will be appearing at the Tower Records on Durant Ave
in Berkeley today from 2pm to4pm.

sorry for the late notice
---





By Terrapin Flyer (Terrafly) (12.225.125.117) on Saturday, June 01, 2002 - 11:11 pm: Edit Post

it's a hot one.........
---





By Sean Preece (Greenchooch123) (65.58.224.191) on Sunday, June 02, 2002 - 12:23 am: Edit Post

Set 1: Jam> Welcome To The Underground> Jam> Cumberland, Rob played kazoo intro> Ramble On Rose, Roadrunner> Jam> Again and Again > Unbroken Chain Set Two: Jam> Tomorrow Never Knows
---





By oh yes, I will (Yangety) (63.89.190.100) on Sunday, June 02, 2002 - 12:48 am: Edit Post

DAMN! I was hopin' for the Chain at the Frost tomorrow. Oh well....at least I got to the sick one from 8-8-98 live at da Fillmore.
---





By Rev. Bud E. Greene (Randomposter) (205.188.193.167) on Sunday, June 02, 2002 - 02:53 am: Edit Post

Jam
welcome to the underground
cumberland
rainy day women tease
cumberland
Ramble on Rose
roadrunner
jam
again and again
ramble on rose
road runner
again and again
unbroken chain


jam tomorrow never knows
jam
no more do i
jam
dark star tease
cryptical
jam
dark star
st steven
the eleven
dark star
night of 1000 stars
e-golden road
---





By RichardK (Surfdead) (204.119.57.46) on Sunday, June 02, 2002 - 03:02 am: Edit Post

2nd set sounds like The Big One - was it? We want details!
---





By Terrapin Flyer (Terrafly) (12.225.125.117) on Sunday, June 02, 2002 - 03:29 am: Edit Post

the sound of sweet guitars on this night!

to bed...and then perhaps to hop around
with phil the rabbit and his phriends...
---





By Alexw (Alexw) (64.156.226.120) on Sunday, June 02, 2002 - 05:37 am: Edit Post

Richard (and others):

You want details.

Well, I'm not one of these guys who takes notes as the show is going along, and I don't tape, so it's all got to happen from my memory (which at this moment, is probably rather unreliable), but the 2nd set was, well, EPIC!!!!!!!!!!!!!

Basically, a nice show until the 2nd set (especially another sweet Unbroken - I could hear that song forever). BTW, obviously the honorable Rev. Bud E. Green was having aural dyslexia during the 1st set (sorry Rev., you were probably having a blast - hope to meet you at some show).

OK - 2nd set:

They started off with that cool jam theme they played at the 2nd night of the March Warfield shows (not sure if this has some name yet) which goes off into its unique places in between the recurring theme (kind of Millenium Jammish). Next, into a typically fantastically spacey Tomorrow Never Knows, which kind of tailed off into spaciness at several points, but came back again and again with Warren's vocals. After another jam (nice, as usual, but can't recall what it was like), they went into a sweet No More Do I. I got to admit, I'm way more a Jimmy Herring guy (guitarwise) than Warren, but this song is a good tune - and Warren is a damned good singer and presence (and no slouch at guitar either - sorry if I implied that) and is really starting to grow on me (yikes, get him off!). Next, more jamming (actually heard some Dixie Chicken kind of thing - though obviously not with this band - and even a hint of Terrapin - sorry, last night). Then they finally worked there way into the very beginning of Cryptical (instrumentally), but Phil never started it up (got a little noodley, and I was wondering where they were going to take it - maybe Mountains?? - come on Phil, let's have it!!). Eventually, the sweet D chord of the beloved Morning Dew (don't know if I'd seen this lineup play this yet, believe it or not). Well, Morning Dew (is it ever bad???), and after the nice buildup towards the end of Dew (BTW, just noticed the Rev. forgot Morning Dew - Reverend!!!!! You've been excommunicated!) they never actually resolved it with the last line, but what do we have here??! The unmistakable riff of the Holy Grail (Dark Star, of course). Started kind of quick at first, then slowed into its normal pace. 1st verse - beautiful, the place is aglow in incredible visuals and sounds - then after a bit (when it seemed it couldn't get much better), the signature chords of St. Stephen (can it get any better???!!). The place has gone from a slow peaceful space into an all-out rockin' frenzy! Well, what the hell, let's just play The Eleven as well!! (I've reached Nirvana!). After a sweet (though probably fairly short) 11, we bring it all back to Earth with Night of 1000 Stars - which seemed pretty damned fitting at that point, even if it ain't my favorite tune (though it's growning on me as well), and there weren't too many stars to be seen this evening. Well, you know this is the end of the set, but you're loving it.

End of 2nd set - typically P&F on-stage lovefest (Man!! These guys really are tight!! Don't remember the Dead ever hugging each other like these guys do. Maybe this is what happens to you after you are blessed enough to have and survive a liver transplant and continue to make the incredible music - and inspire a legion of committed fanatics - that Phil Lesh does - God Bless this man!!!! And the rest of these guys, for that matter!!!)

Finally, a quick pre-encore break (last night they didn't even have time for a break - just went directly into the encore - wait, did they do that tonight as well?? Sorry, I was rapping with some sweet woman at that moment).

Encore: Let's just finish off the whole '60s thing with Golden Road (I can die a happy man! Well give me about 40 more years, please!!!)

Hey-Hey, Hey, come right away,
Join the party, every day!!!!!!!!!!!

Hey, I hope you folks enjoyed my review as much as I enjoyed spewing forth at 2:30 A.M. Well, to bed soon (ah, in a couple of hours) - got to get up for the Frost tomorrow! Ye-fuckin-HAAAAAAAAAAA!!!!!

Til tomorrow - Peace
---





By Alexw (Alexw) (64.156.226.120) on Sunday, June 02, 2002 - 05:41 am: Edit Post

Damn it!

I feel like an ass!! I forgot the return of Dark Star (v2) after The Eleven. Oh well!
---





By gideon (Mobetterdead) (68.60.2.145) on Sunday, June 02, 2002 - 06:18 am: Edit Post

sounds like da buisness!!!
---





By Ark (Ark) (67.240.30.44) on Sunday, June 02, 2002 - 08:51 am: Edit Post

anybody got hunter's setlist?
---





By Dr.J (M1d1j1) (12.232.204.247) on Sunday, June 02, 2002 - 10:38 am: Edit Post

I'll get it started...
Hunter Set (1:30)- not in correct order..

Uncle John's Band
Bertha
Box fo Rain
Scarlet
Aiko
Box of Rain
Don Henley Tune - Dead Head Sticker on a Cadillac.
The Days Between
Encored with a poem and some Irish Jig with a Patriotic theme.

There's more I'm not thinking of right now.
---





By Rastacruz (Rastacruz) (66.189.137.148) on Sunday, June 02, 2002 - 11:42 am: Edit Post

Still trying to comprehend what happened at the Greek this weekend, but I'm off to the Frost and will post reviews/highlights from the whole weekend when I have a chance.

This has been WELL worth the 2,000 mile road trip so far!

Love to the Zone!
---





By Rev. Bud E. Greene (Randomposter) (152.163.213.61) on Sunday, June 02, 2002 - 11:52 am: Edit Post

too unorganized last night with my setlist LOL i have Morning Dew writen down here.....oh well il have to keep my list on 2 pages today lol
---





By Taperrob (Taperrob) (172.166.225.171) on Sunday, June 02, 2002 - 12:19 pm: Edit Post

Hunter set list (?? = unknown titles)

uncle johns band
jack straw> ?? >jack straw
??

problems with the wireless mic at this point forcing him to be seated in front of a wired mic

??>
days between>
?? >
easy wind>
iko iko>
bertha>
boys of summer>
bertha>
box of rain>
tiger rose>
box of rain

enc:
scarlet begonias
??(old irish tune - acapella)
---





By Alan Sheckter (Norcalwriter) (68.128.64.248) on Sunday, June 02, 2002 - 12:30 pm: Edit Post

Add "Jackstraw" and "Easy Wind" to Hunter's set, and there were probably more. At the start of his set, for the first few songs, Hunter's wearable microphone was virtually inaudible, and finally he was brought a conventional mike and stand. At that point, the Hunter energy at the Greek picked up 500 percent. Hunter played solo - electric.

As a semi-retired Dead fan, whose resume included about 300 shows from 76 to 95, this was my first Phil and friends show in two years. (What can I say, we love up in the NorCal mountains, and make the trip down to the Bay Area only so often.)

All of the band's players were incredibly "on," with seamless instrumental communication throughout. And that, combined with the wonderful home-town cast of characters in the Greek Theater audience, ambience of the UCB campus, tall trees, sun-spashed temps in the low-70s by afternoon and in the cool, breezy 50s by dark, not to mention the inclusion of some big-time classic song performances, made for a wonderful experience.
---





By cinderoo (Cinderoo) (152.163.207.53) on Sunday, June 02, 2002 - 12:51 pm: Edit Post

i'm speechless. last night's show really reached unimagineable levels. maybe more later. off to the frost!
---





By Bill (Manas) (64.156.230.135) on Sunday, June 02, 2002 - 01:23 pm: Edit Post

Amazing show I fully agree ! Regarding Hunter's set, when he first hit the stage and the mic wasn't working it seemed he was (how to put it....? dosed? *S*) He wandered all over the stage knocking over the music stand and really deserves credit for still singing and performing with no mic set up ! Don't forget also he did "Sad Eyed Lady of the Low Lands" as well. Wavy Gravey, Mt Girl also were in the house. Phil comes on after second set and said something like (Before donner rap) "Well now you can see why this is the People's Republic (of Berkeley)." Something also about the people here being a "nation" ourselves.

A friend said that while I was up walking around during Hunter's Scarlet or something around that time .....that he was singing about 'we are near destruction and that Rumsfield is doing us in', Did anyone catch that?????? So many streams of thought in the lyrics for Hunter yesterday. Once they got the mic going he was focused and gave a really good show.
---





By Grupp (Grupp) (63.206.197.249) on Sunday, June 02, 2002 - 01:37 pm: Edit Post

I really appreciated Hunter's set too - great version of "Boys Of Summer," and his "Box of Rain" seemed more heartfelt than phil's the previous day...

But I must try to convey to the readers who could not attend that the setlist from Phil's show last night does not begin to tell what was HAPPENING at the Greek! These guys were fired up. I have never heard a DARK STAR or an ELEVEN or a CUMBERLAND that resembled what I witnessed last night. Gone are the days of the sleepy tunes that they were playing at Concord Pavillion on the tour with Dylan! This outfit smokes - they are not afraid, every member fearlessly RIPS and it is astonishing.

Galactic? Phish? MMW? Karl Denson? These bands have nothing on what PHil and Friends came up with last night - Unbroken Chain sounded like PUNCH YOU IN THE EYE, and Dark Star was monstrous, like Bootsy Collins style! Plus the jazz riffs and the pure Phil THUNDER in Morning Dew - just an outsanding show. And the tease of Hendrix's THird Stone...! New tunes are holding up as well.

I am fired up to head to the Frost...
---





By wino (Carl) (68.128.27.127) on Sunday, June 02, 2002 - 02:04 pm: Edit Post

Thanks Phil !!!Great show.....
Schnee,lil Bride,Lord Henry.....you are some fun people,thanks for saying Hi.....Luv ya!!!!
---





By tom heckley (Hecklto) (12.8.235.15) on Sunday, June 02, 2002 - 02:27 pm: Edit Post

absolutely monumental
beautiful, angry and inspiring
unimaginable rapture

just another saturday night at the greek
heading into a sunday afternoon at the frost

its good to be alive
---





By Bucky (Bucky) (130.132.243.89) on Sunday, June 02, 2002 - 02:31 pm: Edit Post

>>>>Encored with a poem and some Irish Jig with a Patriotic theme.

A poem?
As in 'a bathroom poem'?
Not the kind you read on bathroom walls, but the kind you go to the bathroom during.......

Sorry, couldn't resist.


---





By Jack Romanski (J_A_C_K) (12.233.46.222) on Sunday, June 02, 2002 - 06:05 pm: Edit Post

Pretty good remembering, folks. I really loved this show. The songlist is great but the versions were the best yet.

Hey what was that crazy thing where they had to push the whole line back to the street? It was really pointless but they insisted. It could only have been the ill-conceived whim of somebody important but clueless. Nobody would cop to who that was; they just said Orders is Orders. And they did get a cop to help holler us down the stairs.

The PA could have been, let us say, bigger. I listened from all over, from right up front to at the soundboard, and the sound quality varied widely. At the front and back to the thrones there was not enough treble; every beginning of each note was lost in a muddy mix of excessive midrange. The kick drum was way too loud.

I wondered what Hunter was singing while mere yards away but from back at the soundboard I could hear it was Sad Eyed Lady. Dylan stuff from Hunter. Wow.

It seemed like there was a lot of experimentation with the new widgets, and the PA did sound much better for Phil's sets because different and more capable people were operating the soundboard.

This show was so reminiscent of all those great Dead shows in the same place, but Phil tried hard to reach higher than those ever did, and I would call his effort most successful.
---





By Glenn Lym (Grlym) (64.121.193.75) on Sunday, June 02, 2002 - 06:42 pm: Edit Post

Every couple of times I've heard Hunter, I come away with an entirely new way to understand one of his songs. This time there were two epiphanies for me.

The first was during the "first sound too low period" in which he went on an extended rap about Afganistan embedded in the middle of Uncle John's Band... which ended, "got some things to talk about, here beside the rising tide"!

And the second was remarking about his wonderful wife who he kissed on stage and then said, "I wrote a song about when I met her"and he sang "Scarlet Begonias".

He also did Aiko and insert into the Mardi Gras competition lyrics, words about current political posturing including stuff about Rumsfield and the president of Paskistan.

His final encore song was dedicated to his daugther in NYC who had on Friday been at the Ground Zero services where she and her group had been providing food and coffee for the clean up crews these past 9 months.
---





By Glenn Lym (Grlym) (64.121.193.75) on Sunday, June 02, 2002 - 06:45 pm: Edit Post

Hunter's set was about the emotional power of words and word improvisations. PL+F was about the power of music was bouyed up by fixed lyrics and moved by wordless improvisation.

I think last nights Greek show was the best PL+F gig I've heard so far!
---





By Bill (Manas) (64.156.230.135) on Sunday, June 02, 2002 - 09:03 pm: Edit Post

Hey one more rememberance ~! During Hunter's set while he was singing the "Boys of SUmmer" up in the Beergarden where I was at the time....a kid managed to get over the fence and security chased him while we cheered the kid! Security guy slipped while chasing him thru the crowd which only increased our cheers. Eventually he got nabbed and was taken out. What a NIGHT ~!!! Don't forget Barraco's "kazoo" thing ! He goes to PHil "Hey Phil how does this sound?" and PHil goes "Awesome" Wavy had a kazoo going also almost all night during PHil's Set while sitting in the ropped off area. Wavy was GREAT ALSO! "Walked" his fish on the dog leash thru the crowded dreadlocks. Looked like the parting of the Red Sea as people let him through . HAHHAAH
---





By Dr.J (M1d1j1) (12.232.204.247) on Sunday, June 02, 2002 - 09:35 pm: Edit Post

Phil said something to Rob and he responds NOW! and Phil shakes his head yes and starts laughing. Rob breaks out the kazoo... Classic!
---





By Dr.J (M1d1j1) (12.232.204.247) on Sunday, June 02, 2002 - 09:37 pm: Edit Post

After the show the crew started tearing down the set and came over to the front of the stage and passed out the setlists, guitar picks and drum sticks to the Phans. Thank you CREW!
---





By Dr.J (M1d1j1) (12.232.204.247) on Sunday, June 02, 2002 - 09:38 pm: Edit Post

How many people showed up at Tower?
---





By Dean (Deano) (68.80.204.228) on Monday, June 03, 2002 - 10:58 am: Edit Post

Hello All,

What an honor to see Hunter in the flesh. I didn't hear the Rumsfeld quote somebody mentioned but I believe it. Once Hunter tore that head mic off and they gave him another mic, he was a treat to listen to. Never knew Scarlet was about his wife or atleast I think that's what he said.

As much as my buddies I were hoping for a high energy, dancin show Saturday night, you just can't be dissapointed with what took place at the Greek this weekend. The hour long jam into jam into jam in the second set was just mesmerizing. These guys just get tighter and tighter. Just sat there in awe of the music that was going down. The sound was absolutely amazing. You could hear every instrument distinctly. I guess there's a new soundman and he does a GREAT JOB! Phil's Bass really jumped out a you. Night of a Thousand Stars was just rolling and at a faster tempo than I've heard before. Just amazing music all around!

Paul, whoever you were. I really enjoyed our conversation. Thanks!

See you on the east coast for more goodies.

Thank You for a Real Good Time!
---





By eric (Gnsbrgr) (64.12.102.22) on Monday, June 03, 2002 - 06:55 pm: Edit Post

Why am I still at home on the east coast???
Thanks for the reviews, I think everyone who can't be there appreciates them. It looks like quite a show and I'm counting the days until the summer shows start circulating. I can't wait for the ol right coast tour to start!
---





By Countryman (Countryman) (136.152.194.76) on Monday, June 03, 2002 - 11:27 pm: Edit Post

These two shows were my first time back to the Greek since I saw the Dead there in '89 and it was a really special and wonderful experience. Spent most of both nights sitting about 6 rows back from the soundboard and yum! Also spent some of first set Saturday dancing near an extra little speaker set up at stage left (probably was one the right side too) -- couldn't see anyone but Rob but the sound was great and there was plenty of room to dance.

This is a great band and just gets better. Next up for me is Jones Beach!!
---





By Glenn Lym (Grlym) (64.121.193.75) on Tuesday, June 04, 2002 - 01:50 am: Edit Post

I think I'm starting the get the hang of Phil's thematic setlists. First set started with being underground, wierd shit which then leads to Cumberland Blues - in part about mining underground and being surround by silver but no avail... It was the second set that was phenomenal.

Thematically about letting your mind flow, be not concerned that you are dying (Lennon's song) leading into NoMoreDoI which is in part about the boundary between life and death (lyrics written by Hunter on 9/11/01 by the way) with a pitch towards not getting too doctrinaire about the afterlife, but just living for now which then goes to Morning Dew about two people walking together for the first time in the dew just after the entire world has been blown up in a nuclear war to Dark Star about the twists in energy amid which two people walk through the transitive nightfall of diamonds into St Steven about Steve Gaskin the "false hippie prophet" some would say into the eleven about the time that the boomerang launched earlier comes back on its return trip to the night with 1000's of stars, being here with the music in all our ears and hearts.

So much for such operatic themes, the real guts for me in this was the incredible jamming in which worlds were acheived and then dissolving into new worlds, unexpected. As Phil said in his final words of the night, music for people who like "adventure"!
---





By Bill Mims (Mrbill) (68.3.181.118) on Tuesday, June 04, 2002 - 05:52 am: Edit Post

Great reading, Grlym

As long as we are dissecting "Captain Adventure's" setlists....

You forgot the Cryptical Intro..."he had to die"


Good call on the rest!

But did you notice the other theme on set one...

Ramble On>Roadrunner>Again and Again>Unbroken Chain

So the titles were the theme...

A mystery within a riddle within an enigma!

Man, that second set was indeed one for the ages!
---





By Rastacruz (Rastacruz) (64.12.103.178) on Tuesday, June 04, 2002 - 12:56 pm: Edit Post

Saturday Greek highlights...

Mr. Hunter's mic problems have been well documented and it was a shame. I was sitting right to the left of the soundboard and had trouble hearing him.

We got to the Greek early again and waited at the south gate. I was bringing my younger sister to her first "Dead/Phil experience" so we decided to get a nice place by the soundboard instead of being up front where she would have trouble seeing. We could also take advantage of Candace's work (which was really cool on Saturday.)

I did have a throw-away camera with me Saturday and went up to the front to take some pictures of Mr. Hunter. I met a fellow Zoner, Dr. J, and he allowed me to stnad in his place for some nice pics. I tossed him a show and gave another show to a sister behind him for letting me take some pictures in their "space." They let me take some pics again when PLF hit the stage. Thank you Dr. J!

"Welcome to the Underground" was good. I like that song and hadn't heard it live yet. But then...Cuuuuuuuuuuuuuuuuuumberland! I was a happy camper for the smoking Cumberland. Love that tune and the boys jammmed it. Europe '72 continued with "Ramble On Rose." Nothing like some good ol' Grateful Dead to get a set going. The crowd was pumped for the "Roadrunner" that followed. I caught it in Phoenix and was glad they played it again at the Greek. I love "Again and Again" and had to tell a guy standing in front of me the name of the song because he was putting in something strange on his palm-pilot setlist. BUY THE ALBUM!!!!!!!!!!!
UBC was a good closer, and lasted a good, long time.

The second set meltdown was just monumental. Being the Beatles phan that I am, "Tomorrow Never Knows" was just a great opener and a hint of things to come. Big jam into "No More Do I" which was a "first live" for me. Another jam with a big Cryptical tease. I thought they did lyrics, but I was pretty stoned and I guess I just imagined it. I think I was getting beers as well so I was distracted. "Morning Dew" was a complete surprise and I could have walked out of the Greek right then and be a happy man, but the band finished its Europe '72 songs and went right into Live Dead with the historic Dark Star>St. Stephen>The Eleven>Dark Star. I still don't believe that it happened. It was one of those little runs that dreams are made of. Most will have a tough time getting that disk out of their player when this show gets out to the Zone. It should be a must for any phan.
The "Golden Road" encore was very welcomed by me, but it still seemed rushed like the "Passenger" from the previous evening.

It sucked that the tapers had to be on the lawn. I hope everything sounded okay up there.

It was great to be back at the Greek after 14 years. It brought back a flood of great memories and the two shows added a wealth of more memories.
The Greek was filled on Saturday as opposed to only about 70-80% filled on Friday.

Love to the Zone!
---





By blind willy (Lemonhead) (63.251.87.214) on Tuesday, June 04, 2002 - 03:33 pm: Edit Post

definitely the better of the 2 Greek shows in my humble opinion. Again & Again>UBC to close the 1st set was soooooooo sweeeeeeeeeeeeet.

2nd set "Tomorrow Never Knows" was sheer insanity with some spectacular light work from Candace. From this point forward time stood still and the band took all the citizens of "adventure nation" on a dripping pyschedic trip and sent us home smiling with a rockin Golden Road.....
---





By Keyshawn Still Sucks (Keyshawnsucks) (205.188.201.188) on Wednesday, June 05, 2002 - 12:27 am: Edit Post

Now...THAT'S a SHOW!


---





By gideon (Mobetterdead) (68.60.2.145) on Wednesday, June 05, 2002 - 12:34 am: Edit Post

i thought you'd like this one


how was the race?
---





By gideon (Mobetterdead) (68.60.2.145) on Wednesday, June 05, 2002 - 12:36 am: Edit Post

nevermind...lol
---





By Glenn Lym (Grlym) (64.164.16.26) on Wednesday, June 05, 2002 - 10:22 pm: Edit Post

MrBill, thanks for the comments. Would be interesting to try to figure out the setlists, Know of any other posts that have delved into it?
---





By cinderoo (Cinderoo) (132.241.64.188) on Thursday, June 06, 2002 - 01:24 pm: Edit Post

I've been considering whether it's pointless to try and write a review of this show, since words can't even come close. But what the hell....some things haven't been mentioned yet. Let me first say that I'm not typically one that gushes, "That's the best show I've ever seen" after each and every show. I sure did with this one though. Straight to the top of the list (leaping over 2/18/01, NYE, 7/3/01, 4/20/01...really. Maybe the mellow vibe that the Greek always has, or perhaps the fact that I pulled a beautiful move to get out of work to go to the shows, but I really think it was the music.

1st set - Great, cohesive, exploratory jam to start the set that melted beautifully into Welcome to the Underground. This version had a power to it that I hadn't seen/heard from this song before. I came away with a new appreciation for the album after the versions they gave us at the Greek. Underground wandered off into a nifty little jam that broke into the wonder that has become Cumberland. P&F (and Jimmy with his wicked, lightning fast licks) have taken over this song, stretched it, added a nice little Rainy Day women tease, and wrapped it around several jams before coming to a full stop. When Rob broke out the kazoo, you could feel the great fun they were having, which opened into a solid, solid Ramble on Rose. After a pause, they ROCKED into Roadrunner. Did I say it rocked? They've come to own this one to since the Warfield breakout. The jam that lead into Again and Again was one of several moments that night that I thought "absolute perfection" as they got into the groove of what seemed to have them finishing each other's sentences, musically. Magical stuff. What can I say about Again and Again? I've gone through alternating on whether I like this tune all that much to full force loving it. The emotion and energy put into (and that came out of) this version was very moving. Unbroken just rocked out the end of the set and we sat down for the set break already marvelling at the strength of this show.
---





By Dean (Deano) (68.80.204.228) on Thursday, June 06, 2002 - 03:55 pm: Edit Post

Cinderoo,

Don't forget about 11/17/01 : )......
---





By cinderoo (Cinderoo) (132.241.64.172) on Thursday, June 06, 2002 - 10:56 pm: Edit Post

2nd set: Love the mellow vibe that is the Greek during set break. Opening jam was definitely same theme as the 2nd night of the Warfield which crashed into Tomorrow Never Knows. They've reworked this little number a bit and given it more of a "Beatley" vibe...little spacier and slower approach, though by no means did it drag. Gave it a bit more of a psychedelic sound and the jam that followed travelled with purpose, hinting at No More Do I several times before going into it with full force. Love this song. The jam into Dark Star teased it first, then went into a lyricless Cryptical jam (through a couple verses sans words) then into a lovely Morning Dew. Sound guy had a nice little echo on Phil's vocal mike. A searching Dark Star followed, into the all powerful St. Stephen which paused just for a nice anticipation effect before breaking into the Eleven. Yeehaw. Back into Dark Star (wow...that perfection thing again) and into a rollicking Night of a 1000 Stars. The Golden Road encore was a great rocking way to close things out. Loved Phil's comment about how we'd created our own little republic at the Greek and "cast a vote for adventure". Damn straight.
---





By Chrisl68 (Chrisl68) (205.188.200.139) on Thursday, June 06, 2002 - 11:32 pm: Edit Post

My favorite thing from the weekend were the beatles tunes, TNK and LSD. I thought both of these songs sounded much better live than the taped versions I had heard.
---





By Rev. Bud E. Greene (Randomposter) (66.32.74.233) on Thursday, June 06, 2002 - 11:51 pm: Edit Post

nice review Cindy

---





By Dr.J (M1d1j1) (12.232.204.247) on Sunday, June 09, 2002 - 05:02 pm: Edit Post

Hunter has posted his journal entry from this show. Can someone interpret for me.
---





By Countryman (Countryman) (152.163.195.178) on Tuesday, June 11, 2002 - 12:47 pm: Edit Post

I believe Robert is offering his bona fide perspective of what appeared to me to be a genuinely bizarre spectacle six rows up from the board. From where I was, much of the set sounded as though I was listening in on someone rehearsing in their bedroom -- pleasant enough mind you, but strange in the "concert" context. People sort of sat politely or chatted with their neighbors.

When Robert knocked over the mic stand, it got a little surreal -- reminded me almost of an Andy Kaufman routine.

However, when technical glitches were worked out -- to my ears, mid-way through Sad Eyed Lady of the Lowland, when Robert switched to a regular mic -- the rest of the set was really pretty nice. And people really were sweet abuot the whole thing throughout the set -- joining in enthusiastially when they knew what was going on, etc.

Anyhoo, we were all a little fuzzy and fine, and I guess the Bard was too, and so it goes. For me, the old ballad at the end was perfection and the dedication of Scarlet to his wife made the Hunter set an odd but affecting pleaser. Looking forward to what a "real" set sounds like at Jones Beach.
---





By Countryman (Countryman) (152.163.195.178) on Tuesday, June 11, 2002 - 12:51 pm: Edit Post

By the way, in case it hasn't been said enough, let me just declare both Greek shows to be classics!!! Top notch!! A #1! Look forward to the tapes, my friends!!
---





By Dr.J (M1d1j1) (12.232.204.247) on Tuesday, June 11, 2002 - 04:46 pm: Edit Post

Thanks Countryman - Hunter does have a magnificent way with words. I saw and heard what you did but I thought Hunter was also talking about more than that and I wasn't sure what I missed. Its all clear and I was truly impressed with his message.
---





By Bill Mims (Mrbill) (68.3.181.118) on Wednesday, June 12, 2002 - 12:54 am: Edit Post

Well I dont know about you guys, but I hope Mr. Hunter never does another "real set".

Berkeley was truly surreal, but how much was Hunter and how much the fates..I dunno, but I think the best Hunter shows we are ever gonna hear is when he comes out with no setlist and just rants and pick tunes or bits of tunes at random or however the muse moves him...

Was my first live Hunter show, and frankly, he can do anything at all and it would please me.

Just hope he amps up the mic so the we can hear every word and nuuance...cause when Robert chooses to tell it, it aint like nothin else.

What a joy!
---





By GravyTrain (Gravytrain) (68.6.115.34) on Saturday, June 15, 2002 - 12:09 am: Edit Post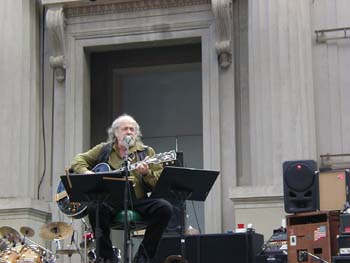 ---





By GravyTrain (Gravytrain) (68.6.115.34) on Saturday, June 15, 2002 - 12:15 am: Edit Post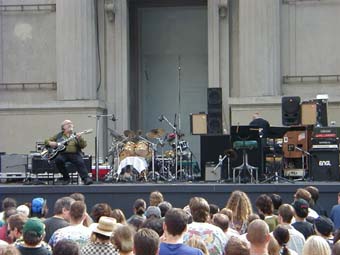 ---





By Countryman (Countryman) (64.12.102.172) on Sunday, June 16, 2002 - 11:48 am: Edit Post

Slight correction -- it was a music stand that got toppled, not a mic stand as I said.
---





By Rafess (Rafess) (206.98.210.9) on Sunday, June 30, 2002 - 02:09 pm: Edit Post

Saw Mr. Hunter back in early 80's at Jonathan Swifts (bar) in Harvard Square. He had technical problems back then as well. This seemed to fire him up into a tiz and he belted out the tunes. Not sure if this is his norm. We brought a little cassette dek in with us. Fun to hear our voices 20 years later. Looking forward to seeing him again at The Meadows in 2.5 weeks in Harford.