The Spikedrivers Hit the East Coast...
---
Philzone.org - Philzone Phansite Community Discussion Board: Setlists and Reviews: Non GD Related Reviews:

Archive: The Spikedrivers Hit the East Coast...
---





By Tapecat (Tapecat) on Thursday, March 01, 2007 - 01:54 pm: Edit Post

Man OH MAN!…THANK YOU PEOPLE!!!!!!!!

That's first and foremost, and it can NOT be said enough!

Here's a little rundown sorta rider stylie….(Wait I just converted three of the shows and need to crash at 6A.M..)

BRB…………………………….


……………OK back

Last Friday I headed out with the band, Paul, Fox & I in the "BAD CAR", Jesse, Nate & Sweney in the "Good Car". After about 5 hours we got to Huntingdon, Pa. were we pulled into the Whitetailed Motel. As we drove up you could see on the sign folks were wanting & waiting for a good show.

Man in the Room….A Bottle of Rose wine locally made, Chocolates, locally made, Beer locally made…Hell there was even a Homemade tray of Monkey Bread. EVERYONE was excited to put on a Ragin' Show after seein that.




So Off we go to the show via a Fabulous Bar and Grill called Boxers, AWESOME food and service with some real Nice waitresses!

McMurtrie's Tavern is a real Log Cabin actually several of them linked together, it's out on a country road and a Standard Biker Bar sorta thing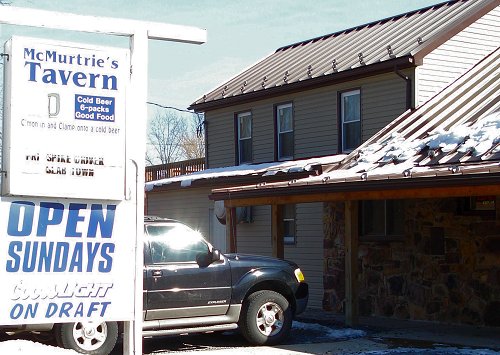 Time for the show and guess what…No Gig Bag for Paul! SHIT! Well the word goes out and before long a kindly soul brought in a HUGE peddle board, but alas…Not the right cord to plug it in. So the show must go on and with scavenging one peddle off the board it goes on.
Adding insult to injury…Paul also broke the glass slide he's had for about 20 years.

The band starts up:

The Spikedrivers
McMurtrie's Tavern
Huntingdon, PA
2007-02-23

Set 1:

Subterranean Homesick Blues
Like Water
Blowin' Up my Mind
Lay Me Down >
Hard Travelin'
Stealin'
Who's Your Best Friend
Been Dazzled
House on Fire
Honky Tonkin'
Freeborn Man

Set 2:

Ain't That Bad
Businessman of Chance
Cookoo
Vincent 52 Black Lightning
Let's all go to Church >
Choir Singin' >
Texio Hearthrob
Ain't it Alright
Chug-A-Lug
Tennessee Flat Top Box
Built For Comfort
You ain't goin' Nowhere

Encore:
The Ballad of John Dillinger

Note:
Megan played a solo gig in NYC so she was not present.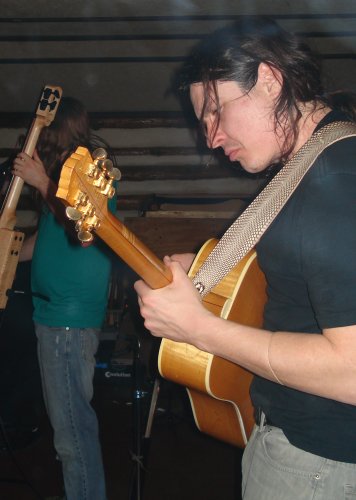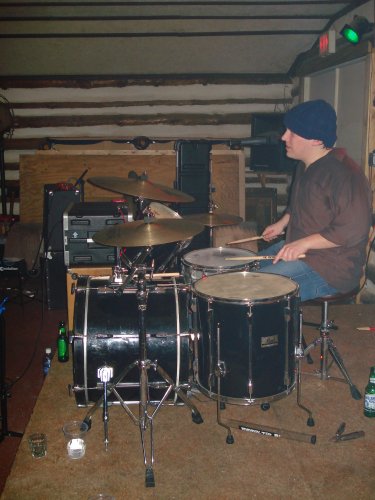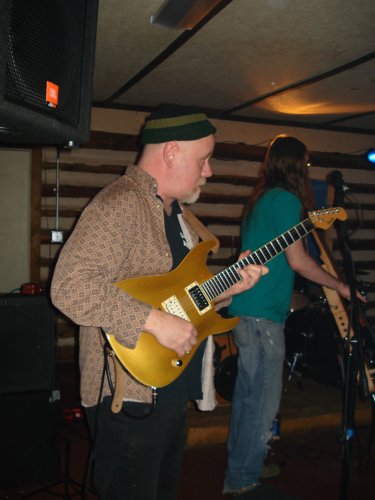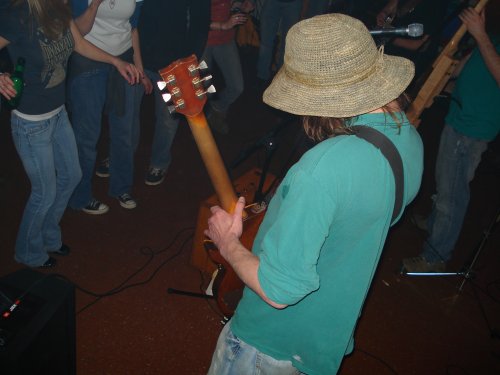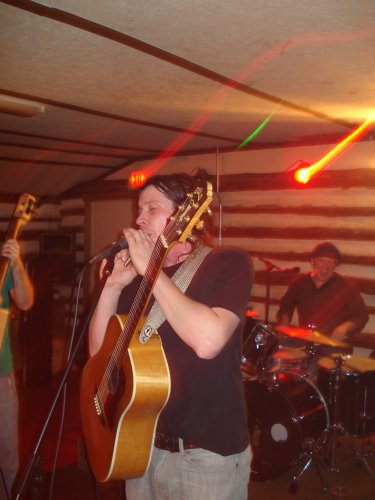 The show basically went off like a Barn BURNING!
Folks kinda hung back at the start but as they got a load of those two friggin Guitar players they move in for the Face removal…..Hehehehe

I'd also say that the cell towers must have been burning up, cause the word was out…..


"The Spikeys are tearing it up and folks needed to see it"…..By about the half way point the place was nut to butt and in a FRENZY! The John Dillinger they closed with reach a HUGE new high for that song something I know I didn't expect but was DIGGIN!

At the end of the night I told Paul, "Dude if I knew you'd play like that I'd Steal your effects and break your slide every night!!!

Day 2:

From Huntingdon we headed to the Big Apple for a round two engagement. But this time instead of a Thursday…It's a Staturday!!!...and it's ON!

Being hung over didn't help the drive in but after an hour delay at the GWB we got down to the bar and loaded in…..Which was an experience in itself. Haulin the Amps through a Dinner crowd AIN'T the easiest thing in the world ya know.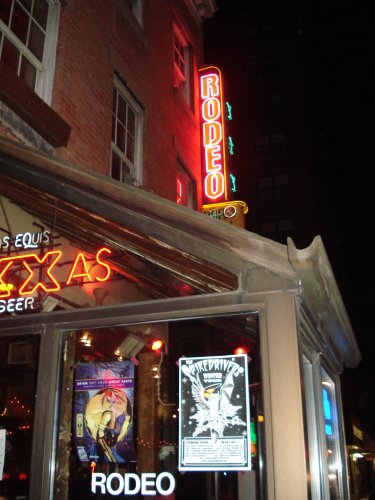 Getting there I was immediately surrounded by friends and LOVED IT! Man I wish I got to hang with ya'll ALL the time but I guess it just a little sweeter this way. No way am I gonna list everyone but it was a definitely a GREAT pleasure to meet New Aquintences & Old Friends Zoners RULE!

Well once the stage was set, and the band chowed down, it was time to Boogie!

The Spikedrivers
The Rodeo Bar
New York City, NY
2007-02-24

Set 1:

The Wreck of the F-350
Tennessee Flat Top Box
Like Water
Blowin' Up my Mind >
Stealin'
She's My Baby
Let's all go to Church
Write My Name
Desperate Housewives
Ain't That Bad
Copperhead
Businessman of Chance

Set 2:

Intro
Ain't it Alright
Lay Me Down
Built For Comfort
Good Lovin'
Who's Your Best Friend
The SHOCK >
I'm a Woman
Till The Mornin' >
American Girl >
Cookoo
Subterranean Homesick Blues
Rita & Mary
Good Ol' Gals
Please Don't Come Back
Walked Off The Auction Block
Mountain Dew
Crowd.......

Encore:
The Ballad of John Dillinger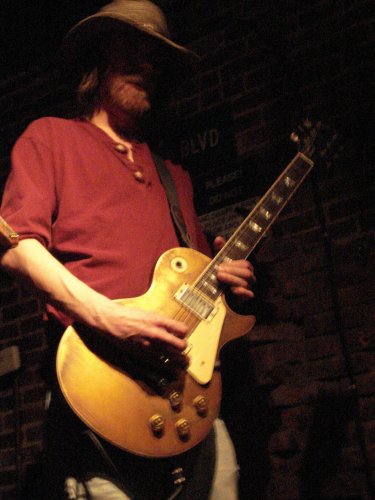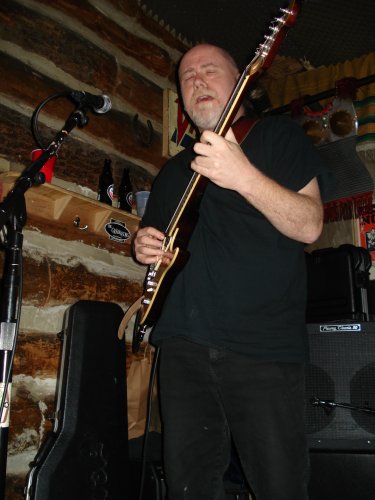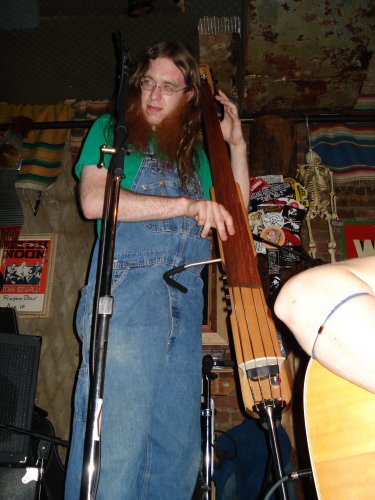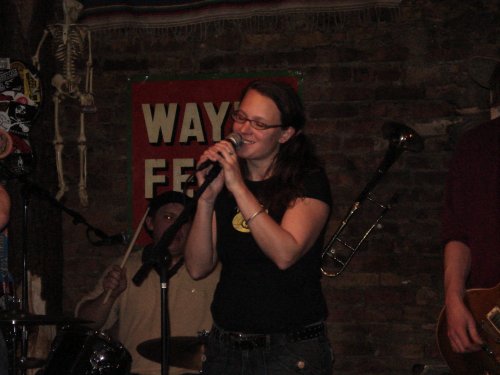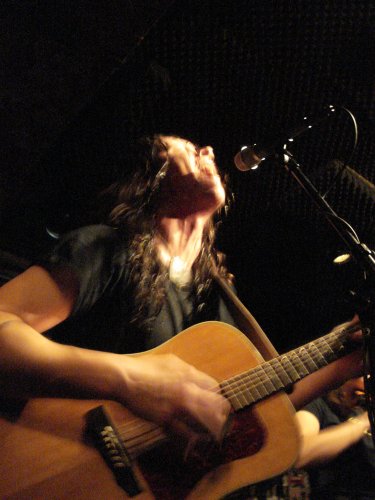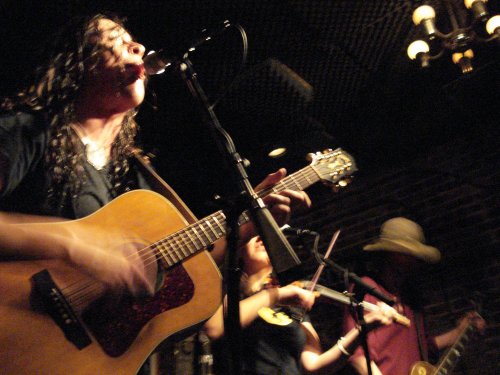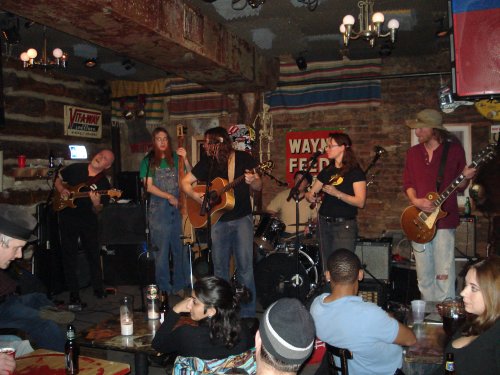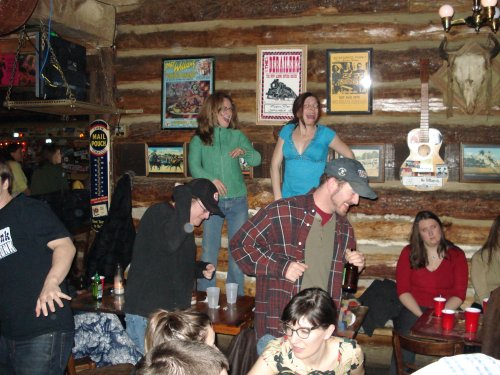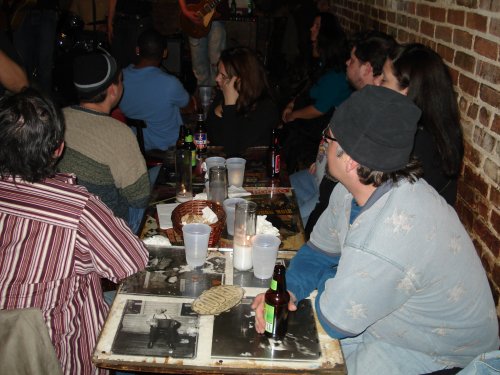 Man what can I say about this show that didn't get said already…Not Much.

I will tell ya that on the way to NYC we stopped in State College to pick up a new effects pedal for Paul…..It took the better part of two hours to choose & program the thing. And BOY HOWDY was it worth it!!!

Oh and there was that little run in I had with that Cop…….HEH HEH HEH!!!!

So after the show it was off to the mainland and Smokey Territory. Which led us to the Great Hotel Debacle!

5 A.M. and getting a room was like trying to find the Magic Red Ball under a Silver Cup. Finally done and it's crash time……But being the No Sleep kinda guy I am I wake up at 9 and am itchin to get out and away from the sleepers. So I get ahold of Slo and we went to the Bar and of course, started Drinking….

Several hours later we load in and then it finally time to EAT!

The Brisket I have been waiting to try for some time now is at hand……

EEEEEEERRRRRRRRR NO! Brisket for you!

What, What, What!

After a Nacho starter(Which was Killer BTW) I finally got what I was waiting for!

The Brisket has a real nice smoke ring to it & was quite moist..dripping in fact! Really GOOD! The Mac & the Soufflé were also top notch!

More drinking…very heavy…

The Band starts to a skeletal snow braving crowd……

The Spikedrivers
Bailey's Smokehouse
Blauvelt, NY
2007-02-25

Soundcheck....
Don't let the Sunshine Fool Ya

Set 1:

Better Days to Come
Walked Off the Auction Block
Texio Hearthrob
I'll Take You
Brothers of Bad Luck
Already Got what you need
Everyone Done Go'd Away
The Science of Gravy
Please Don't Come Back
Gather Round
The Long Embrace
St.James Infirmary >
Shady Grove

Set 2:

SloIntro
Like Water
If the Sea was Whiskey
Chug-A-Lug
Blowin' Up my Mind
Tennessee Flat Top Box
Lay Me Down
Jolene
Politic Talkin' Blues*
Sweney Gameshow Blues
Copperhead
Buisnessman of Chance

Note:
Snowfall affects turnout in a BIG way...
Very Private party ensues.

* Band takes a Break and Jesse Solos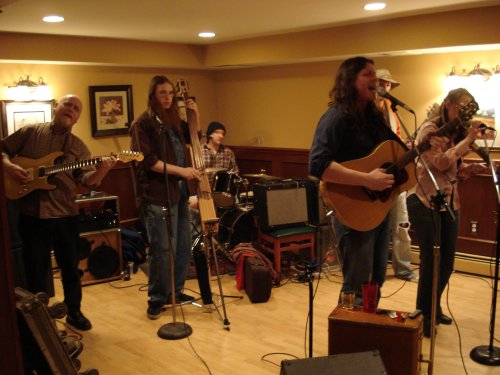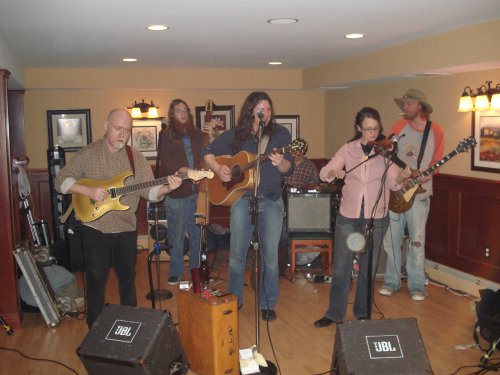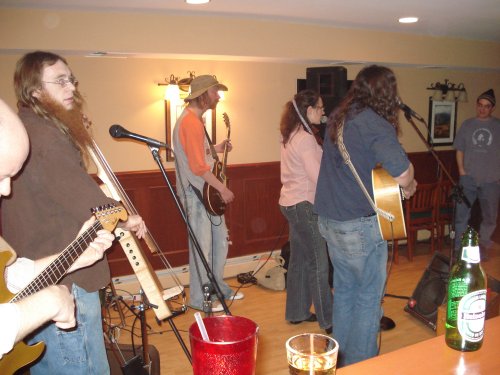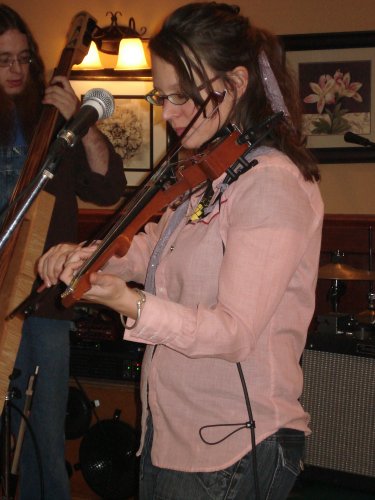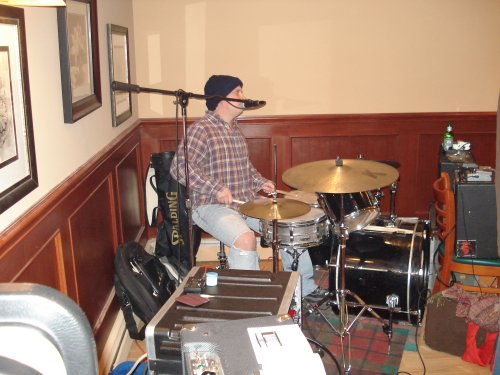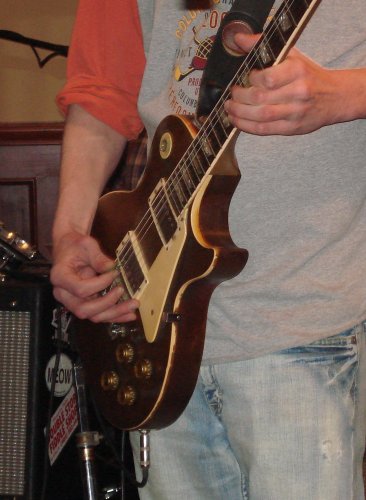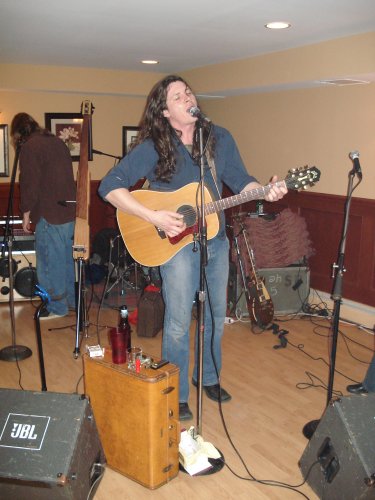 Jesse Soloing, "Political Talkin Blues" During the Piss Break!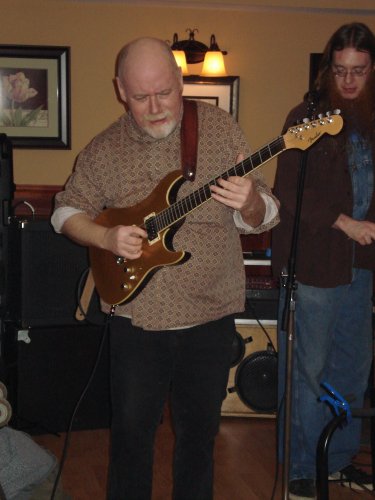 The BEST Picture of the NIGHT!!!!!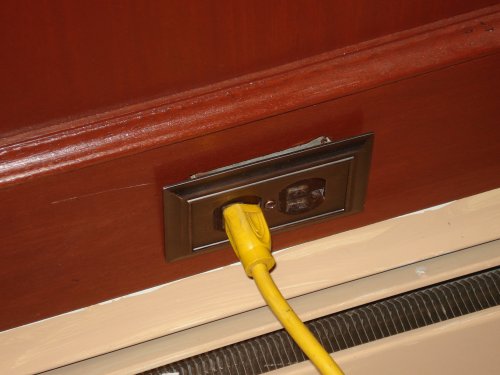 The entire Band was powered and Playing thru this ONE Outlet!!!!

SWEET!


Man oh MAN what a GREAT TIME that was…..What a PARTY!!

Even though the turn out was low the Spikeys threw DOWN a Phatty show! It was FULL of cool ass moments, dedications, and long since played tunes. I really am Greatful for the Band to have me along and to have such great friends on the road, and as it was said recently here on the PZ….I'm a little Verklempt!!!!

A Huge Thanks to all who helped support the band! By being there, pickin' up a little merch & showin the LOVE!

So once the show was over and the band had a sufficient amount to drink the guitars came back out.

MAN I gots to tell ya…My BIGGEST regret was NOT Taping that….The,"It's Not Easy Being Steve Sweney" by Paul was worth the entire trip alone!!!!!!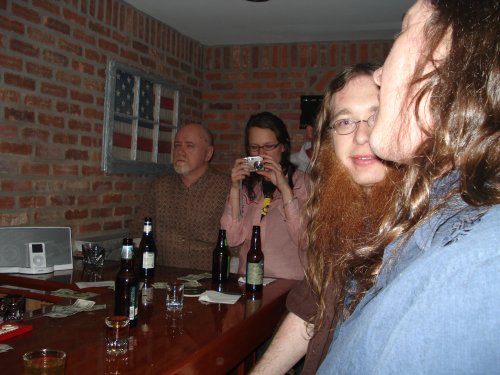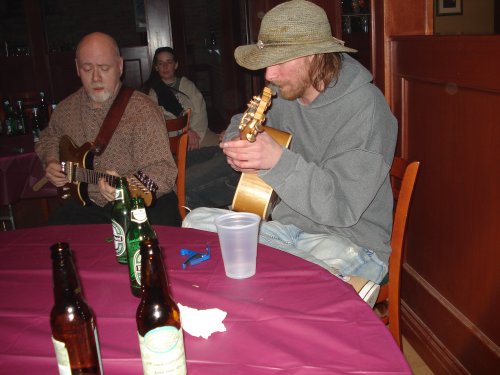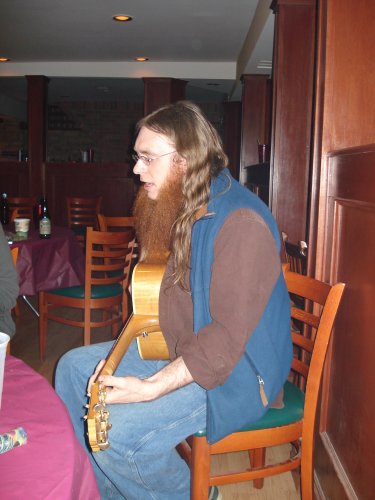 My Favorite Photo from the entire run……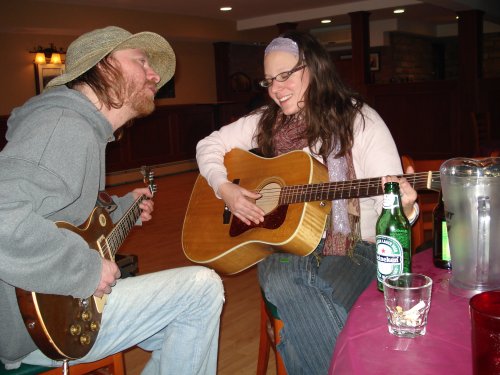 Here's The Mo-chine that damages yer skull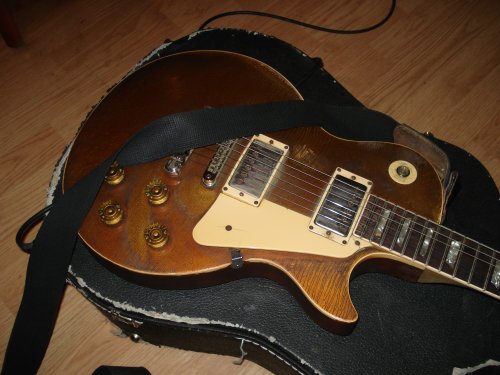 Well we were too friggin DRUNK to remove the gear from the bar, so a Wobbly drive from the bar >Sleep>Diner>Bailies to pick the stuff up ensued.

Now this is what ya call packing!!!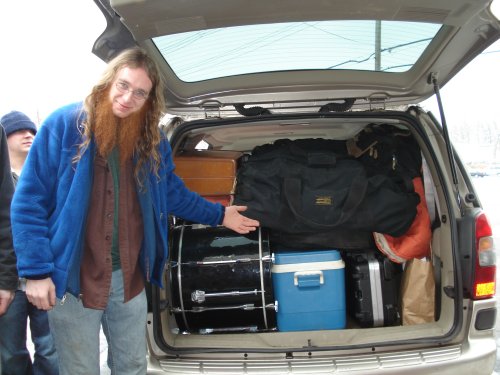 After that it was off to Boston for a Double bill Nightmare of a Bad Night Booked….

More on this later………………………………
---





By Tapecat (Tapecat) on Thursday, March 01, 2007 - 01:59 pm: Edit Post

For more info

http://www.thespikedrivers.com/

http://profile.myspace.com/index.cfm?fuseaction=us er.viewprofile&friendid=53127223
---





By JTP (Live_wire) on Thursday, March 01, 2007 - 05:20 pm: Edit Post

looks like you got a nice crowd and some central PA hotties at McMurtrie's