Mother Hips~~Kiss the Crystal Flake Release Party
---
Philzone.org - Philzone Phansite Community Discussion Board: Setlists and Reviews: Non GD Related Reviews:

Archive: Mother Hips~~Kiss the Crystal Flake Release Party
---





By Effin Emily (Odessablue) on Monday, April 09, 2007 - 12:33 pm: Edit Post

The Mother Hips
The Independent
SF, CA
April 6th and 7th


Great great shows!! Love the new album, dare I say it? The Hips are going Jamband

Just a little, but it's there...especially as it got later and later on Saturday night, during the encore they played a long Figure 11, had to be near 10 minutes! It was met with an uproar of applause, I wasn't the only one who loved it! They took it waaaay out, into nothing and then brought it back, I couldn't help but think of Any Naked Eye...WOW!

Also noteworthy: Jackie Greene sat in for the duration of the weekend. Everytime I see this guy I like him more! Until this weekend, I've been a fan of his guitar work and not so much his keyboards, but I spent most of friday and part of saturday on the rail right in front of him! Yeah Jackie Greene! He played on the new album and he's been at every hips show I've seen in the past 8 months, by now I'd say he qualifies as the 5th Hip. His sound really pushes the spacey jams out there...Hopefully he'll be around for a while! He fills out the sound so perfectly! In addition to his keyboard work, he played a variety of shakers and tambourines...he also did some nice lighting work as the strobe man! ha!

As for setlists, Friday night they played the new album, then ended the show with a bunch of old stuff. The highlights off the new album were Mission in Vain, Let Somebody, Confirmation of Love (LOVE THIS ONE!!!), TGIM (another keeper!!!), White Headphones and Time Sick Son of a Grizzly Bear (not familiar with the older albums, but I think this one is a re-record, as I've heard it at nearly every hips show!). The end of the night included: Del Mar Station, Life in the City, Red Tandy, Mother Hips (Always a favorite!!), Pet Foot

Encore: Third Floor Story, Turtle Bones

Saturday Night: They played the new stuff mixed in with the old stuff, It's cool to see the new stuff evolving already, even though it's only been one weekend, I've seen lots of bands 'play the new album' and then never really play those songs again, not gonna be the case with this album, these new songs translated to the live show perfectly, I can't wait to hear more!

Started off with a slow greg ballad (and a very sticky floor--guess they knew we'd be back and there was no point in cleaning

), Time Sick Son of a Grizzly Bear, Colonize, Singing Seems to Ease Me, Not So Independent, Tahachapee Bloodline, Confirmation of Love, TGIM, HoneyDew, Mission in Vain.

The Encore was amazing: Red Tandy (very spacey, kinda Tomorrow Never Knows), Figure 11 (the longest Mother Hips song I've ever seen), Hey Emilie

FUN!!! I can't believe how much fun I had and how much I continue to love this band! Once again the ratio was heavily skewed in my favor, I can't imagine the crew of frat boys is what inspired the band but there were no bathroom lines for me! Yay!

And it was very easy to make friends with the drunk frat boys, All I had to do was tell them my name was Emily. Then when passed the green, they gave me Goddess status...too funny. One guy actually kissed me and then thanked me for 'the experience'...ha! Guess we can't all be professional concert goers



This show was the perfect way to start april off...the beginning of the year has been a bit slow, so I was jonesing big time! But the Hips hit the spot as always!
---





By Kiss the Crystal Emily (Odessablue) on Monday, April 09, 2007 - 03:16 pm: Edit Post

The production of the show was also noteworthy...the lights and the smoke machine! There must be some technology improvements because this was the least noxious smoke machine I've ever encountered...

(stole these pics from the MH board...)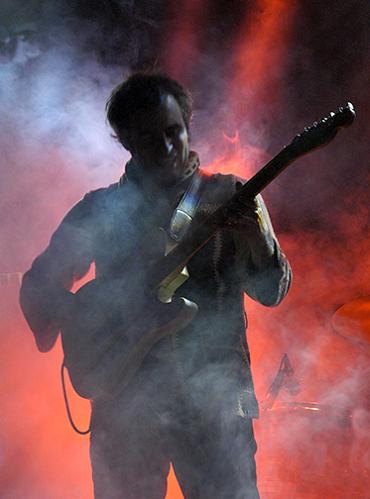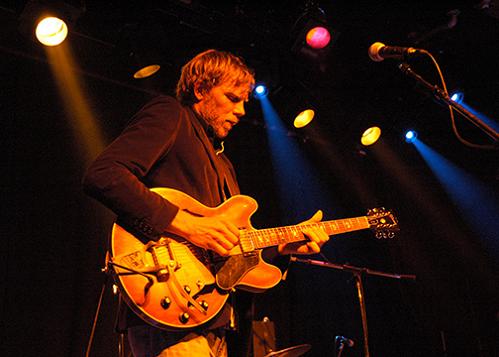 ---





By garyfish (Garyfish) on Monday, April 09, 2007 - 06:43 pm: Edit Post

Thx for the review, Em. Guess I'll hafta check out the new album.

>>>couldn't help but think of Any Naked Eye

that's quite the compliment!!
---





By Kiss the Crystal Emily (Odessablue) on Monday, April 09, 2007 - 07:21 pm: Edit Post

Not to be confused with the actual sound of the Dave Nelson Band...but more the jam style, following a jam until is comes to a near stop and them building back into the theme of the song, if ya know what I mean. They took it waaaay out there! Different from what I've heard them do before, for sure!

I wish these guys were hip to the two set show...it was a full night of music, 9pm to after 1:30am but there were two opening acts...I really coulda used more Hips.
---





By MA (Silentmark) on Tuesday, April 10, 2007 - 08:45 am: Edit Post

Sweet, can't wait for these upcoming, rare, east coast gigs. Still one of the most 'unknown' & under-rated bands out there ...
---





By Douglas (Doogels) on Tuesday, April 10, 2007 - 02:28 pm: Edit Post

Thanks for the review, Emily! The music sounds like it was great!

It has, indeed, been a slow start this year. April's gonna be AWESOME!
---





By w_raT (Tar_w) on Wednesday, April 11, 2007 - 05:52 pm: Edit Post

nice review emily.
miss these guys greatly. cant wait to see em again. The Mother Hips are truely one of my favorite bands.
---





By Kiss the Crystal Emily (Odessablue) on Wednesday, April 11, 2007 - 07:18 pm: Edit Post

It's a bummer they aren't touring in Colorado...they shows were so good!

Someone reported a dark star tease on the album, I'm gonna hafta give that a closer listen

---





By tommy in PA (Tommy) on Monday, April 16, 2007 - 11:51 pm: Edit Post

Can't wait for May 5th, I got tickets for the Hoboken show! First Hips show for me in 7 years, literally. Haven't heard the new album, but I've loved everything they've done, from Grotto thru the Tandy EP, with Later Days being my favorite Hips album. I was actually at the Crest Theater release party for that album. They had Jackpot(a good Sac. band form back in the day)open. Grizzly Bear is an older Hips tune, but it has never been on a record, kind of like the ever-popular Lady Be Cool.
---





By GVdude (Ncbart1) on Tuesday, April 17, 2007 - 06:49 pm: Edit Post

Jackpot still plays in Nevada City and Lee Bob is playing May 10th in Grass Valley Hey Tommy you ever here of Sex 66 from Sac but still love the Hips

Lee Bob Watson's musical landscape is as far-reaching and diverse as the hybrid of hard to place influences that have inspired him along the way, which range from legendary jazzmen and country singers to the tunesmiths of his hometown of Sacramento, CA. Lee Bob played in the early '00s with the band Jackpot — which was hailed by the New York Times as "one of California's greatest unknown bands". He later left the group and formed, recorded and produced a highly reverent and politically charged record with the Santa Cruz Gospel Choir. This year Watson strikes out on his own with Aficionado, his forthcoming solo debut. Aficionado hearkens back to the late '60s and early '70s where the lines between popular song, country, soul and folk had been completely blurred.
---





By garyfish (Garyfish) on Saturday, April 21, 2007 - 08:57 pm: Edit Post

Great interview with the Hips -- plus photos -- over on jambase.com at
http://www.jambase.com/headsup.asp?storyID=10288&d isp=all
---





By tommy in PA (Tommy) on Tuesday, April 24, 2007 - 09:50 pm: Edit Post

Thanks Gary!!