Derek Trucks/Susan Tedeschi Soul Stew Review
---
Philzone.org - Philzone Phansite Community Discussion Board: Setlists and Reviews: Non GD Related Reviews:

Archive: Derek Trucks/Susan Tedeschi Soul Stew Review
---





By John B (Kuznjohn) on Saturday, June 09, 2007 - 08:55 pm: Edit Post

Derek & Susan at the magnificent Paolo Soleri Ampitheatre. 6/8/07 Santa Fe

A very solid 2 hour set of rock/soul/funk/blues from this 8 piece band.

Yonrico Scott - Drums
Todd Smallie - Bass, Vocals
Kofi Burnbridge - Keyboards, Organ, Flute
Derek Trucks - Guitars
Susan Tedeschi - Guitars, Vocals
Mike Madison - Vocals
Ron Halloway - Sax
Count Mtume - Congas, Percussion
Duane Trucks - Sometimes Drums

Scrapomatic opened with a decent set of mainly originals. Venue about 2/3 full.

Derek & band come out and he tears up a rocker with Susan playing hard on a gold top Les Paul. Derek has either a PRS or a custom that I've never seen him play and is tight and rocks it. Swithches to his SG for most of the remainder of the evening. Several Susan tunes early on, into a nice Stand Back. Middle part, sit down with Susan singing and Derek on Dobro was a highlight for me. In there was Worried Blues (Walking Blues) into Soul of a Man, and then a Jimmy Reed or Robert Johnson tune. Sweet. Band members get added on as Derek plays slide on the next few tunes on what looked like a Gibson Studio.

I was happy to see that Derek played 50/50 lead and slide, not primary slide. A deep crossection of soul and blues tunes from the 60's & 70's. Some highlightswere the Keth Richard's tune (Silver & Gold?) the Bobby Blue Bland- A Cold Day in Hell, Soul Seranade, surprisingly the only song from any of Dereks albums, and especially the Stevie Wonder sandwich of Sugar>Drums>Do Yourself a Favor.The band really takes off from here. The Anyday for an encore nearly smoked.

Derek's Bday to boot. Very solid considering this is the second time this group has played. Hopefully Susan will feel free to play more guitar, the drummers can gel more and they let Mike sing more leads and back up, I was surprised that he only sang on about 4 tunes. For 33$ I was fully sated. In a week this band should smoke. Go see Derek while you can, JB
---





By Calypso Frelimo (Dave_c) on Saturday, June 09, 2007 - 09:06 pm: Edit Post

Nice review! I'm planning to see them in 2 weeks time, at the Portland Zoo.
---





By _ (Verve13) on Saturday, June 09, 2007 - 09:22 pm: Edit Post

Nice review, John! Wish this lineup was playing around here.
---





By 1st One's Named Sweeeeet Emily (Odessablue) on Sunday, June 10, 2007 - 12:09 pm: Edit Post

Nice! I'm bummed to be missing their SF stop...it conflicts with David Nelson and Friends, an unfortunate choice.
---





By Bluetrain (Bluetrain) on Sunday, June 10, 2007 - 12:25 pm: Edit Post

I'd skip David Nelson to see Derk. Is Duane Trucks Butch's son or some other kin to Derek?
---





By John B (Kuznjohn) on Sunday, June 10, 2007 - 04:09 pm: Edit Post

He's Derek's younger brother. 18, Plays on the ABB sounding stuff but sat out for the rest.
---





By birds of fire (String_jam_jazz) on Monday, June 11, 2007 - 08:19 am: Edit Post

Why wouldn't this band be tight? Isn't it all Derek's regulars, plus the Mrs and Ron Holloway, who has sat in with both DTB and ABB several times?
---





By Phil Carson (Americanaxe) on Monday, June 11, 2007 - 11:51 am: Edit Post

A huge show Friday at Denver's Paramount Theater, packed to the gills with a very warm, receptive crowd that erupted from time to time based on the joy factor as much as any solos.

Not doing a setlist here, but tunes from the combo headline band included Little by Little (Susan sang this Jr. Wells tune), Stand Back, My Favorite Things, You Got the Silver (Susan on Stones' tune), encore was Key to the Hwy and Tell the Truth (Derek played Duane's exact lines on latter).

Denver digs Derek and Susan has monstrous guitar chops. I'd see that combo band anytime. Had 5th row on right side and Derek faced us a lot.

A truly great evening of music and Susan expressed appreciation for the reception. Caught many Red Rocks/ABB denizens before and during the show. Even an older guy (older than me) with an old-style NRPS shirt.
---





By Calypso Frelimo (Dave_c) on Monday, June 11, 2007 - 01:43 pm: Edit Post

Nice review Phil!

I'm really looking forward to seeing this band. Hopefully a live album will come from this tour. . .
---





By Phil Carson (Americanaxe) on Monday, June 11, 2007 - 04:25 pm: Edit Post

Derek's on a roll, with ABB, his band, the Clapton tour and the Soul Stew Revival tour. The latter (Friday night, for ex.) would make an excellent release.

I've seen Derek close-up several times and, without looking older, he looks more mature. I suppose a wife and child (in a positive sense, in this case) can do that. Not to mention being 'the guy' this year with four major tours and new acclaim thru the Clapton connection. (Hope that doesn't mean Derek will skip the little theaters where we've seen his band, but I'm in favor of his commercial success.)

And he seemed to enjoy being at the center of a circle of players, nodding the handoff for solos.

A solid citizen whose wife is now on my short list; hadn't had the pleasure of seeing her before...she rips quite eloquently on the guitar.

Both she and Derek played a couple guitar models I didn't recognize, tho I'm no expert.

My advice: catch this band!
---





By David Sandlund (Java_dave) on Thursday, June 14, 2007 - 06:23 pm: Edit Post

Thanks for the reviews folks. I'm planning on catching the Seattle area show at the Tulalip Casino Amphitheatre (actually closer to Bellingham than Seattle--attn: Popi!). This is looking to be one of the best outdoor gigs of the summer in these parts.

Hardest Working Man in Rock & Roll=Derek Trucks

Move over Warren!
---





By ZonerJammin (Timmyhoover) on Thursday, June 14, 2007 - 07:13 pm: Edit Post

look who we met last night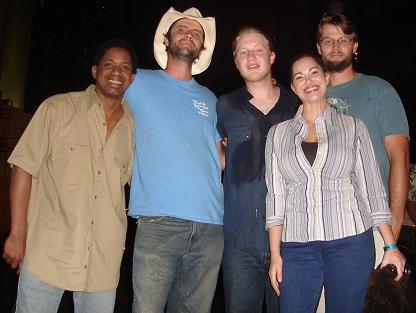 ---





By ZonerJammin (Timmyhoover) on Thursday, June 14, 2007 - 07:20 pm: Edit Post

some more