Harmony Festival, 8-10 June 2007, Santa Rosa, CA
---
Philzone.org - Philzone Phansite Community Discussion Board: Setlists and Reviews: Non GD Related Reviews:

Archive: Harmony Festival, 8-10 June 2007, Santa Rosa, CA
---





By Harmony Fest, then DNF (Garyfish) on Tuesday, June 12, 2007 - 11:40 am: Edit Post

Had a blast at the Harmony Fest this year and met a few Zoners along the way. This is only my second year at Harmony but it's quickly become my favorite NorCal summer festie (caveat: I haven't attended High Sierra because every year I spend the July 4th holiday on the east coast visiting family).

Harmony has that sweet mellow vibe and none of the threatening or oppressive law enforcement presence you hear about at other festies. In fact, I didn't see a single uniformed cop during the entire 3 days I was there.

The lineup this year was a little thin in places, but there were some great acts and I love discovering new bands to get into. Attendance seemed down this year compared to last, particularly on Friday and Sunday. I talked to some vendors and they all reported that sales were much lower than expected. But the place was PACKED on Saturday, particularly at the Main Stage for headliner Erykah Badu. I'd estimate that there were 10,000+ people at the fest at peak time on Saturday.

There were 5 stages but I spent pretty much all of my time at the Main Stage and the Redwood Stage, which were situated at opposite ends of the festival grounds about 300-400 yards apart. Needless to say, I got plenty of exercise truckin' back and forth between the two stages, and occasionally back to my campsite to restock with ice-cold beers and assorted other goodies.

Here's my list of musical highlights:

Friday daytime:
New Monsoon with Mike Stern
Kimock with Banyan, Melvin Seals, & Meester Martin Fierro
(I didn't attend the late-night show with moe. and STS9)

Saturday daytime:
SambaDa
Mike Stern Band, with Victor Wooten & Dennis Chambers (WOW !!!)
Taj Mahal
Umphrey's McGee (2 full sets !!)

Saturday night:
Green Lemon
Mike Stern Band (WOW again !!), with Kimock sitting in at the end

Sunday daytime:
New Mastersounds
Hot Buttered Rum
ALO
(I skipped The Roots, Common, and Wisdom – too burnt by that time)

Here's some pics. Hope I post them in the right order, but you'll get the idea if I mess it up.

Ganja Giri layin' down the tribal funk at the Main Stage, early Friday afternoon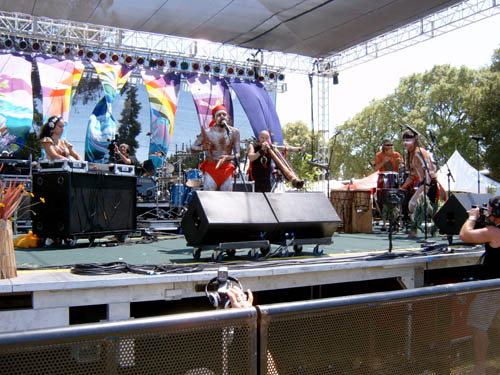 New Monsoon, the core 5 before Mike Stern joined 'em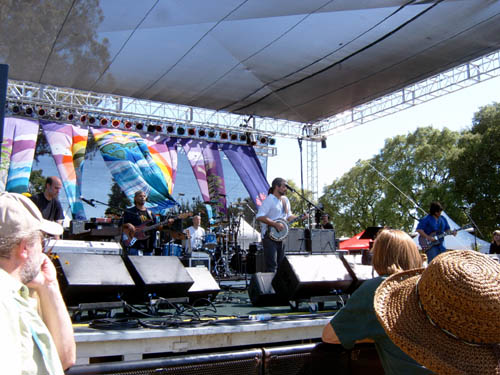 Mike Stern with New Monsoon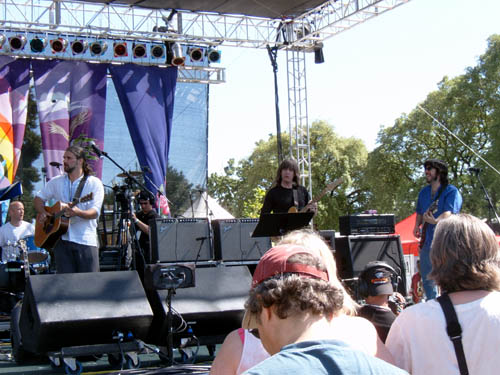 a couple Zoners during the sparsely attended New Monsoon set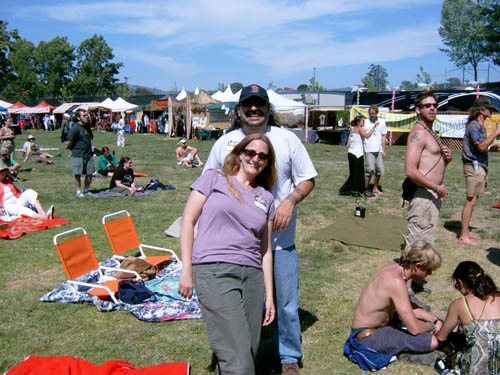 another Zoner sighting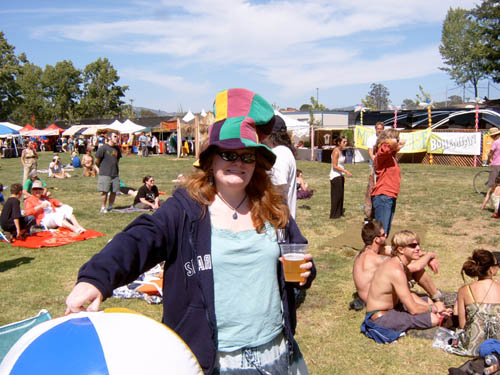 Zoners & The Waybacks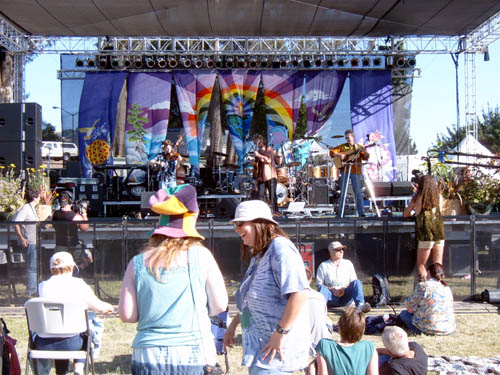 Kimock, Perkins, Wasserman, & Waldman – with live art onstage



Wasserman, Waldman, Meester, Melvin



Zoners digging the Kimock set at the Redwood Stage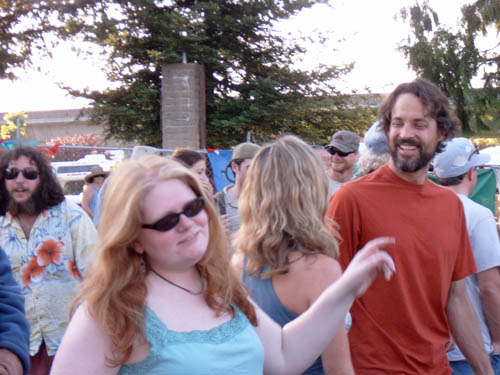 Brian Wilson – the headliner at the Main Stage on Friday -- faithfully recreated the Beach Boys sound with all of their big hits. An enjoyable and nostalgic set, even though the entire show was totally scripted. Brian's voice sounded surprisingly strong throughout.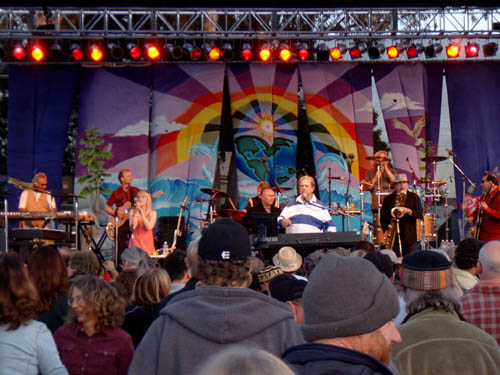 At noon on Saturday, SambaDa played an exuberant set of Latin/salsa/funk that drew the crowd out and got everybody dancing at the Main Stage.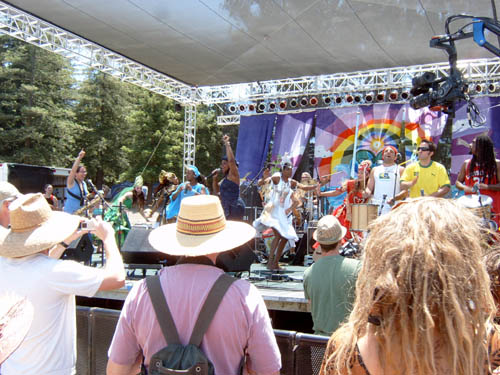 …then a dash to the Redwood Stage to catch Aphrodesia, a 12-member group with a full horn section and heavy percussion playing Afro-Latin-tribal-funk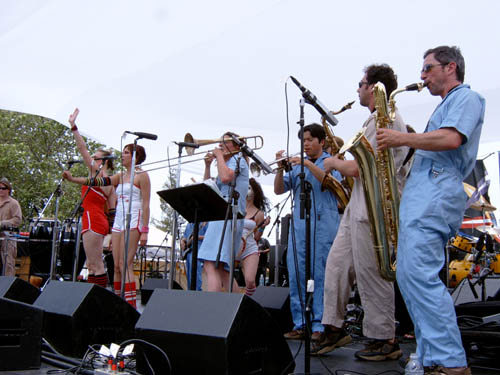 art on wheels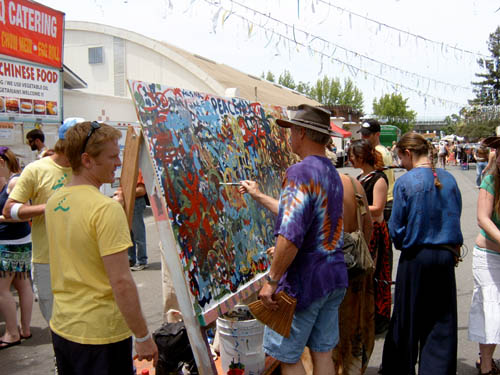 fun with mannequins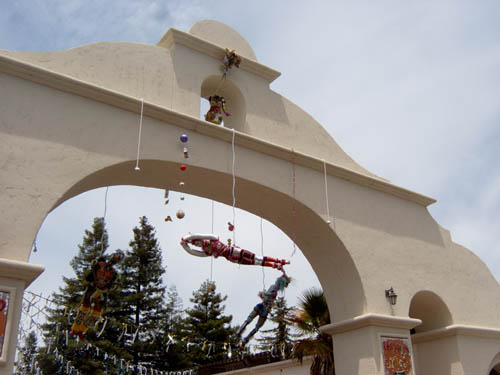 the incomparable Mojow & the Vibration Army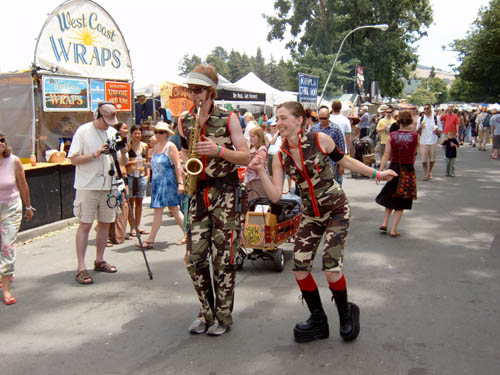 HallucinArt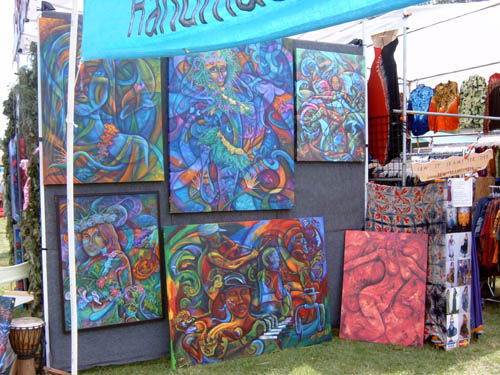 cool Cheech & Chong shirt in the crowd during the Mike Stern Band, Saturday afternoon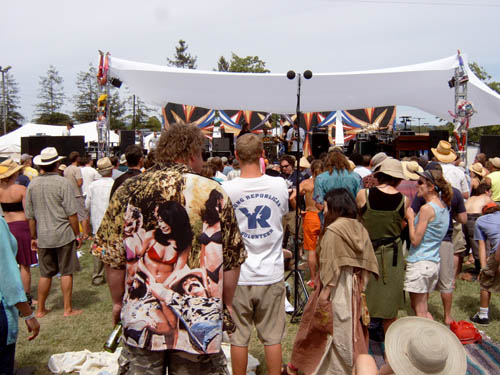 the Mike Stern Band totally blew me away with their high-energy progressive jazz-funk set at the Redwood Stage. Dennis Chambers (drums), Mike Stern (guitar), (?? sax), and Victor Wooten -- the most badass jazz bassist I've seen in many many years, with a ferocious attack, check it out y'all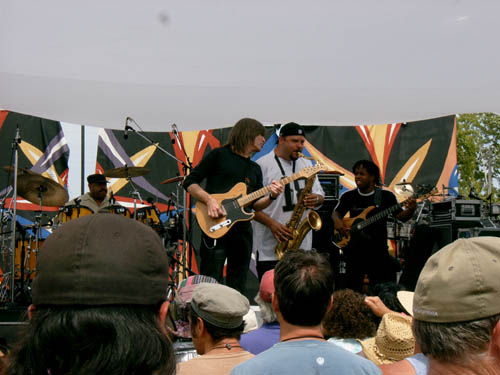 more fun with mannequins, Redwood Stage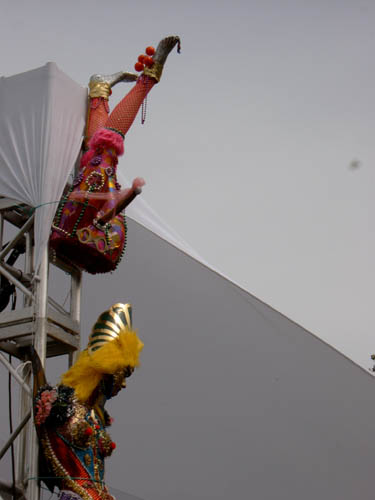 another quick dash to the Main Stage to catch some of Taj, a late addition to the schedule on Saturday afternoon. Then back to the Redwood Stage yet again for…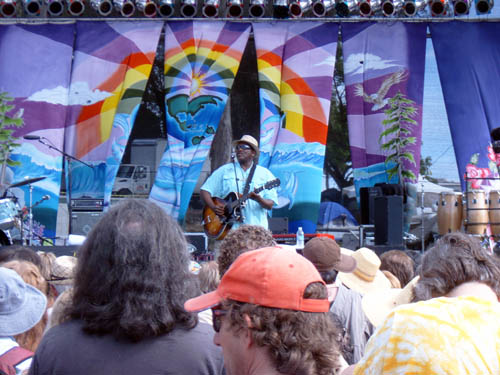 Umphrey's McGee, who played 2 solid sets. First time I'd seen Umph live, and I have a feeling it won't be the last. A very enjoyable musical experience, admittedly filtered through a moderate shroomie haze…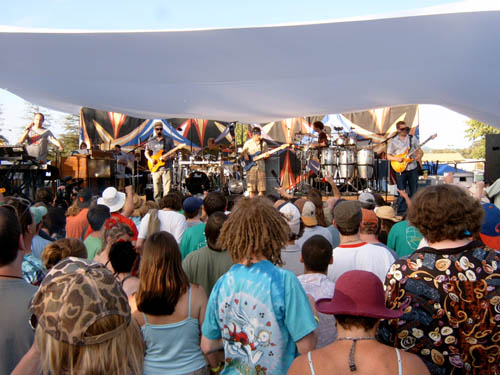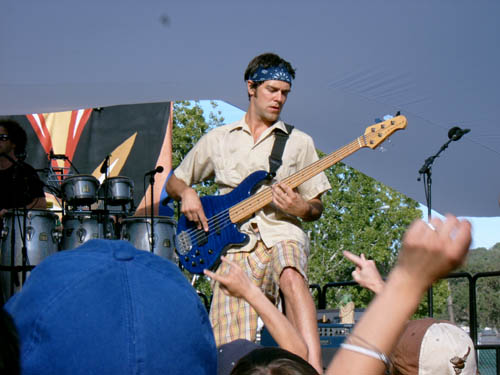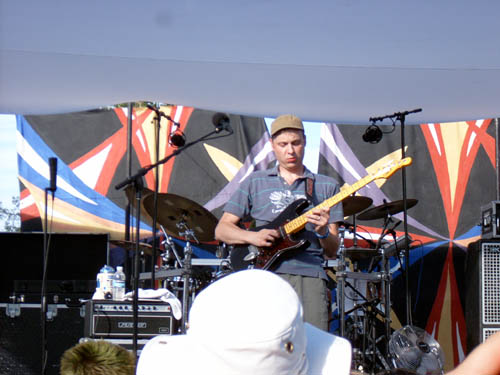 more Zoner sightings at Umphrey's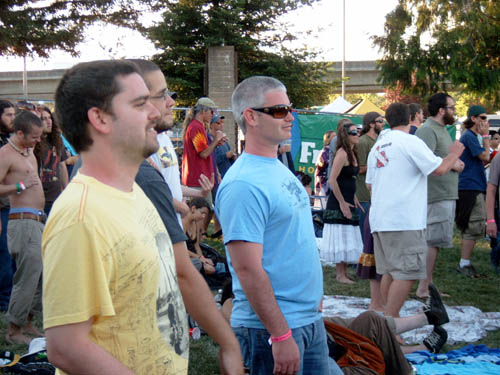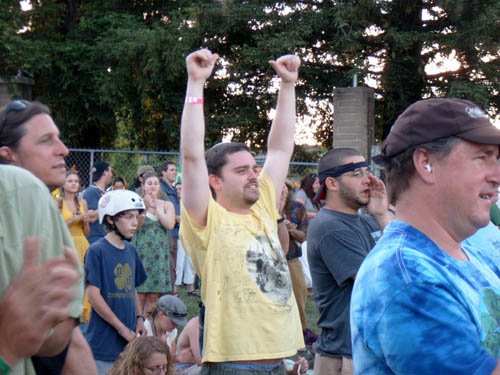 Erykah Badu at the packed Main Stage on Saturday early evening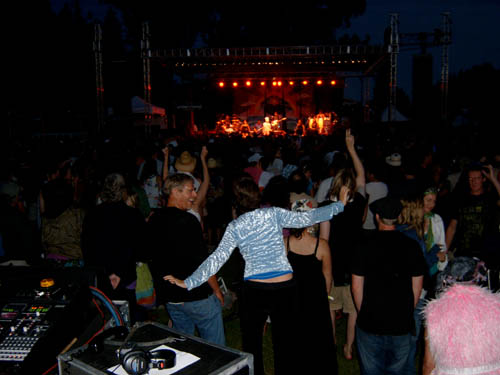 Green Lemon on drugs, playing their brand of hypnotic trance-jam, Saturday late night in Harmony Hall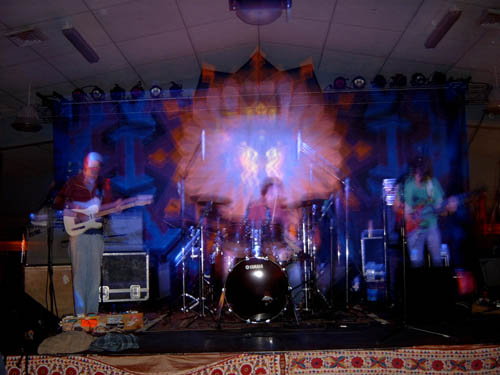 the Mike Stern Band played another killer set late Saturday night, and this photo accurately reflects the mindset of the photographer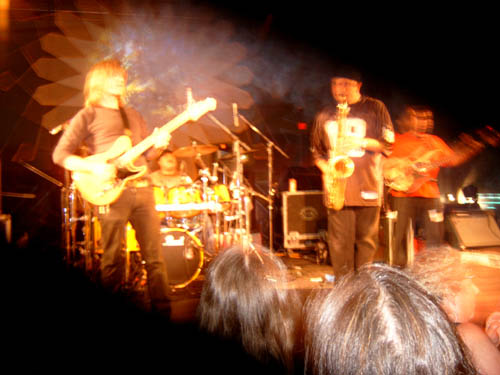 …and Kimock joined them for their last couple tunes, leaving a smoking crater of my mind…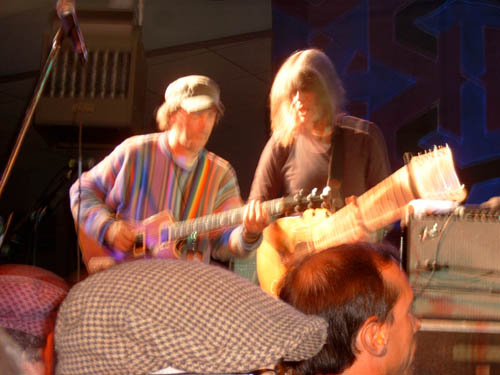 That's all for now, folks. I filled up my camera's memory card by Saturday night, and didn't have a spare card (damn !). I may post more pics later if I can get some from a friend.
---





By Turtle (Turtlerips) on Tuesday, June 12, 2007 - 12:00 pm: Edit Post

thanks 4 sharin' looks fun!
---





By Calypso Frelimo (Dave_c) on Tuesday, June 12, 2007 - 12:07 pm: Edit Post

Thanks Garyfish! Great reviews and fantastic photos.

Nicely done!
---





By Rory (Rpmfadeway) on Tuesday, June 12, 2007 - 02:02 pm: Edit Post

Awesome review Gary. Man, you got around on Saturday. I probably checked a third of what you did. I just posted this in OS but here it is anyway:

I went on Saturday and stayed till Sunday morning. Saw Mike Stern Band with Victor Wooten...killer stuff. Victor is the man and Mike Stern shreds. Then we checked out Umphrey's, who played an awesome 2nd set. Oh, I ran into Garyfish during this set too, nice seeing you brother. Chilled out, munched on some gyros, smoked some lavender, cooked some pasta back at the site, smoke some bubble hash. Then drink, drink, drink > indulge in some party favors and off for the night.

Well, I think we went by the Mike Stern/Kimock deal and frankly were either not interested or too fucked up to pay attention. Finally found ourselves at the Techno Danco Tribal Party. HOLY SHIT, that was fun. Well, actually it sucked till England's psychedelic warrior DJ Schpongle came on. It was a fucking crazy party!!! I'm not all for the rave scene or anything but this was pretty damn cool. More Burning Man crowd than rave although I did see some idiots walking around with glow in the dark pacifiers. f'in tools. Sweaty HOT chicks dancing all around. The lights and fire show was the best I've seen. Did I mention the women were smoking? :-)

Left early on Sunday after 2 hours of sleep. Bummed too b/c if I slept I would have stayed for ALO but come 8am on Sunday I was BURNT both physically and mentally.
---





By _______________________________ (Wino) on Tuesday, June 12, 2007 - 07:31 pm: Edit Post

Nice stuff
---





By John J. Wood (Jjwood64) on Tuesday, June 12, 2007 - 07:32 pm: Edit Post

Great review and photos, Garyfish! Thank you for sharing.:-)

Sadly, I've only seen Mike Stern once...when he backed the late, great Jaco Pastorius back in October 1983 at the Red Creek Inn in Rochester.
---





By good day sunshine (Blaise) on Tuesday, June 12, 2007 - 10:35 pm: Edit Post

great review I was thier fri. BANYON!! I guess I left too early.
---





By Harmony Fest, then DNF (Garyfish) on Wednesday, June 13, 2007 - 05:57 pm: Edit Post

Here's some more pics from the Harmony Fest, courtesy of my friend Maureen.

This continues in pretty much chronological order from where I left off above…

Another shot of the Mike Stern Band from Saturday late nite. Hard to get a good photo with the shifting psychedelic display on the backdrop.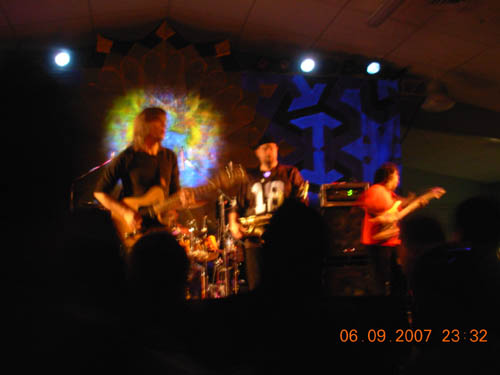 Victor Wooten – THE MAN who rules my jazz bass world. Jaw-dropping stuff. Seeriouslee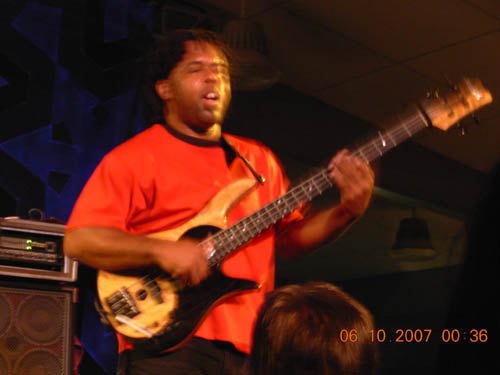 Kimock sitting in with the Mike Stern Band at the end of their set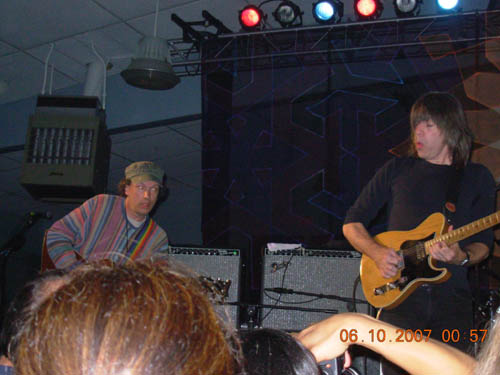 The New Mastersounds, Sunday afternoon at the Redwood Stage. They hail from the UK, and their unique brand of instrumental jam-funk really got the crowd up and moving. One of my new favorite bands, for sure. During their set, I saw a guy in the crowd who I met a week earlier at Zoner Jam – MissUJerr, a.k.a. Greg.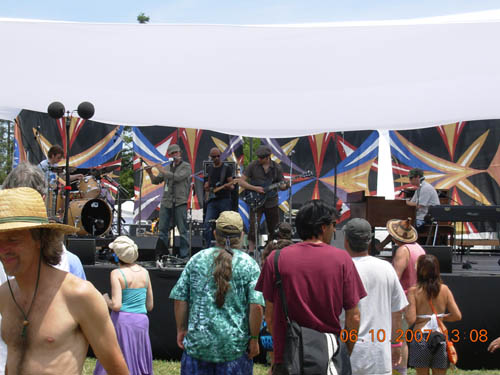 Hot Buttered Rum was the next act at the Redwood Stage, and they played their usual solid set.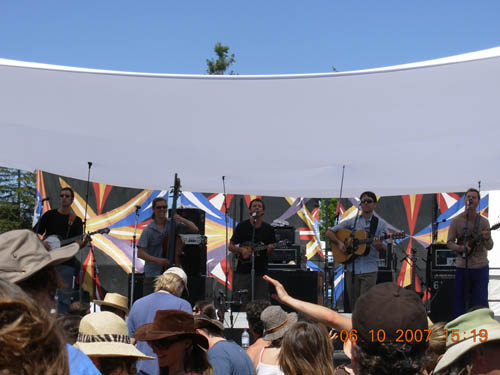 Marin resident Sharon Gilchrist, who has played with Peter Rowan among others, sat in with HBR for a couple tunes on mando and background vocals.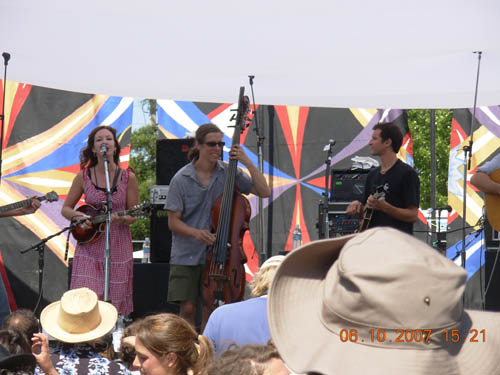 Stilt-dancers in the crowd during HBR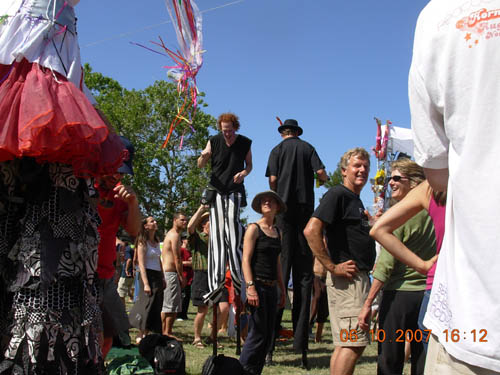 ALO's Dan Lebowitz sitting in with HBR for the last two songs of their set, including the Sugaree closer.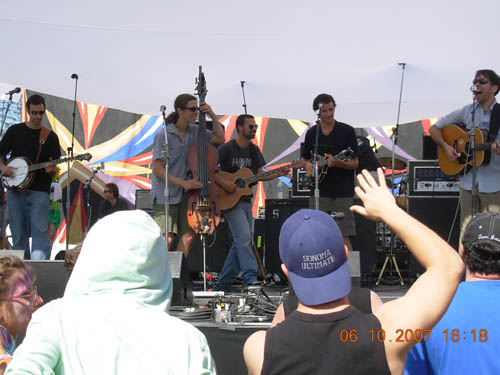 Guy with a white parrot in the crowd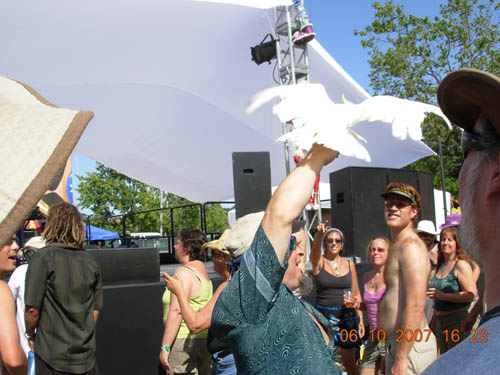 ALO was next, and played an epic 2-hour set with lots of sit-in guests, including Eddie Roberts (guitarist with the New Mastersounds), Mike Stern, and a guy who played cello. During ALO's set, I hung out a bit with Zoners Uncle John and Jessica, who I'd met at WCZJ the previous weekend.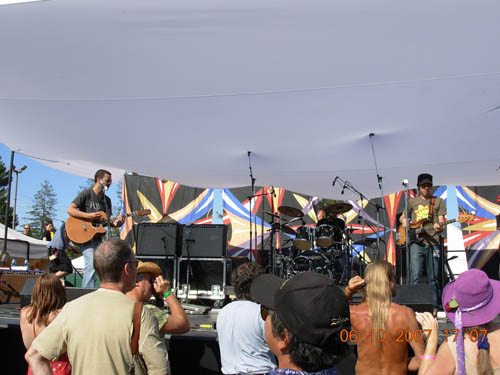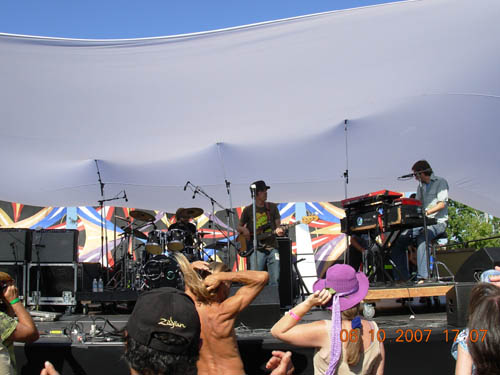 Mike Stern joined ALO for about 4 rippin' songs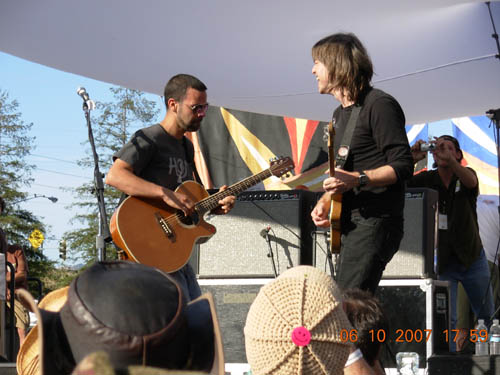 Mini-trampolines in the crowd during ALO's set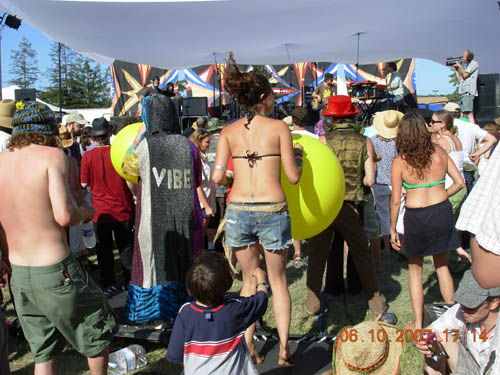 Lebo on lap steel, with Mike Stern and that cellist guy sitting in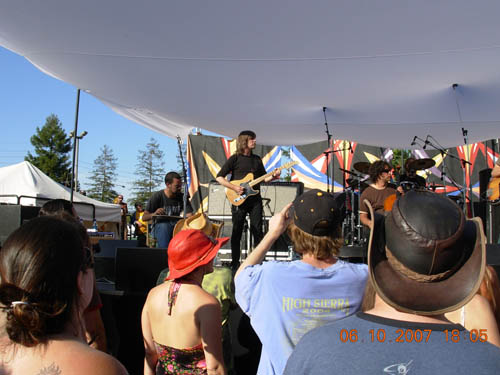 Near the end of ALO's set, a totally dosed-out dude in a tie-dye shirt hopped up onstage and shuffled toward the bass player. Everybody thought it was kinda amusing at first, but right after this photo was taken, the guy grabbed the neck of the bass -- and security leaped into action. They escorted the guy off the front of the stage without too much trouble, to great applause and laughter from the crowd. Well, at least he didn't leap from the balcony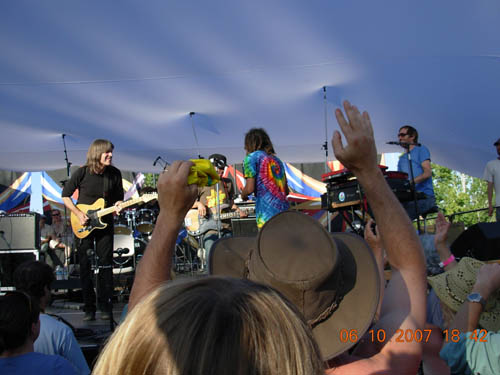 Mojow and the Vibration Army joined ALO with Mike Stern for a rousing finale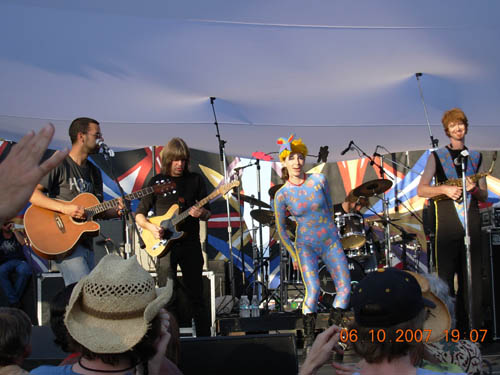 On the drive home, couldn't resist taking this photo of a winery on Hwy 101, north of Hopland.
Jockomo feena nay !!!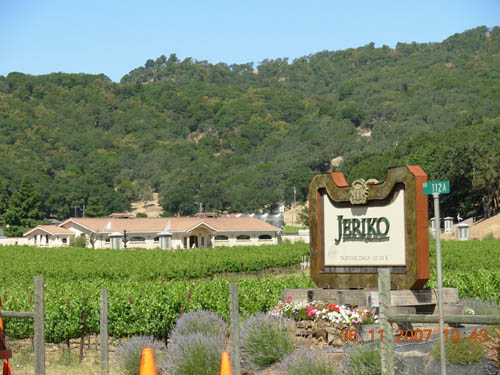 ---





By 1st One's Named Sweeeeet Emily (Odessablue) on Wednesday, June 13, 2007 - 06:04 pm: Edit Post

Nice pics, thanks for sharing

---





By Harmony Fest, then DNF (Garyfish) on Friday, June 15, 2007 - 12:45 pm: Edit Post

Bob Minkin has posted a bunch of killer pics from the Harmony Fest at http://www.minkindesign.com/photo/harmony2007/

Looks like Bob's photos are from Friday and Sunday only. His posted photos are mainly of Kimock with Banyan, ALO, and New Monsoon, with a scattering of pics of other groups. Stunning work!!
---





By Harmony Fest, then DNF (Garyfish) on Saturday, June 16, 2007 - 07:24 pm: Edit Post

More Harmony pics on the Web at
http://www.kodakgallery.com/I.jsp?c=b71j9c1.c4rz1x 7l&x=0&y=7e8sl
---





By G.Fish ‹º))))))›‹ (Garyfish) on Sunday, July 15, 2007 - 07:03 pm: Edit Post

still more Harmony photos, on JamBase at http://www.jambase.com/headsup.asp?storyID=10964