Del McCoury Band 6/16 san marcos ca
---
Philzone.org - Philzone Phansite Community Discussion Board: Setlists and Reviews: Non GD Related Reviews:

Archive: Del McCoury Band 6/16 san marcos ca
---





By Lord Henry (Terrapindew) on Friday, June 15, 2007 - 02:11 pm: Edit Post

I was really excited to see Del McCoury come play 5 miles from my home town! We don't get many big bluegrass names in San Diego county and thanks to the local reverend Clint Miller (a long time friend of Del's) the band was happy to come on down and do a little pickin for us. Apparently Del and the boys found Jesus in front of the 7-11 on Grand Ave in Escondido with a little help from the Reverend! They had played in Escondido back in 2004 at the local Baptist Church and now since then the Rev changed his ways by becoming nondenomenational they moved the church to this hilarious Oasis/restaruant in San Marcos.

It's a real treat to see these guys play in a place like this. Feels like family and having the greatest bluegrass outfit playing in a venue no bigger than a living room was unreal. Small turnout, there wasn't much time to advertise, about 100 or so people came out for the gig. Just enough to keep the place warm with love. Gdadski and I got there early to poke around, got to meet to the band and hang with the Reverend a bit.

The show started with the Reverend dishing out the jokes and saving 5 people in the audience. Then it was on to Del !
They opened with about 5 gospel numbers that were just about perfect and then mixed request in with random songs they wanted to play. They were quite open to requests as they played the infamous Orange Blossom Special and classic Sally Goodin'.

They have to be the nicest guys in showbiz, talking to people in the audience, giving them their requests and smilin' a whole lot. I'm surprised they didn't invite us for bisquets and gravy the next mornin! Everyone in the band was in top form just about playing at the top of their level. Ronnie was raging his Loar Mandolin and Jason soared on out with the fiddle. Rob played some beautiful guitar and Del and Ronnie did a duet. They played for about 2 and a half hours !!

Here' some of the songs they played...
Get Down on Yer Knees and Pray
Orange Blossom Special
Cold Hard Facts
Promised Land
Pike County Breakdown
Recovering Pharassie
Vincent Black Lightning
Cold Rain and Snow
Glen Rock
Workin' on a Building
I Never Knew Life
You Win Again --hank williams version
Sall Goodin
All Aboard
Will the Circle Be Unbroken
Rawhide

Got to talk with Del, Ronnie, Rob and Jason after the show. Damn they are fine gentlemen.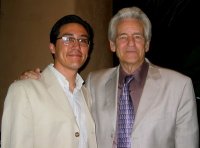 ---





By G.Dad (Binlajolla) on Friday, June 15, 2007 - 02:51 pm: Edit Post

Yes LH was a terrific night that happened at the perfect time..

Wish TimmyHoover had been there along with You Me Furious E and Jenny..

Del played "52 Vincent" a song Hoover loves and sings so well..

Also..not on your list..A song I so related to


RECOVERING PHARISEE - words and music by Buddy Greene


I'm a pharisee in recovery
With new eyes I can see a big sinner in me
But it's the way of my human heart
To confess other people's sin,
Reluctant to admit my part or the deeper problem within.
But, thank God, He won't let me be, or remain in my hypocrisy
Sooner or later I'll be on my knees
honest to God a recovering Pharisee

I'm a sinner and a saint simultaneously
I'm not what I was or what I'm goin' to be
Still I've got that ol' tendency to be all a wicked man can be
It takes more than knowin' right from wrong
It takes more than singin' gospel songs
It takes the life of the Great I Am to produce any good in me
He's the Vine I'm the branch and I'm learnin' to be
Honest to God, a recovering Pharisee

I need the God of all grace each and every day
If I'm to run his race if I'm to walk in His way
I don't have to be a slave to sin I don't have to let the devil win
Cause the Son of God lives in me and He promises to set me free
So, Jesus, help my unbelief so I can follow you faithfully
You're the Shepherd I'm the sheep and you're helpin' me be
Honest to God, a recovering Pharisee

-------------------------------------------

For your listening pleasure

Del and the Boys at MerleFest 2007

http://www.mvyradio.com/archives/index.php#A

Scroll down you'll find them
---





By G.Dad (Binlajolla) on Friday, June 15, 2007 - 03:19 pm: Edit Post

Will the Circle Be Unbroken **

** with Pastor Clinton Miller on lead vocals

Clint himslef a singer guitar player a frequent traveler to Nashville..

He loaned the band a couple of his guitars and had the evening video taped..

Lookin forward to frequenting the Oasis Church again and maybe seeing that DVD..


This was my first times seeing Del..might have heard a few recording but his voice..that first song..Oh Sweet Jesus..

+ the vocal harmonizing last night was sick..some sweet Del Band microphones..Grand Old Opry foam rubber covers.. the living room atmosphere..

They also covered by request Nashville Cats..

And did a song for Pastor Miller's Wife's Mom who was in attendance and Del who had troubles remembering names of songs(but not lyrics)..Did remember Mom;s first name which blew everyones mind..

Ronnie M and Tom had a good post show discussion about..of all things Mandolin..know in the trade as "a piece"..Ha

I snapped 3 post show pics..Tom and Jason Carter + Tom and Ronnie McCoury and the last one which you see above..Tom and Del...

Thank You Oasis Church for hosting the evening.. for the warm and inclusive greeting..Pastor Clint Miller wearing cowboy boots and a suit..his self depricating stand up comedy..funny..his and the entire audience many church member's love of Music..his origionality..his brief unobtrusive preachin warm sincere sweet spirit..

I can see why someone would want to play music at his congregation..and more importantly want share their faith at what was once called North County Baptist Church now know as Oasis Church..
---





By Lord Henry (Terrapindew) on Friday, June 15, 2007 - 05:40 pm: Edit Post

Oh the sweet harmonies !!!

btw, who's Tom?
---





By I Hold It In My Hand.... (Creekhead) on Friday, June 15, 2007 - 06:01 pm: Edit Post

NICE!!!
---





By G.Dad (Binlajolla) on Friday, June 15, 2007 - 06:07 pm: Edit Post

Tom is the guy who started Myspace..

He is my only friend..
---





By GVdude (Ncbart1) on Friday, June 15, 2007 - 08:29 pm: Edit Post

Hey Now guys, Del is playing at the CA Bluegrass Fest. Sat and Sunday in Grass Valley live feed on www.kvmr.org all weekend long Ronda V just got done
Happy summer 100 degreeeeeeeeees today but nice at the rive. Have a nice summer all....
---





By _______________________________ (Wino) on Friday, June 15, 2007 - 08:32 pm: Edit Post

nice jackets in that pic.
a nice southern touch yall
---





By G.Dad (Binlajolla) on Friday, June 15, 2007 - 11:01 pm: Edit Post

GVdude..Thanks for the link to Stream link of GV Bluegrass Fest..

Was nice seeing you at ZonerJam last weekemd..
---





By GVdude (Ncbart1) on Saturday, June 16, 2007 - 12:31 am: Edit Post

you too G Dad happy birthday and have fun with the rockers!!!!
---





By Turtle (Turtlerips) on Saturday, June 16, 2007 - 03:01 pm: Edit Post

sounds like fun...sweet pic w/ del, LH!!