NPRS 6/30/07 Turkey Trot Acres
---
Philzone.org - Philzone Phansite Community Discussion Board: Setlists and Reviews: Non GD Related Reviews:

Archive: NPRS 6/30/07 Turkey Trot Acres
---





By Denny (Dbmu1977) on Monday, July 02, 2007 - 01:05 pm: Edit Post

This the 2nd year that the New Riders have played this out of the way place in rural Tioga County New York. Last year was a 2 day deal that we caught the Sunday afternoon show. This year it was 1 night only for a max of 150 people.

I don't think there were that many folks there, maybe 100+ altogether, with many of the same smiling faces as the year before.

We started on my backporch with burgers, dogs, salads, beer and a bottle of Dave's homemade pinot noir. Very good I might add. Headed out the for the 26 mile drive across hill in dale, made 2 wrong turns due to my inabilty to read my directions and the fact that Sue didn't come with her expert knowledge of the terrain.

We got there about 15 minutes before the band came out and grabbed a seat in the rear. This place is a big cabin with an open porch and a scenic hill side setting. Great place for a show.

The band took a few tunes to get cranking and then were firing on all cylinders. Highlight of the 1st set was any naked eye>garden of eden>last time>eden>naked eye. They were tight.

Spotted a California Zoner, Gary-fish at the show. We had exchanged emails and had a nice chat and a couple of beers. Nice guy, my 2nd virtual friend I have met in real life, 1st zoner.

Big Dave and Rick who traveled with me had a blast and we finished out the eve on my back porch until about 2am shooting the breeze. Have to say that this a great place to see a show and I hope they get them back next year. The New Riders are smoking right now, hard to believe that Dave Nelson just turned 64. He is a man who has stayed true to his roots. The end of the 2nd set was outstanding.
Setlist is as follows:
Set 1: I Don't Know You, Whatcha Gonna Do, Contract, Sutter's Mill, Sweet Marie, Peggy-O, Lochinvar, Long Black Veil, Any Naked Eye > Garden of Eden > Last Time > Garden of Eden > Any Naked Eye

Set 2: Rocky Road Blues, Sing Me a Rainbow, 15 Days Under The Hood, Truck Drivin Man, Dirty Business, Higher, Last Lonely Eagle, Louisiana Lady, Panama Red, Instant Armadillo Blues, Take a Letter Maria
---





By Calypso Frelimo (Dave_c) on Monday, July 02, 2007 - 01:10 pm: Edit Post

Awesome! Nice review.

I had the pleasure of also meeting Garyfish about a month ago - he's a good dude! Glad you guys caught such a good show, in what seems to be an amazing setting!
---





By 1st One's Named Sweeeeet Emily (Odessablue) on Monday, July 02, 2007 - 01:17 pm: Edit Post

naked eye>garden of eden>last time>eden>naked eye

Nice!!

Looks more like a DNB/DNF set than a NRPS set. It's a winner in my book either way!
---





By '07 (Plf9905) on Monday, July 02, 2007 - 02:01 pm: Edit Post

dnb / dnf !!!

nrps !!!


yay!
---





By Denny (Dbmu1977) on Monday, July 02, 2007 - 02:21 pm: Edit Post

It will be interesting to hear Gary's side of the story. When he got his tix he told the owner he needed place to stay, plus was from Ca, so they put him up in a cabin there.

I wonder if there were any late night festivities following the show.
---





By JHT (John) on Monday, July 02, 2007 - 03:08 pm: Edit Post

thanks for the review. I just saw them on the cruise and I have to agree that this band is smoking right now.
---





By Calypso Frelimo (Dave_c) on Monday, July 02, 2007 - 03:52 pm: Edit Post

JHT - did you ever get my email on that DN&F show? I sent one to your profile addy weeks ago and never heard from you. . .

Let me know if you still want that show!
---





By JHT (John) on Monday, July 02, 2007 - 04:12 pm: Edit Post

Dave-
I did get it and replied back to you that I was all set, but thanks. not sure why you didn't get it. thanks for the offer though, I do appreciate it.


Rocky Road Blues
15 Days Under The Hood
Truck Drivin' Man
Instant Armadillo Blues
Take A Letter Maria

to get these five songs in the same set would have almost been too much for me. heavy duty!
---





By Calypso Frelimo (Dave_c) on Monday, July 02, 2007 - 05:09 pm: Edit Post

That's cool John - glad you got the show!

BTW - I loved that review you wrote on the NRPS cruise. . .sounds like a *real* good time.
---





By train got lost (Tore_up) on Tuesday, July 03, 2007 - 09:42 am: Edit Post

been too long since I heard Dirty Business
too long

thanks for the NRPS report
go Dave!
---





By Gary ‹º))))))›‹ (Garyfish) on Wednesday, July 04, 2007 - 07:09 pm: Edit Post

FINALLY got to an internet connection so I can post a belated review of the Turkey Trot show. I'm visiting family in northern NY, and my Luddite parents don't have a computer -- so I've been jones-ing for the Zone and my e-mail and all the other websites I'm used to visiting on a regular basis. Probably a good thing to take a cyber-break every now and then, though. At any rate, on with the show…

This was the 3rd time I've seen the New Riders in the last 18 months, and I can say without hesitation or exaggeration that the Turkey Trot show was the BEST I've ever seen them. No surprise there, I guess -- the hallmark of a great band is when that band surpasses your expectations and continues to delight and amaze every time out. But hell, IMO any musical endeavor that includes David Nelson is about as good as it gets these days. If he's playin' within a 2-3 hour drive away, I'll do my damnest to get there. And -- as luck would have it -- I was back east on vacation and the Turkey Trot show fell on an "open" date for me (no conflicting commitments with family, etc.), so off I went to rural Candor, NY in search of some high adventure.

The Turkey Trot event was billed as their "Family Reunion" show –- and the official release party for the Turkey Trot DVD/CD from the New Riders' epic shows there on July 29 & 30, 2006. I got my handbill signed by some of the band members & crew & the venue host.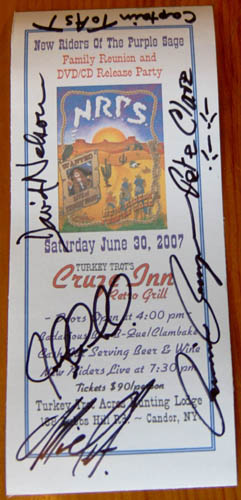 The venue, a semi-rustic log-cabin lodge and assorted outbuildings, was one of the most welcoming and down-home settings for ANY show I've EVER attended. I could just feel the good vibeage emanating from the place the moment I pulled into the driveway.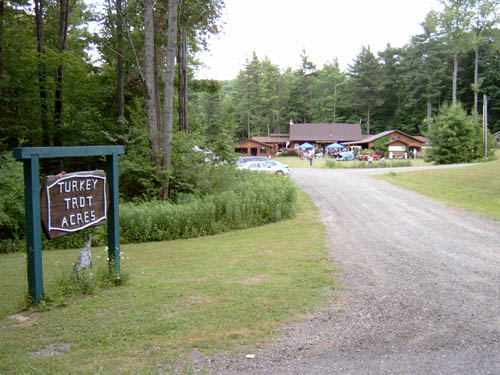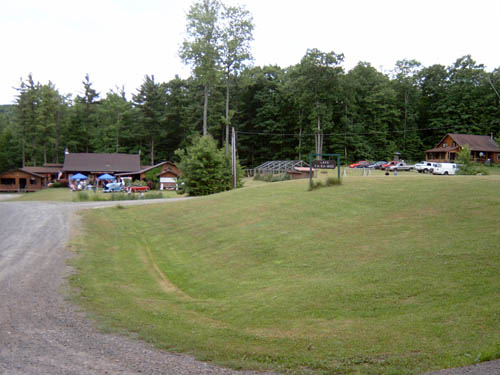 The owners and hosts, Pete and Sherry Clare, are two of the most generous, genuine and open-hearted people you'll ever meet. Here's a photo of Pete in full party regalia, with part of the lodge in the background showing the rustic construction (that's Sherry on the porch at the far left).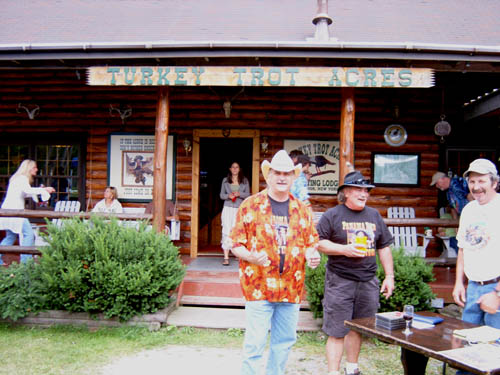 …and here's another shot of Pete manning the ticket table, with Captain Toast, David & Falz visible in the background. That covered patio, with the white picnic tables, adjoins the main room where the band played.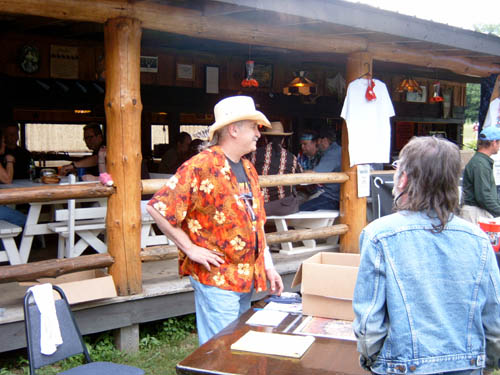 The ticket price of $50 was about double what you'd expect to pay for a New Riders show, but money was no big concern for this special event -– and I sprung an additional $40 for the pre-show BBQ with open bar. Glad I did, too, because it was one of the most awesome home-style spreads I've ever had. Pulled pork, beef roasts, steamed clams, shrimp cocktail, all kinds of salads, breads, veggie lasagna, and more. There was a small bar outside with bottled beer, and the main bar inside serving margaritas and about 6 different beers on tap. Top-notch all the way.

I grabbed a plate of chow and saw Buddy Cage sitting by himself so I pulled up a chair and shot the breeze with him for a while. We talked mostly about his satellite radio gig, how money influences radio playlists, and the economics of touring. Over the course of the evening I chatted briefly with all the band members and crew, and dispensed a few Humboldt herbal party favors along the way. I asked Falz about the New Riders' touring plans on the west coast this fall. Aside from the early September shows already announced, he said to expect a NW swing after Thanksgiving, similar to last year's, hitting NorCal, Oregon, maybe WA. He also said that shows in SoCal may also be in the works, but nothing definite yet.

But I digress. Here's the actual venue, before all the music started. The walls are covered with old album covers and concert posters. Very cool.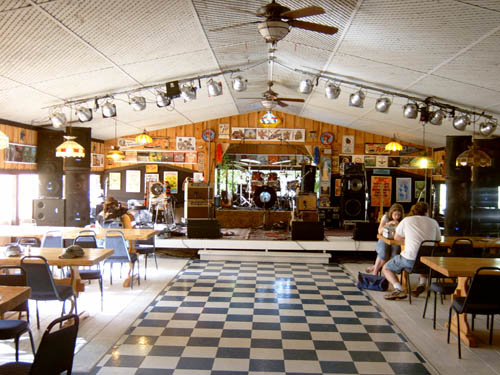 The opening act was Skarekrow, whose set was very warmly received.




After a short break, Pete introduced the band and presented each member –- and the entire crew (Captain Toast, Little Toast, Sound Dawg and Skarekrow) -- with their own personally inscribed turkey call. These were handcrafted wooden boxes (about 12" long by 2" by 2") with a moveable lid held by a single nail or peg. You move the lid slowly across the box to get the turkey-call sound. The guys all sounded off, gobbling and squawking simultaneously – at that point I suppose it would have been fitting to segue into Turkey in the Straw or something like that…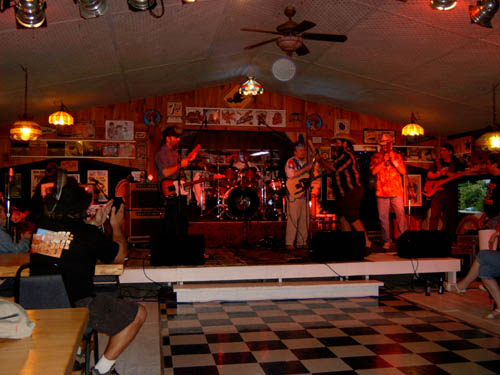 …then they launched into the opening number, I Don't Know You. Excellent acoustics in the place, and kudos to Timmy who had the sound totally dialed from the get-go. The east-coast crowd was a little more sedentary than what I'm used to out west, at least initially. It started raining during the second or third song, but inside things were just beginning to heat up. The band really started cooking with Sweet Marie, which got a bunch of the sit-down folks up and moving. The first-set closing jam of Eye > Garden > Last Time > Garden > Eye launched the show into the stratosphere, setting the stage for great things to come in the 2nd set.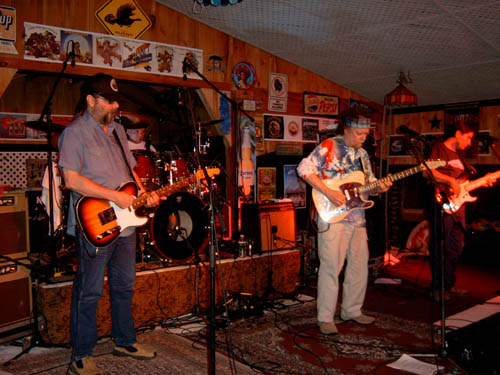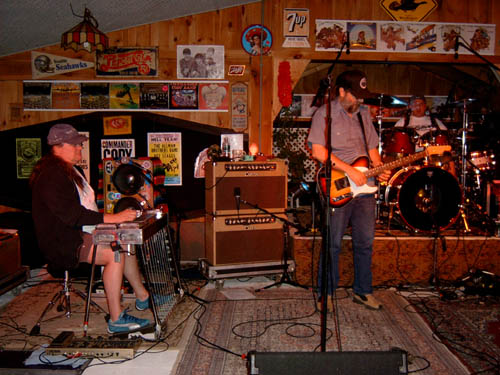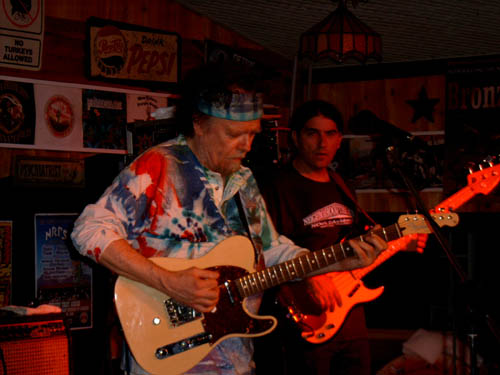 The crowd was older than most I've seen, average age probably between 35 and 40 – with lots of folks in their 50s and 60s -- dominated by older Heads, hipsters and boomers. I'd estimate the attendance at about 125 folks, a little short of the 150 limit set by the Turkey Trot folks. A couple people I spoke with speculated that the elevated ticket price might have been a factor in the lower-than-expected turnout. No matter, though. There was plenty of room for everybody, whether they were dancing, sitting, standing or roaming. And there certainly was no shortage of enthusiasm!! At several points during the show I looked around and it seemed like everybody there knew all the words to every NRPS song. And that loving vibe with smiling faces all around -- just like a Family Reunion is supposed to be!!

Not surprisingly, I made a bunch of new friends at the show. Early in the first set I met up with Zoner Denny (a nearby resident with whom I'd exchanged e-mails) and his pals Dave & Rick. We hung together for a while and shared more than a few stories and laughs at intermission and after the show –- fun times, hope to see ya again some time!!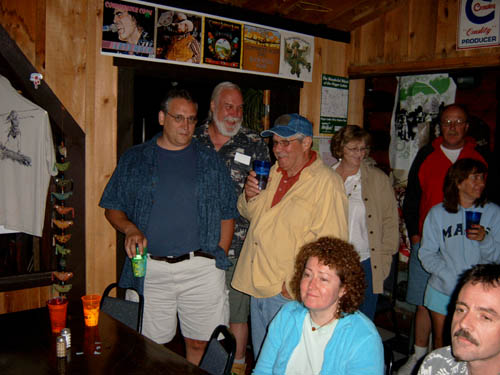 The boys continued rockin' out in the second set, and things really took off once they launched into 15 Days Under The Hood, followed by Truck Drivin' Man. Buddy really dug into his gritty solo turns on Dirty Business. Lusty sing-alongs during Last Lonely Eagle, Lousiana Lady, and Panama Red. And the band finished strong with Armadillo Blues and Take A Letter Maria, my wish-list closer!!

All in all, an outstanding rockin' show that was one for the ole memory banks. It doesn't get much better than that.

Except there's more!!

About an hour after the show ended, another awesome spread of food came out for the band, the crew and a few late-nighters like myself who were spending the night there. I stayed up a while longer and shot the shit with Captain Toast, LT, Skarekrow, Pete, and a few other Turkey Trotters. MANY THANKS to Pete and Sherry for providing me with a comfortable bed in the Guide Shack at no additional cost!!

I got up late the next morning, a little after 10, and saw that my car was one of two left in the parking lot. After saying my goodbyes, I headed out and decided I wanted to go through Ithaca on my way back north. Ithaca was only about 30 miles away, and I spent six great years there in the 1970s –- Cornell Class of 1975, believe it or not –- and my residence there included the famous GD 5-8-77 Barton Hall show. So I took a little drive down memory lane, touring through downtown, Collegetown, and portions of the Cornell campus. Once I saw Barton Hall I was compelled to stop and take a few photos there…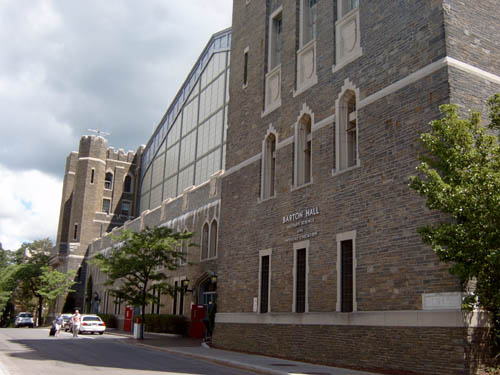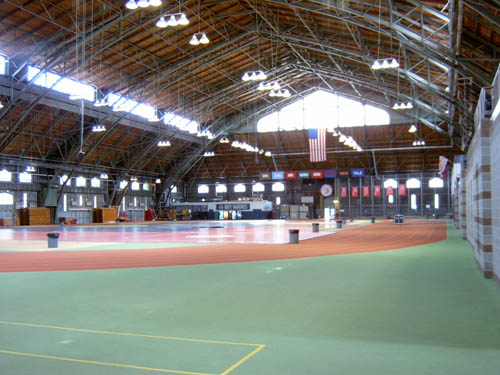 …and as I stepped inside the venerable venue, chills ran up and down my spine. WOW. Indeed, a fitting capper to an outstanding and memorable musical weekend.

If the New Riders make Turkey Trot an annual stop on their summer touring schedule, I'm all set to do it again next year!!
---





By SoCal (Big_bill) on Wednesday, July 04, 2007 - 08:35 pm: Edit Post

Outstanding, Gary.

Thank you.
---





By Denny (Dbmu1977) on Wednesday, July 04, 2007 - 09:00 pm: Edit Post

Glad to see you made it home and got up to Ithaca for a visit. Send me your address and I will send you out that NPRS show we talked about.
---





By Dan (Budboy) on Wednesday, July 04, 2007 - 10:03 pm: Edit Post

Wow Gary, what a GREAT review and incredible pictures - really got the feeling of the gig. Looks like David had his new guitar and a new t-shirt(!).
Hope to see y'all in September (if not before).
BB & BG
---





By FrogPJs (Frogpajamas) on Thursday, July 05, 2007 - 01:20 am: Edit Post

Great reviews, you guys, thanks! Sounds like a gig not to be missed if you're anywhere near the area. Nice travelog, Gary!
---





By G.Dad (Binlajolla) on Thursday, July 05, 2007 - 05:30 am: Edit Post

Gosh that was a splendid review ya wrote there G.Fish..

Plus the nice Pics...

Thanks for posting it up here..
---





By olhippy 50 ! 50 is the new 45 (Olhippy45) on Thursday, July 05, 2007 - 10:46 am: Edit Post

looks like a good time was had by all...happy trails
---





By Calypso Frelimo (Dave_c) on Thursday, July 05, 2007 - 12:40 pm: Edit Post

Yay G.Fish! Awesome. . .

What a great thread.

That's fantastic news regarding the post-Thanksgiving run in the NW!
---





By JTP (Live_wire) on Saturday, July 07, 2007 - 01:04 am: Edit Post

cool, not too far from good ole broome county either
---





By JHT (John) on Sunday, July 08, 2007 - 11:52 am: Edit Post

great review Gary.
Thanks for putting it up.