Lady Joan, Slim's SF, 7/19/07
---
Philzone.org - Philzone Phansite Community Discussion Board: Setlists and Reviews: Non GD Related Reviews:

Archive: Lady Joan, Slim's SF, 7/19/07
---





By 1st One's Named Sweeeeet Emily (Odessablue) on Friday, July 20, 2007 - 03:23 am: Edit Post

Joan Osborne
July 19, 2007
Slim's, SF, Ca



Lady Joan was in fine form this evening.

She Rocked: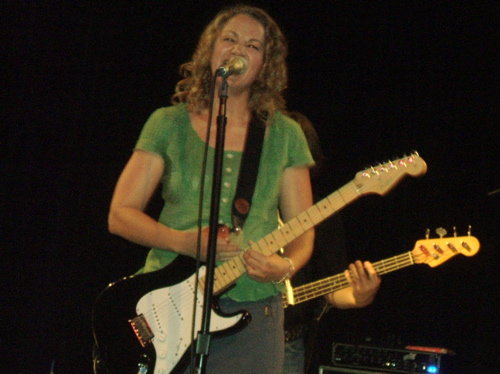 She Rolled: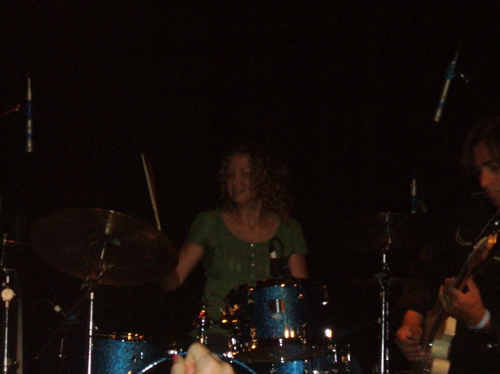 and She even sang a bit: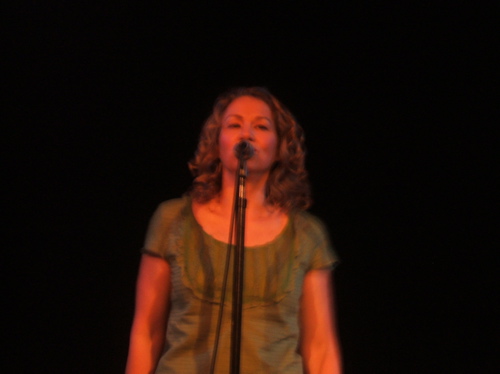 There was a great turnout, no tables and chairs on the floor at all. I was actually expecting a sit-down show--I brought my knitting, what was I thinking?

The crowd was as diverse as the song selection, motown, bob dylan, the grateful dead, old stuff, new stuff, all done in Joan's slow smokey style. She sounded great all night, joking with the rail riders between songs and laughing it off when she blew 'what becomes of the broken hearted' in the middle and just started it over. She showered the band with affection and made sure the crowd did too, as she purred through intros and said 'they make me happy'. Someone said the touring drummer is from the Spin Doctors? I dunno though...

And you can see from the pics, she played half the instruments in the band, the drum break came when the PA had to be rebooted mid-show, so why not? and during Ladder, at the end of the show, was when she picked up the guitar.

Setlist, (and you can quote me on this one, I think I got 'em all!):
Breakfast in Bed
Who Divided
How Sweet It Is
After Jane (a deviation from the printed setlist)
Help Me
Spiderweb
Brokedown Palace
Alone with You
St. Teresa
<joan's>
Baby is a Butterfly
Pretty Little Stranger
Midnight Train to Georgia
What Becomes of the Broken-Hearted
Kiss and Say Goodbye
One of Us
Ladder

E: To Make You Feel My Love

Having a two year old on tour is tiring or so we were told. Joan didn't come out to say hi to the straglers after the show, I wanted to ask her about fall tour

but her manager did take a couple things back for her to sign, including my warfield dvd poster, so that was cool. The lucky silver sharpie strikes again!
---





By Peter T (Petert23) on Friday, July 20, 2007 - 01:07 pm: Edit Post

Emily, what a sweet review. You have a poetic way with words. Thanks for the setlis, it will go well with my recording which turned out FABULOUS, one of my best ever. I'll mention here when I torrent it soon. You know, I've loved Joan since 1996 or so and the St Theresa days, I feel like I've watched her grow from a raunchy talented 25-yo into one of the classiest dames around. What a treat, what a voice, what a diverse career... what a treat it was to have her sing with our Dead friends for a few years! The Brokedown Palace was extra sweet, but made me miss a certain guitarist even more...
---





By Volunteers of America (Walstib2) on Friday, July 20, 2007 - 07:57 pm: Edit Post

Did Phil stand you up?
---





By 1st One's Named Sweeeeet Emily (Odessablue) on Friday, July 20, 2007 - 09:55 pm: Edit Post

No Phil...but ya know, we have an open relationship



Glad to hear the recording sounds good Peter! I was impressed with how quiet the crowd was not much chatting at all!
---





By Rob Scalcione (Rscalcione) on Saturday, July 21, 2007 - 01:23 am: Edit Post

Thanks Emily, and Peter - can't wait to hear it. I was almost able to go, but didn't make it...
---





By lacking in some direction (Heydavey) on Saturday, July 21, 2007 - 10:46 am: Edit Post

Nice job Emily, thanks for the review!
---





By Huckleberry_Hound (Huckberry) on Saturday, July 21, 2007 - 12:00 pm: Edit Post

Sigh.

Emily, you represen' an all. Tis good.
Thank you for the photos.


---





By birds of fire (String_jam_jazz) on Monday, July 23, 2007 - 10:30 am: Edit Post

Great review! I'm steadily building anticipation about my tickets to see Lady Joan next month.

Who knew she played guitar? Can she get any more awesome?
---





By Peter T (Petert23) on Thursday, July 26, 2007 - 04:32 pm: Edit Post

http://www.dimeadozen.org/torrents-details.php?id= 155912

http://www.thetradersden.org/forums/showthread.php ?t=42309