WILCO :: Louisville, KY :: 9.21.07
---
Philzone.org - Philzone Phansite Community Discussion Board: Setlists and Reviews: Non GD Related Reviews:

Archive: WILCO :: Louisville, KY :: 9.21.07
---





By wonka (Waterhill) on Sunday, September 23, 2007 - 04:42 pm: Edit Post

WILCO
9.21.07 Louisville, KY
Slugger Field

1. Misunderstood
2. Forget The Flowers
3. You Are My Face
4. I Am Trying to Break Your Heart
5. Handshake Drugs
6. Side With The Seeds
7. Shot In The Arm
8. She's a Jar
9. Impossible Germany
10. It's Just That Simple
11. Too Far Apart
12. Jesus Etc.
13. Walken
14. I'm The Man Who Loves You
Encore
15. California Stars
16. Hate it Here
17. Box Full of Letters
18. Heavy Metal Drummer
19. Spiders
Encore
20. Via Chicago
21. Red-Eyed and Blue >
22. I Got You >
23. Outtasite (Outta Mind)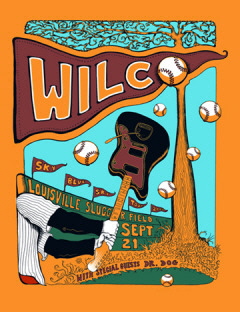 The Lady and I arrived at Slugger Field at 8:20pm about mid-way thru the opening act, Dr. Dog. The night is perfect in everyway. Weather's nice, clear skies, outside venue, ballpark and a Friday night as well. Everyone has their "week-end" mindset turned on.

They have the stage set up about the pitcher's mound on the field and have enough seating in the stands to go from 1st base, home-plate up to 3rd base. Our seats were initially dead-center, behind home plate, but all the way up to the very last row. Unfortunately, we were also located beneath the "over-hang" with the lights kept on overhead. We decided early on, that as soon as Wilco hit the stage, we'd boogie for a song or two and then make a break down the aisle. They made it impossible for us to shake all the way down to the in-field, but we were going to get as low in the stands as possible. The only distractor throughout the night was the netting that the venue had left in place between the stands and the field. Not too bad, mind you … just noticeable is all.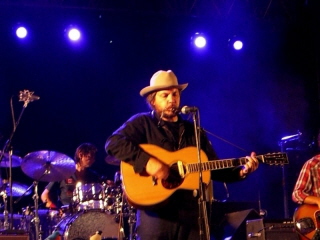 Tweedy and company hit the stage about 9:15pm – he's also got a cowboy hat on. The keep things in kinda low-key and in perspective by opening with MISUNDERSTOOD. They kept this pace up until the HANDSHAKE DRUGS creeped in a boogie that started getting generous. The SHOT IN THE ARM hit hard and the place was responding in kind.

Without too many songs from their last one, "Sky Blue Sky" the crowd was really digging the older stuff throughout then night. Tweedy had said that they were excited to play the ballpark, it was the first time as such and, "… that they really must have made it to the 'Majors' … err, maybe 'Minors' (Slugger Field is home to minor team)". Tweedy was in a great mood throughout the night and Nels Cline was on Fire! as usual.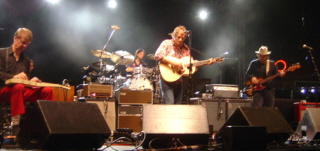 SHE'S A JAR had Tweedy on harmonica, and I believe it was IT'S JUST THAT SIMPLE that had Tweedy on bass, while the bass player sang. Tweedy also gave a shout out during TOO FAR APART to 'satellite land' because Sirius was broadcasting live (re-broadcast Wed 9/25th @ 7pm EST & Sat 9/29th @ 12pm EST). WALKEN was brought to a nice swagger and had that kick-ass ending to it that really had me enjoying the evening and closing out the night with I'M THE MAN WHO LOVES YOU was top-notch.

As the band gently persuaded the encore, my Lady was really stoked as CALIFORNIA STARS came out. It seemed fitting being outside, clear and starry night. After that Wilco delivered lightning the rest of the night! It just kept getting better and better! SPIDERS was insane, their usual tripped-out crazy vibe with the feedback hitting all sorts of patterns, at one time Tweedy & Nels Cline worked their feedback together into a frenzied pitch and then slamming into nothingness for the last set of verses. It was truly awesome, they were just having a fantastic time and the crowed was along with them for every bit of it.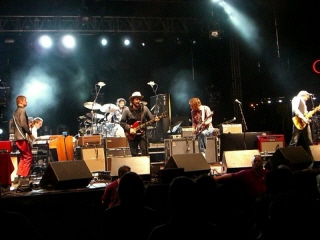 I guess since this was what Tweedy called, "the last show of the tour" (I thought they had some more places to go, but I guess not) they pulled out all the stops. The second set of encores was just more greased up lightning. RED EYED AND BLUE > I'VE GOT YOU > OUTTASITE was why Wilco rocks and you should really do yourself a favor and see them if you haven't. This trio was blistering and convinced me that this was one of the best Wilco shows I've ever seen.

After thanking them for an awesome night, my Lady and I reflected on how they really played a lot off of "A.M." and "Being There" which is always crowd favorites. I was kinda hoping for a Theologians, but was happily sent home with what I heard. The crowd had a great vibe and the band clearly tapped into it. The band was great, Tweedy was great, the sound was great – happy, happy night.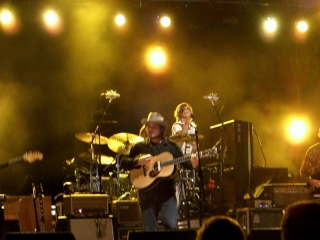 ---





By _ (Verve13) on Monday, September 24, 2007 - 10:05 am: Edit Post

Great review, Waterhill! Nice pics too!
---





By DMait (Dmaitnyc) on Monday, September 24, 2007 - 01:49 pm: Edit Post

Great review and nice setlist. Great to see them dipping into the catalog. The setlists early in the tour were primarily SBS and the last few albums. Always great to hear songs from AM and Being There, too
---





By Attack with Love (Lulu) on Monday, September 24, 2007 - 04:23 pm: Edit Post

Excellent review, Waterhill! Pretty cool that Stirrat is getting his voice heard! I'm psyched as ever to hear some of the AM material being brought out again.
---





By Matthew (Mjtorte) on Tuesday, September 25, 2007 - 12:55 am: Edit Post

She's a Jar! Nice. Wanted to hear that one in Berkeley, although I am not complaining about I did hear!
Thanks for the review. Glad to see lots of Wilco fans here!
---





By Lombardi (Intrepidhikr) on Tuesday, September 25, 2007 - 02:58 pm: Edit Post

Great review. Thanks. Regret having to miss that one. Sitting here now, listening to it...

Have seen Dylan, W.Nelson, others, etc., in similar minor league baseball venues and enjoyed it. Driven past that place (Slugger Field) countless times and was stoked to hear Wilco was doing a gig there...just wasn't in the cards for me this time.