(Partial) Bruce & the E Street Band, Oakland Arena
---
Philzone.org - Philzone Phansite Community Discussion Board: Setlists and Reviews: Non GD Related Reviews:

Archive: (Partial) Bruce & the E Street Band, Oakland Arena
---





By Lance Newberry (Heathentom) on Friday, October 26, 2007 - 05:37 am: Edit Post

While I've never been a huge Bruce Springsteen fan I've seen him numerous times over the years and have always enjoyed his live shows. Because I've missed his last three tours I really wanted to see them this time, but unfortunately in the weeks & days leading up to these shows circumstances had me thinking I'd be missing them again.

Luckily, a miricle came my way at the VERY last minute for the first of two nights at the Oakland Coliseum Arena (I don't acknowledge whatever they call the place now). It was SO last minute that I was not able to get up to Oakland until around 9:00 for the advertised 7:30 show.

There are some great advantages to arriving so late for an event; zero traffic and no charge for parking, no lines at will-call or to get in, etc. Since I hadn't planned on seeing the show and because it was free I wasn't rushing and I enjoyed these unusual perks. I wandered into the venue to find that the show had actually started a little after 8:00, so I missed just about an hour of the show, which is why it is a partial review.

I got to my seat while the band was playing a new song and since it was rather dull I checked out the scene and the band.

The venue was 95 percent full, with an open GA floor. The crowd was most definitely what I consider older, meaning my age - 40's, 50's & 60's. About half the people in the seats were standing, but the overall feeling as I came in was fairly sedate.

The open floor had a front area sectioned off that was about a third of the total floor and was VERY roomy, with tons of room to dance or even spin (there were a few). These people got in line early, like the old days, to get into this front floor space and for anyone who has GA floor seats for this tour, I highly recommend getting in line early to score a spot in this under-filled area. The back two thirds of the floor looked to be pretty packed.

OK, so I'm settled in, I've enjoyed a few shots of tequila and I notice that they're playing another new song and I realize two things; I've arrived at the dreaded New Song Interlude of the show, and NO ONE was smoking inside the venue! The crowd was definitely into the show, but it sure wasn't 1979! I never like to be the only one smoking at a show so I waited to go outside.

Sure enough after that they play ANOTHER new song, all of them mid-tempo and rather sappy (dull) and I start to get fidgety for a little green. I figure I'll wait one more song so I check out the band and they too all look a bit old, but they're all there and all sound just like they always have. I can't help but laugh when I look at Stevie Van Zandt; one of the Soprano bunch is on stage with Bruce!! This is the first time I've seen Stevie since I started watching the TV show and it was a trip because he is exactly the SAME guy! I kept thinking, "SIL, what the hell?"

They played what seemed to be four new mid-tempo songs in a row that I neither recognized nor enjoyed, and on none of them did Clarence play the sax; he just shook tamborines and such. Overall it just didn't rock, which is one thing this band has always done.

So I took a break, got a breath of fresh air and came back in to a couple of Bruce tunes I did know (don't know the names, sorry) with Clarence ripping his signature sound on the sax and they rocked well; then a POWERFUL Thunder Road. These songs got me, and the crowd, into more of a Bruuuuuuuuuce mood.

The set finished strong, but I kept thinking it's all so perfect, and just a bit "packaged". As is always the case at Springsteen shows the sound was amazing, I could hear everything perfectly, and the band was spot on, EVERY note perfectly played, everything RIGHT ON with that classic wall-of-sound that IS the E Street Band. There was nothing at all wrong with it, but it all just seemed a bit too clean.

Whatever, they are a tight group to say the least, and of course Max Weinberg is simply a BEAST on the drums, never playing anything very complex but everything so groovy and HEAVY; he is a master drummer IMO, and he alone was worth my effort to go.

The encore slammed into Born To Run, the crowd rose as one to their feet and the house lights came full on......... and IT ROCKED! Bruce and the band may be older but they can still play and he can still sing.

The only thing that distracted me during BTR was while I watched the crowd sing lustly along I couldn't help thinking that there were very few in the house, including myself, that are RUNNING much of anywhere these days! But the song is such a classic anthem and the band just blasted it; it was GREAT!

BRUUUUUUUUUUUUUUUUUUUCE!!!

Then right into Dancing In The Dark, then one of the main songs from his recent folk/country album, then thank you, good night. The show clocked in at right around 2:30, which to me felt short for a Bruce show; he used to play much longer, but I'm not going to complain about a two and a half hour show, even if I only got to see half of it.

My main feeling afterward was that Bruce still sounds great and the band can still bring it; they have it so together it's almost like a packaged thing, but this time it was all just a bit too clean for me. Still really fun, but not HEAVY. I know I missed a lot of good stuff the first hour, but it was something else I was missing.

Through-out the show I kept thinking that Phil Lesh at 67 is also touring, and while his band is not as over-the-top perfect and professional as the ESB, he and his are really ROCKING their shows, and the crowd is not just clapping along in their Dockers and Nordstrom loafers, but really involving themselves and making the shows TRUE R&R. I'm not a HUGE Phil & Friends fan, but I've been following his tour on Archives and tonight I kept thinking that Bruce Springsteen and the E Street Band could learn or be reminded of a thing or two from Phil about how to cut it LOOSE!

In the end I thought the show was really good; the sound was great, the band was spot-on and Bruce can still sing the songs. But IMO the band I saw tonight needed to let their hair down a little more; unfortunately I'm just not sure their weaves would allow it!!
---





By JHT or Johnyrider or (John) on Friday, October 26, 2007 - 09:42 am: Edit Post

a semi-good night of live music is still better then a great night of TV.
good for you for going and giving it a shot.
---





By sunflower cat (Tore_up) on Friday, October 26, 2007 - 06:48 pm: Edit Post

I'm going tonight, looking forward to the show. Wanted to go last night but opted for Poor Man's Whiskey's show at Larkspur Cafe.
---





By Lance Newberry (Heathentom) on Friday, October 26, 2007 - 11:52 pm: Edit Post

I would imagine the crowd will be more into it tonight, as it is the second night of the run but was the first show to go on sale, so the BIG Bruce fans got their tix for this show. I bet it will get good reviews; hopefully someone will chime in here.
---





By sunflower cat (Tore_up) on Saturday, October 27, 2007 - 02:38 am: Edit Post

And so you are right, BEST ROCKIN ROLL SHOW of all time for me....maybe
---





By sunflower cat (Tore_up) on Saturday, October 27, 2007 - 03:21 am: Edit Post

I was behind the stage and really enjoyed being able to view the crowd enjoying the show.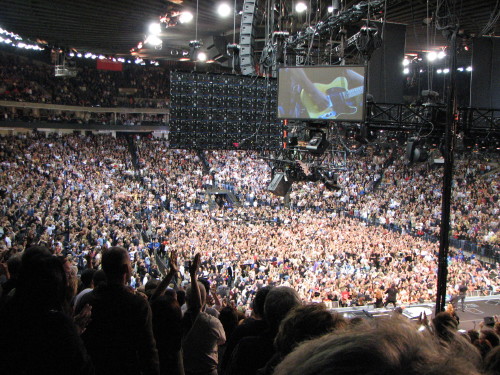 Perhaps the best show at the Oakland Arena I have seen since a GD Mardi Gras event
---





By I'll take two of what you're havin' (Buncombe) on Monday, October 29, 2007 - 06:35 pm: Edit Post

I was there Friday and it was fuckin' stellar. I was rocked into a daze and was stunned when it was over. Fastest 2 hours 40 minutes of my life. Not one bad moment, I was totally locked in and in the zone throughout the whole show. The version of Racin' in the Streets was so fuckin' beautiful. I would say more now, but I just got home a weekend of Bruce on Friday and then the Bridge Benefit on Saturday & Sunday. Tom Waits and Metallica ruled, Neil was his typical brilliant self, My Morning Jacket was really good, Jerry Lee looked horrible and seemed to have one foot in the grave, unfortunately
---





By Lance Newberry (Heathentom) on Monday, October 29, 2007 - 07:39 pm: Edit Post

>>>Jerry Lee looked horrible<<<

Well, he's really fucking OLD! And I thought his set on Sunday, when Neil played with him, was great! The Sunday Bridge show was just way better in every possible way than the Saturday show.
---





By I'll take two of what you're havin' (Buncombe) on Monday, October 29, 2007 - 09:50 pm: Edit Post

I meant that he looked horrible as in sick and frail, not old. I thought both days were pretty solid, though Sunday gets my nod as my favorite of the two
---





By JTP (Live_wire) on Tuesday, October 30, 2007 - 03:03 pm: Edit Post

friday (see what buncombe said /\)

great show - i was in 202 and the sound was dialed

Setlist:
Radio Nowhere
No Surrender
Lonesome Day
Gypsy Biker
Magic
Reason to Believe
Two Hearts
She's the One
Livin' in the Future
The Promised Land
Tunnel of Love
Racing in the Street
Working on the Highway
Devil's Arcade
The Rising
Last to Die
Long Walk Home
Badlands
* * *
Girls in Their Summer Clothes
Thundercrack
Born to Run
Dancing in the Dark
American Land
---





By I'll take two of what you're havin' (Buncombe) on Tuesday, October 30, 2007 - 03:08 pm: Edit Post

another Bridge School nugget, as my brain starts to recover and I actually have a few memories of my rock & roll week:

absolutely loved seeing Metallica cover one of my very favorite bands, Blue Oyster Cult!!! They did Veteran of the Psychic Wars and it was so good. They also covered another favorite song of mine on the first night, Garbage's Only Happy When it Rains. They did Dire Straits' Brothers in Arms each night as well, Seger's Turn the Page the First Night, a Nazareth song each night (Don't Judas Me?), and they opened each night's set with Rare Earth's I Just Want to Celebrate. And yes, they did do some of there own songs (Disposable Heroes, Unforgiven, Nothing Else Matters, et al)
---





By I'll take two of what you're havin' (Buncombe) on Wednesday, October 31, 2007 - 12:52 pm: Edit Post

http://media.brucespringsteen.net/non_secure/video s/071026_1S.mov

nice clip of the Tunnel of Love from 10/26

go to www.brucespringsteen.net/news/index.html for other video clips from the tour so far, including him arising from a coffin to open last night's show in L.A.