RYAN ADAMS & THE CARDINALS 1/23/08
---
Philzone.org - Philzone Phansite Community Discussion Board: Setlists and Reviews: Non GD Related Reviews:

Archive: RYAN ADAMS & THE CARDINALS 1/23/08
---





By Mark from Marin (Mborn_cross_eyedt) on Thursday, January 24, 2008 - 04:00 am: Edit Post

Seeing Ryan Adams and the Cardinals live is like opening up Grandma's present at Christmas. Could be what you wished for all year, or…it could be that Sweater with Reindeer on it. This evening we were treated to something special. A night with both its up's, down's and all around's.

The evening began with a solid Mockingbird. (One of my favorite's from the BCT show in July. If you haven't yet heard that version, check it out on the ol' Archive.) It was followed by Beautiful Sorta.
At this point I was commenting to Sammie how it seemed so RAW in comparison to last summer's shows. Where as in July the harmonies from the piano and the steel were big in the sound, this time around it was the vocals and rawness of the material that were highlighted. Another thing that has made me a fan as of late is Ryan's ability to change up the sound in such a subtle way that it makes s such a big difference to your ear. Sometimes on…and not quite so at others.
Bartering Lines was next. The intro was so slow and mellow, then wham…the power chords.
Rescue Blues followed and showcased Graboff on six strings rather than the Slide, and Ryan on piano.
After that was When the Stars Go Blue, followed by Everybody Knows with An Audience HUM adding to the mix. Well done Folks!!!
The Sun Also Sets had Ryan draped over the mic as he described, Black Sabbath with Ozzy doing Blue suede Shoes on Speed.

The 1st set continued with Off Broadway…then we had the hiccup of the evening.

Ryan seemed playful and was bantering with the crowd somewhat when someone yelled, "we want to see your face"…followed by someone else shouting, "Your lighting sucks"
Ryan pulled out a Zippo and lit it next to his face and said," go se a Cold Play Concert"
Most of us loved it, except for the women who shouted the comment. She got up and never returned. The band went into One More Kiss Before I Go and then Ryan had a few more words on the matter. Personally I think they were well said. But, to the person who at this point (I DO HOPE YOU READ THIS) yelled, "Where's Phil?"… Your Timing sucks. You showed about as much class as I saw on summer tour in 95', and most of us know, that ain't much. Please, if you have to be that obnoxious, stay at home and wait till you can listen to the show on Archive and shout all you want.

With that said, the show goes on…but with a little cloud hanging over. The rest of the set was noticeably difficult for both Ryan and the Band, but they seemed to recognize the situation and took a break. But before hand they played, Elizabeth You Were Born to Play That Part, and Rip Off.

Set number 2 began as if the hiccup we had just experienced never occurred. I was able to go out to the car and bring a few cold ones back inside. Could have been a free show at this point…all you had to do is show up. No tickets were being checked at all.

First was a sweet Why Do They Leave with Ryan on the Harmonica. Second, a favorite of Sammie and Mine, Wonderwall was amazing except for the baby that began to cry at the beginning of the song. Again I say…Come on Folks!!!
Shakedown on 9th St. was so so so full of energy!!!
And then a beautify jammed out Goodnight Rose. The Harmonies sparkled.
Let it Ride, one that Sammie was hopin' for followed and smoked. Freeway to the Canyon was next and was actually introduced 3 songs earlier but…oooppps. It segued into I Still See Monsters which ended the second set on a very positive note.

The Crowd was extremely pleased and eager for an encore. Ryan made us wait for a few but well worth it. The Encore started with him solo on the piano singing and playing one of the most Gorgeous versions of Sylvia Plathe.
Easy Plateau closed the evening and was jammed out with crazy feedback as well as some incredible accapela sections.

So with its moments, I have to say I am very pleased with the evening and look forward to Zellerbach on Monday.

See ya'll this weekend!!!

Ryan Adams & the Cardinals
1/23/2008
Marin Veterans Auditorium

SET I
Mockingbird
Beautiful Sorta
Bartering Lines
Rescue Blues
When the Stars Go Blue
Everybody Knows
The Sun Also Sets
Off Broadway
One More Kiss Before I Go
Elizabeth, You Were Born To Play That Part
Evening Joke w/ John Graboff
Happy Birthday Spacewolf
Rip Off

SET II
Why Do They Leave
Wonderwall
Shakedown on 9th Street
Goodnight Rose
Let It Ride
Freeway to the Canyon
Still I See Monsters

ENCORE
Sylvia Plathe (solo)
Easy Plateau
---





By Wino ___drinks________ (Spatlese) on Thursday, January 24, 2008 - 05:38 pm: Edit Post

Good Job neighbor !
---





By Rob Scalcione (Rscalcione) on Friday, January 25, 2008 - 01:07 am: Edit Post

Walking into a Ryan Adams show, there is this "tension" in the air. In some ways, I like it, because Ryan is Ryan and you just never know what he is going to say, sing, or do. Then there is the part I don't like, which is the guarantee that tension will breed more tension!

The first few songs were solid, opened with Mockingbird, Beautiful Sorta, Bartering Lines, Rescue Blues, When The Stars Go Blue, Everybody Knows, Off Broadway, and the crowd seemed attentive and polite so to speak. BUT, discomfort was rising and you knew it was coming... Some idiot woman started yelling out "We want to see your face," followed by some nasty comments like "Your lighting sucks." Ryan answered back saying "Go see Cold Play," and defended his lighting, etc. This was soon followed by yet another idiot, some guy yelling "Where's Phil?" Total jackass comment... and they continued all freakin night long... Why people can't just STFU and let artists do their thing is beyond me. Gosh, go to a Raiders game instead, please! We also had some drunk girl stumbling around Jay Blakesberg...

After A Kiss Before I Go, he dedicated a song to Michelle Williams, saying "I hope you are healing"

2nd Set was Why Do They Leave?, Goodnight Rose, Let It Ride, all had more jamming, I See Monsters was ripping, 2 Encores, 2nd was Easy Plateau, before it, with Ryan saying that "Today was a hard day for me, some of you Wharf Rats know what I mean..."

Hell, I still love you Ryan... This guy has a broken soul, and out of that, we have been taken on a wild journey, sometimes dark and disturbing, and yet sometimes beautiful and uplifting. Let it Ride Ryan, hope you keep getting better! I need some Tension Tamer Tea...
---





By sunflower cat (Toreup) on Friday, January 25, 2008 - 09:36 am: Edit Post

No mention of the guy that screamed how hot Ryan is? Better, my friend screaming out how super hot he is.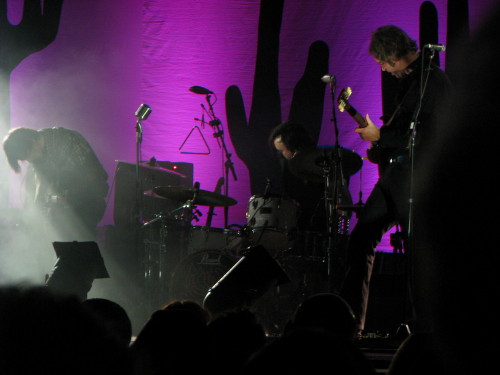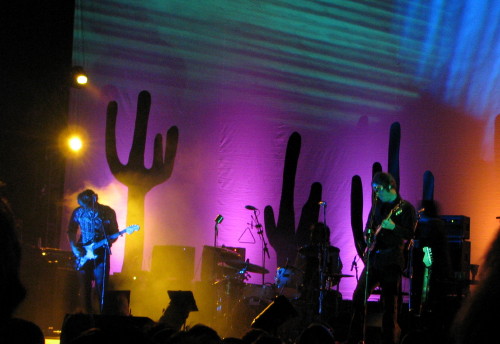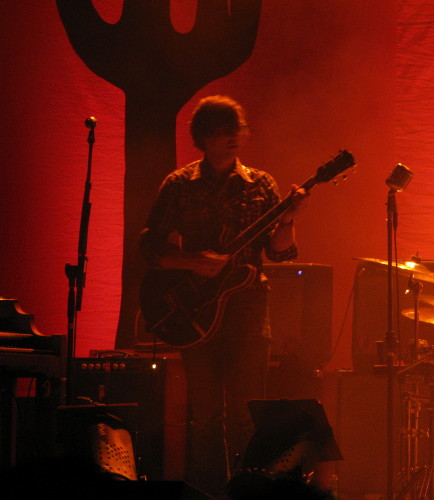 ---





By Voodoo (Voodoo) on Thursday, January 31, 2008 - 02:19 am: Edit Post

i think folks make to much of wut the audience has to say...big deal...its sorta like review writers...who cares

i had great seats and loved the show.