Banyan, 12 G's, 2/16/08
---
Philzone.org - Philzone Phansite Community Discussion Board: Setlists and Reviews: Non GD Related Reviews:

Archive: Banyan, 12 G's, 2/16/08
---





By 1st One's Named Sweeeeet Emily (Odessablue) on Sunday, February 17, 2008 - 04:29 pm: Edit Post

Banyan
12 Galaxies
SF, CA
Saturday, February 16, 2008


What a show! Musically, my favorite Banyan yet!

First though, props to 12 Galaxies for being an amazing club, as always it is a top notch facility! Nothing unusual about last night just the same high quality venue we've come to know and love. Such a great place.

This Banyan lineup was great! Steve Molitz was exactly the addition to the group I never knew I wanted! The band took a few tunes to get into the groove but once they found it, they barely slowed at all.

I don't think there was a setlist, maybe a loose theme but it came across as pure jam, truly new to the band and exciting for the audience. I really dug it!



Perkins is pure energy, he didn't sit still for an instant. He's sound was big and powerful as always, and he was all over, leaving most of the structural support of the jam to Wasserman. Early on Wassman was a bit of a brick, a big thick thud, lifeless but it only took a few minutes for that to change, the band got the kinks worked out quickly. After that he was alive, vibrant and rock solid.

And put Molitz and his bouncy, spacey weirdness on top of that! That's the spot all right! The music still had it's Banyan edge but Molitz softened it a bit, added more melody to it, kept the energy light and playful. A very complimentary pairing to my ears. and it was LOUD. WOW!!

Norton Wisdom was in the back painting away, always love to watch him work, it's neat to see his style evolve just as the band's does, last time I saw him he worked with the negative space a lot, this time was definitely the positive image being created. Large areas of his canvas remained white, the results were great. Less political than previous shows I've seen him do...

Here's a few pics, I make no promises about quality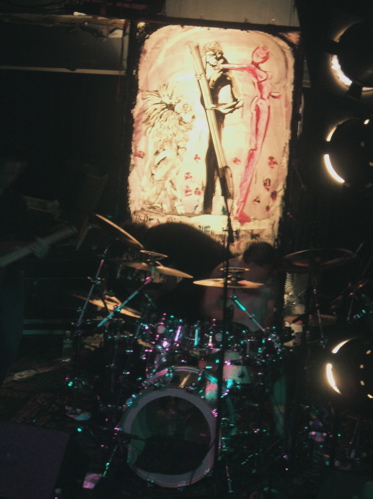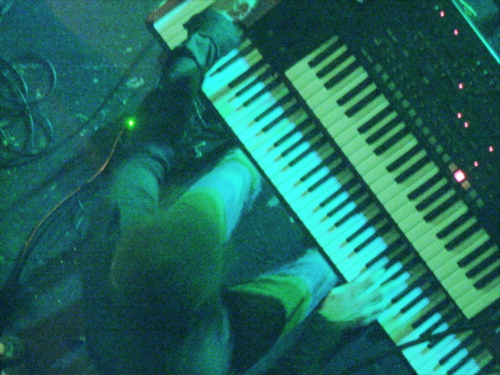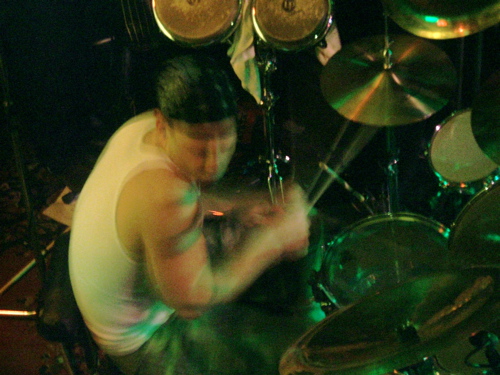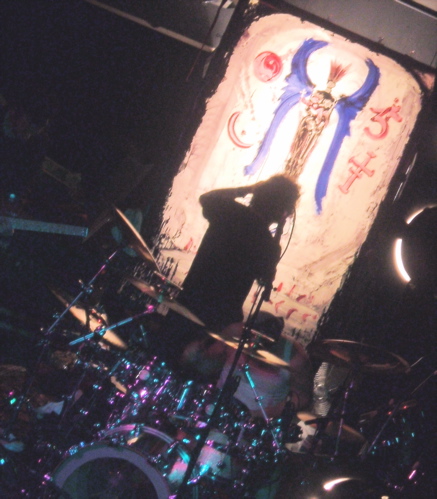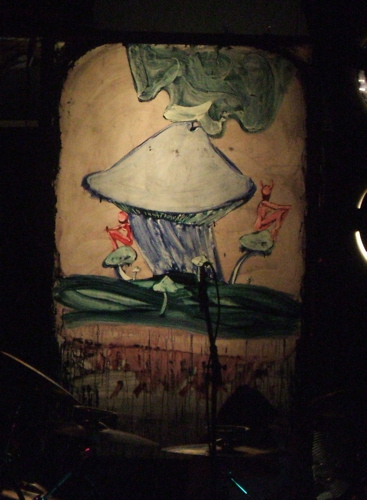 ---





By mama tried to raise me better.. (Jellyroll) on Monday, February 18, 2008 - 01:51 pm: Edit Post

i think i'm gonna copy and paste this into other stuff...
---





By Lance Newberry (Heathentom) on Monday, February 18, 2008 - 07:30 pm: Edit Post

Stephan Perkins is the man!!

Too bad his old band isn't together anymore, but at least he's pushing himself and having fun doing something challenging and different instead rehashing some low budget version of Janes.

Perkins is a BIG TIME drummer and Banyan is always an interesting, unique band to see.

How much did you pay? There is a whining thread going on in Other Stuff about ticket prices for music these days, but it's groups like Banyan that defeat that tired argument.
---





By 1st One's Named Sweeeeet Emily (Odessablue) on Tuesday, February 19, 2008 - 11:21 am: Edit Post

$12!

Can't complain about that!



---





By crabneesh (Crabneesh) on Monday, June 16, 2008 - 08:25 pm: Edit Post

Banyan is great. I see them everytime they play the SF Bay area. Norton's painting is wonderful. It amazes me how they shake up the band with different players. I am also amazed that more people are not hip to their acts, especially with Molitz. The last time I saw Martin play was with Banyan last October at 12 Galaxies. If you have the chance to see them go by all means. Best way to be up on their shows is Perkin's MySpace.