Tea Leaf Green, Fillmore, 2/29 & 3/1
---
Philzone.org - Philzone Phansite Community Discussion Board: Setlists and Reviews: Non GD Related Reviews:

Archive: Tea Leaf Green, Fillmore, 2/29 & 3/1
---





By 1st One's Named Sweeeeet Emily (Odessablue) on Saturday, March 01, 2008 - 07:19 pm: Edit Post

Just a short review for the moment, last night rocked!

It's been a couple years since I've seen TLG, they were on fire last night! Don't really have anything in the way of criticism, great crowd, lots of fun, high energy, smiling faces! Even MoonAlice sounded really good! (although predictable, stella blue and sugaree to end their set).

Barry and GE both sat in with TLG for a tune each in the first set, not sure what they were but loved the Barry sit in, he played pedal steel, brought the perfect flowing, space to the TLG sound, a highlight for sure.

TLG ended the night with a beatles tune, it's all too much. (a song yonder covers frequently too).

Going back tonight and looking forward to it...gotta re-arrange the poster wall before I go though!

---





By sunflower cat (Toreup) on Saturday, March 01, 2008 - 07:49 pm: Edit Post

>> Even MoonAlice sounded really good! <<

drugs must have been good at the Fillmore for you to say that
---





By 1st One's Named Sweeeeet Emily (Odessablue) on Saturday, March 01, 2008 - 08:06 pm: Edit Post

Poster rotation complete!

These are my two newest, looking forward to having them on the all for a long time!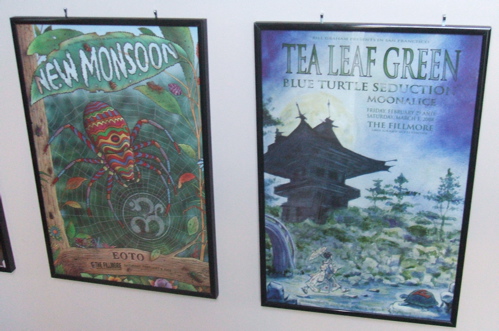 ---





By as we sailed into the mystic (Garyfish) on Saturday, March 01, 2008 - 09:05 pm: Edit Post

TLG with Reed Mathis -- must've been awesome

hope to see 'em sometime, maybe on the summer festie circuit
---





By Calypso Frelimo (Dave_c) on Saturday, March 01, 2008 - 10:17 pm: Edit Post

>>TLG with Reed Mathis -- must've been awesome

That's what I'm thinkg Gary!

Love to see Sless sitting in with them - very cool.
---





By 1st One's Named Sweeeeet Emily (Odessablue) on Sunday, March 02, 2008 - 02:19 pm: Edit Post

Another great show last night...I don't know any TLG songs but I was good at naming the covers! TLG ended the first set with a ripping Dirty Deeds, a special guest took the stage and wasted no time, it was a lot of fun and completely unexpected. Earlier in the set they did Riders on the Storm.

The opener, Blue Turtle Seduction closed their set with American Music--great choice for a cover, the VFemmes don't get enough love if ya ask me.

Even the band in the poster room was getting in on the action with a nice Jessica and later on diamonds on the soles of her shoes.

TLG did a tune called Panspermic Deevolution, that one got the crowd going wild, I have a feeling the whole show is pretty exciting for fans in the know, the crowd was high energy all night, after this weekend TLG is officially on my radar.
---





By peppermint daddy (Patrick) on Sunday, March 02, 2008 - 04:14 pm: Edit Post

Excellent evening of music from all 3 bands. Blue Turtle Seduction has the kindest vibe going and I would have been happy to see more of them. Went in knowing that as an opener their set would be abbreviated but as expected the quality was spot on. Love the fact that the fiddle takes the lead with this band. Refreshing sound that provides a swirly Arabian/gypsy touch during the jams. Great for noodle dancing if ya gotta express yourself. For those of us that bemoan the crowds that have diminished the concert going experience this is never the case at a Turtle show. Always loving environment and the emphasis is on working up a sweat.
Next up sweet Emily informed me that Ten Miles High was playing during the set break. Was becoming increasingly disoriented and would have probably missed it otherwise. Thanks Em and sorry I couldn't talk... Went upstairs and was pleasantly surprized to find more great music with more fiddle!! The capper was the previously mentioned Jessica which was transcendant. At this point was sweating like Elvis so grabbed some water and went outside for some fresh air. Was standing next to some wookie when I noticed I was parked in a pile of steaming dog shit his mutt had just deposited. Spent of the rest of the set break trying to clean my shoe in the men's room.
Temporarily harshed my mellow but once Tea Leaf came on was blissfully rocking hard. This band displays their chops without beating you over the head with it like Umphrey's. At times their
rich guitar/organ crescendos felt like spinning in a psychedelic maelstrom. They also specialize in loping funk grooves you can get a shuffle to in between these crescendos. Fast or slow there was always something to move to and they don't indulge in wanking. It's a full rich band sound and the songs are songs, not just excuses to solo. Still got a post show glow going. Got some satisfaction last nite & stoked to add a couple more bands to my repetoire.
---





By Lance Newberry (Heathentom) on Sunday, March 02, 2008 - 04:49 pm: Edit Post

I skipped them this time. I've seem TLG a few times (mostly because a friend did their sound until last year) and while I felt there were some good moments at the shows I saw, my general impression was that they were just OK at best, and I was REALLY bored the last time I saw them so I didn't give this run much thought.

My overall take has been that the keyboard player & the guitar player both have high end skill but the others were just blaaa and the songs were mostly kind of weak. A new, better bass player could only help.

But even if I don't care for them I always root for locals who have worked their way through the ranks, so it's nice to see them succeeding and getting good reviews.

More power to 'em.
---





By GVdude (Ncbart1) on Monday, March 03, 2008 - 03:21 pm: Edit Post

Nice reviews, glad Blue Turtle is getting some love these days. They are putting the miles on playing full time coast to coast.
---





By Eric (The11jam) on Monday, March 03, 2008 - 05:02 pm: Edit Post

yeah, alright! Glad you enjoyed them Emily!! Thanks for the words, as always.



February 29, 2008
The Fillmore
San Francisco, CA

Set 1: Sex in the '70s, The Garden (Part III), The Garden (Part II), Rapture, Vote on Tuesday1, Criminal Intent2, If It Wasn't for the Money, Keep the Faith3

Set 2: Reservoir, Lil Hood, Don't Curse the Night, Borrowed Time3, Piss It Away, Earth and Sky, Can You Guess It?

Encore: Dragonfly, It's All Too Much3,4

Notes: w/ Moonalice, 1w/ Barry Sless (Moonalice) on pedal steel, 2w/ G.E. Smith (Moonalice) on guitar, 3First time played, 4Beatles cover





March 1, 2008
The Fillmore
San Francisco, CA

Set 1
01 Crowd
02 Red Ribbons
03 Precious Stone
04 Let Us Go
05 Papa's In The Backroom
06 Panspermic De-Evolution >
07 Riders On The Storm >
08 Panspermic De-Evolution
09 These Two Chairs
10 Cops Took My Weed
11 Slept Thru Sunday
12 Dirty Deeds

Set 2
01 Baseball >
02 Devil's Pay
03 Faced With Love
04 Standing Still
05 Jezebel
06 Moonshine
07 Wet Spot
08 I've Got A Truck
09 Morning Sun

Encore
10 Flippin' The Bird
11 Planet of Green Love# !!!with BEN C!!! (their ex-bassist)