11-28-03 Tower Theater - Upper Darby, PA
---
Philzone.org - Philzone Phansite Community Discussion Board: Setlists and Reviews: Phil Lesh & Friends: 2003: 11-28-03 Tower Theater - Upper Darby, PA
---





By Laughing Bones (Laughing_bones1) on Friday, November 28, 2003 - 12:13 am: Edit Post

I believe this show deserves its own thread.

In Franklin's TOWER there hang's a bell!!!

See you all there (no way I'm missing this one), I'm in row DDD seat 109 in the PIT, thanks again rubes.

ARRRRRRRRRROOOOOOOOOOOOOOOOOOOOO



(((((((((((((((Blue Sky Opener)))))))))))))
(((((((((((((((Terrapin Encore))))))))))))))
---





By Rick Seng (Aquanee) on Friday, November 28, 2003 - 11:19 am: Edit Post

Holy SH*T Dude I'm right next to you DDD 107.. they are odd seating so 107 is next to 109.
---





By jake luv (Creampuffin) on Friday, November 28, 2003 - 02:49 pm: Edit Post

manic depresion > blue sky tonight...then a nice tower to round things out.....
its jimi's bday tonight
maybe a fire ....teased the other night too!!!!!
---





By Jim Benson (Jimnandi) on Friday, November 28, 2003 - 02:51 pm: Edit Post

Once again the ticketmaster gods set me up. Just purchased front row center online.

VIP seats are saved until the afternoon of the show and then released to the general public when the artist/promoter/local radio station or some other "VIP" doesn't claim them.

In the last year I've seen the DEAD, Robert Hunter, and now Phil front row center all purchased just hours before show time.

Jim
---





By jake luv (Creampuffin) on Friday, November 28, 2003 - 02:52 pm: Edit Post

way to go jim
---





By julian (Prideofc) on Friday, November 28, 2003 - 03:55 pm: Edit Post

looking for help...
i'm thinking of trying to make sat. & sun., but it looks like sat. is sold out...i would be driving 10+ hours from kalamazoo,MI(solo), leaving late night tonight/early morn...i don't want to be stuck out in the cold...my question: will there be any Phil Freaks with a single extra to part with for cash? i have to go to work, but will check back this evening...i'm not looking for a freebee, just some hope of getting in...thanx...PEACE!
---





By Jim Benson (Jimnandi) on Friday, November 28, 2003 - 04:43 pm: Edit Post

And here's the spooky part. October 13th 2000 I saw PLQ at the Beacon and had front row side tickets purchased day of show. My wife was pregnant and due 76 days from that date. She just reminded me of this and how it's cool that she's pregnant now. I figured it out. She is due 76 days from today. Spooky.

Then I went to the bathroom and noticed that I am wearing a concert shirt that I bought at that Beacon show. There is magic in the air.

Jim
---





By Erick Amonte (Scarlet5) on Friday, November 28, 2003 - 05:33 pm: Edit Post

So psyched for tonight. TILL THE MORNING COMES, PHIL!Also would like a Help->Slip->Franklins(never caught one) and hmm, a nice fat Shakedown, and, and...whatever ya want to play Phil!See everyone there

---





By Anita Bonghitt (Jillluvsphil) on Friday, November 28, 2003 - 09:21 pm: Edit Post

someone pleeeease post the setlist!!! my chat isn't working!!!



---





By Gr8fuldad (Binlajolla) on Friday, November 28, 2003 - 10:19 pm: Edit Post

not official so don't kill me if not totally acurate and forgive the no >'s

SET 1..

Jam..Dancin In The Streets..Jam..New Potato Caboose .. Brown Eyed Women.. Alligator..Major crazy crazy Jamming featuring Phil Lesh..Tons Of Steel.Cosmic Charley
---





By Gr8fuldad (Binlajolla) on Saturday, November 29, 2003 - 01:02 am: Edit Post

set 2 un official..

../7267/47910.html"POST418942">
---





By BobFan (Bobfan) on Saturday, November 29, 2003 - 01:18 am: Edit Post

just got back. First set seemed a little laid back and slow. First time seeing them since the warfiled and was a little dissapointed.

But they came out and were on fire for the second set right from the start.

For me, the highlight was the terrapin, which was just incredible, thru sugaree (great) thru a rocking I Know You rider. And the loser tease. I thought for sure they were going to play it.



Thanks Phil
---





By Crazy Otto (Wecanrun) on Saturday, November 29, 2003 - 01:39 am: Edit Post

i'll 2nd that- terrapin was fo sho the highlight
loved sugaree and blue sky
never thought i'd get to see tons of steel live- what a thrill
great to meet fellow zoners pregame
hope we can do it again tomorrow night
sweet dreams, folks
---





By evan11 (Evan11) on Saturday, November 29, 2003 - 02:10 am: Edit Post

Killer second set!! Mt. jam>Blue Sky>1000 Stars -- UNREAL!!!!

Terrapin>Sugaree>Rider

OH MY!!!


---





By Terri Stewart (Mrs_bobfan) on Saturday, November 29, 2003 - 02:12 am: Edit Post

Being that I'm simply a PLQ/G.D. "layperson," introduced to them all ONLY 2-3 years ago (by my loving significant other, Mr. Bobfan), and though I've seen about 25 PLQ shows during this time, and only a 1/2 dozen or so Dead shows, tonight was better than "O.K."... on my scale, maybe a 8 out of 10... HOWEVER...

Post intermission (2nd set) was high octane, high energy. I think perhaps Joe Paterno was back stage and gave them all a little motivational word or two. ;)

Anyway, 2nd set was truly excellent; my favorite? Rider. However, they kept teasing the audience, leading us to believe "Loser" was coming up; we, and several people seated around us, kept saying, "Oh, Loser's next. Not. But that's OK.

Am looking forward immensely to tomorrow & also Sunday nights!!



Love you all, and love the music!

Thankfully --- Gratefully --- my Significant Other introduced me to this wonderful life of impassioned music & living --- 2 years ago, my first PLQ concert being November 10, 2001, at the Louisville Palace.

I've been completely impressed and amazed with Phil, Rob, Jimmy, Warren, & John ever since... subsequently having seen at least 25 PLQ shows, and at least 1/2 dozen+ Dead shows.

Thank you for allowing music fans a forum in which to express my perspective as well as gratitude for this exceptional world of music & musicians.

Happy holidays, love, peace, good health, & joy to y'all.

Namaste,
MRS. Bobfan
(T.J.)
---





By Erick Amonte (Scarlet5) on Saturday, November 29, 2003 - 02:36 am: Edit Post

i thought the first set was OUT OF CONTROL GOOD!The jam>brown eyed>jam>alligator was unbelievable. set two was great too, and the encore was a bit surreal with grahame singing sugar mag, but he acquited himself rather well
---





By Gary Highman (Ezrider) on Saturday, November 29, 2003 - 03:58 am: Edit Post

set 2
Joy To The World Jam>Blue Sky>Night of 1000 Stars>
Uncle John's Band>No More Do I>Jam>Terrapin>Inspiration Jam>Sugaree>I Know You Rider *Encore: Sugar Magnolia w/ Grahame Lesh on lead vox
---





By LessThan (Lessthan) on Saturday, November 29, 2003 - 04:12 am: Edit Post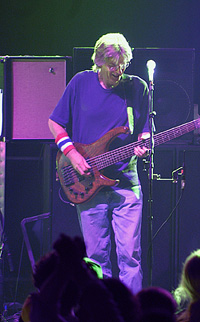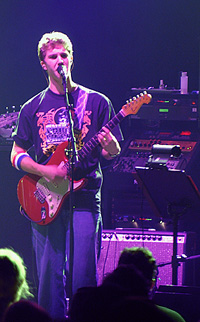 ---





By Billy Blastoff (Billyray) on Saturday, November 29, 2003 - 04:20 am: Edit Post

Was it Mountain Jam Jam or Joy to the World Jam jamming into Blue Sky?

I gotta think it was Mtn Jam. Didn't Duane play a little Joy to the World on the Eat a Peach Album version?
---





By Taperrob (Taperrob) on Saturday, November 29, 2003 - 04:24 am: Edit Post

it was a Mt Jam into the Blue Sky
---





By Taperrob (Taperrob) on Saturday, November 29, 2003 - 04:27 am: Edit Post

have the 2nd set streaming... soon as i get the 1st set, i will put that into the broadcast....

but dont expect miracles
---





By Jim Frawley (Frimjolly) on Saturday, November 29, 2003 - 04:36 am: Edit Post

Actually, Duane was doing the Joy to the World on the Filmore Album.
---





By Tim Wiley (Twiley) on Saturday, November 29, 2003 - 04:45 am: Edit Post

Thanks for the photo LT!

Its nice to see as I just walk in the door

It was killa to see you and others there as well ;)

Was this the first time Grahme Lesh(Spelling?) played?
---





By Lstroseofsummer (Lstroseofsummer) on Saturday, November 29, 2003 - 08:23 am: Edit Post

That show was OUT OF CONTROL...Best Blue Sky I've ever heard, esp. with Rob getting some major solo time - he definitely took advantage of that! Alligator was awesome...Cosmic Charlie to end the first set was sweet too. Sugar Mag was a really nice surprise encore. They played really late last night; the second set seemed to last three hours! All in all, it was an great beginning to a hot weekend. Thanks Phil!
---





By KingDb65 (Kingdb65) on Saturday, November 29, 2003 - 09:49 am: Edit Post

How old is Grahem these days, 23?
---





By Olo (Olompali4) on Saturday, November 29, 2003 - 10:00 am: Edit Post

Out of a million songs, Lil' Lesh wanted to play Sugar Magnolia??
---





By Rick Seng (Aquanee) on Saturday, November 29, 2003 - 10:16 am: Edit Post

GREAT Show IMHO ... got Phil's red, white & blue wristban that he threw into the crowd after the show AND a Warren pick

---





By Dean (Deano) on Saturday, November 29, 2003 - 10:27 am: Edit Post

Yep,

Thought the first set was good but the second set tore the roof down. Solid all the way through and a Terrapin for the ages. Seems like they been working on that tune a little bit. Anyone remember where the "Can't always get what you want" jam came in? Brains a little fuzzy. See you tonight!
---





By Huck Lewis (Huckberry) on Saturday, November 29, 2003 - 10:45 am: Edit Post

TERRRRRRRRRRAPIN

woo woo
(I got a Jimmy pick!!!!)

Love this band. The second set was serious biznatch.

There are too many Zoners. I never get to properly speak to them all. I love you all very much and I am very sorry if I ever come across as rude. It is a little overwhelming.

FINALLY the Cosmic Charlie. It was awesome but what a funked out start. the build up....NO.....the buildup.....ALMOST. They basically stop and I scream "HELLO CHARLIE" and then they start. Hilarious.

New Potato. Just like in SF, I'm floored by the finesse in this song. It's a TOUGHIE!!!!! The beat is complex, and they NAIL IT. A Shout to Mr. Last Leaf Fallen. Saw Jonesy and Fitzy, brah!!!! WHERE WERE YOU!?!?!?

The Scarlet Sky from the Warfield was symbolic and beautiful but this Mt jam Sky was, well, TOWERING.

Terrapin. You know I love Joan but THIS THIS THIS was the shizzleshaBOOOOO. Complete, and ALMOST flawless. (could have hit that Inspiration a little tighter, imho)

Sugaree. (((((((((WARREN HAYNES)))))))))

Rider completes the arc from the China in Boston (for me)

and the encore was SUBLIME DIVINE AND I DANCED MY ASS OFF. OOOOOOOH! sunshinedaydreeeeeeeam OOOOOOHwoooo......

Jimmy solos that just made me throw my hands up to the universe.
Rob - from my seat I could not see you but nice stuff.
Molo as always a whizbang.
Warren, finally over his cold, still stealing my heart.
AND
PHIL
drives the bus.....to SCHOOOOOL!!!!!!! teach me, mastah, teach me....

Thanks to you all - to Obie and Kate and Tim and Scarlet and PUJOL (jimmy is indeed amazing), Hurricane, Bones, LT & GT, Bud E, da BEARS, JoAnn....
and TO ALL THOSE I MISSED
see you today?!?!?!?
just tell me where.

This time I'm taking a cab.

Oh, yeah, they keep the bar open THE WHOLE SHOW here. I advise those who can to leave the cars parked.

TERRRRRRRRRRRRAPIN!!!!!!!!


---





By Gr8fuldad (Binlajolla) on Saturday, November 29, 2003 - 10:51 am: Edit Post

Listenign to stream..end of set 2..Band intro..

"Introducing members of the Q.." Phil Lesh

Graham Lesh's voice..

---





By Laughing Bones (Laughing_bones1) on Saturday, November 29, 2003 - 11:39 am: Edit Post

>>>>Anyone remember where the "Can't always get what you want" jam came in?

during warren's slide show in sugaree, more to come. this show was killer...


---





By rastafari (Petertosh) on Saturday, November 29, 2003 - 11:47 am: Edit Post

SECOND SET!!!!
holy shit!!!
Was saying to E11 that it rivaled Lehigh 11/17/01 for best 2nd set i've attended...
Mt. Jam->blue sky->1000 stars was super tight and the all were on...
Graham was fun, needs a little more work, but the tradition continues..would have loved seeing him singing "exactly" like bobby sings sugar mags...

At work right now and ears are still ringing in joy...Leaving in about an hour and start playing!!!
---





By Keyshawnsucks (Keyshawnsucks) on Saturday, November 29, 2003 - 11:49 am: Edit Post

>>>Out of a million songs, Lil' Lesh wanted to play Sugar Magnolia??

Graham Lesh, apparently much like his Dad...KNOWS.
He KNOWS.


---





By julian (Prideofc) on Saturday, November 29, 2003 - 12:04 pm: Edit Post

listening to the stream of 2nd set--you guys got both "joy to the world" and mt. jam for the opener...lucky, lucky people...hope you enjoyed(i'm sure you did!)...too bad for me, i had to cancel trip for tonight at the last minute--could be a blowout...i'll be watchin the monitor for the setlist updates...ENJOY!
---





By Gr8fuldad (Binlajolla) on Saturday, November 29, 2003 - 12:29 pm: Edit Post

Gotta luv that pic above..LT..U the eyes of the Zone..

Phil and Son..Matching wristbands..LOL..
---





By Huck Lewis (Huckberry) on Saturday, November 29, 2003 - 12:38 pm: Edit Post

funny note:
from my seat (as I already mentioned), Rob was sitting behind a stack of speakers....invisible.

Brown Eyed Women starts.
A very enthusiastic young man next to me asks....

"Who's that playing the piano, Mickey Hart?"

Uh, no.


---





By jake luv (Creampuffin) on Saturday, November 29, 2003 - 02:04 pm: Edit Post

absofuckinlutely one of the best phil shows i've seen to date....Had great seats about 30 yrd back or so....nice to see a 2nd gen lesh on stage...
From start to finish...really groooovy......
Jimmy was on fire last night....kinda wanted more hendrix due to being his b-day but ya never know

mtn jam >blue sky >1000 stars was awesome

joy to world .....see ya tonight-remember i'm the one with shit-eatin grin on my face...
peace
creampuffin

---





By Jimmy is Amazing (Singjimmy) on Saturday, November 29, 2003 - 02:10 pm: Edit Post

>> "Who's that playing the piano, Mickey Hart?"

Oh my!!! Now THAT'S funny


Just getting up from the devistation last night. Wow, what a great show. I had such an awesome time meeting up with so many folks before the show, meeting many kind zoners for the first time. Thanks
Tim & Scarlet, OBIE & Kate, Lites & Robin, Evan11 (thanks for the ticket man!), Rasta & (((Vespa-Happy B-day))), Crazy Otto, Fritzbonics, Johny L, Splintered, Scott(Bobby fans are people too) HUCK!!!, LT, SCHNEE, Frankl... and others I can't remember right now.

First set was well played but mellow with jams that disolved into very spacy exploratory noodling between songs. Highlights for me were the BEW and the Tons of Steel. Had seen that one since Asbury Park 01.

Second set was absolutly smoking the whole time right from the leadin jam to Blue Sky. That Terrapin was really beautiful and so soulfully played it was very special. I thought Jimmy's fingers were going to fall off at some points as his left hand was flying all around that fretboard....amazing



I even enjoyed the Sugar Mags. While not the best version ever played, Grahame did a very decent job with it. None of the signature Bobby shieks at the end. The unique specialty value of seeing him sit in was a treat.

Can't wait until tonight to do it all over again.
See ya all there!!

---





By Taperrob (Taperrob) on Saturday, November 29, 2003 - 02:38 pm: Edit Post

>>Anyone remember where the "Can't always get what you want" jam came in? Brains a little fuzzy

thats always in the Sugaree.... if Warren would only bust it out already....
---





By six six six (Sebastian) on Saturday, November 29, 2003 - 02:42 pm: Edit Post

set 1
jam>dancin>new potato>jam>b e women> alligator>space jam/caution jam> tons of steel>cosmic charlie


i arrived via the El around 7. Rain was pouring and there were some scary discoordinated-looking ticketless tour rats outside. Especially scary was the older guy with the dirty white beard dressed all in tie-dye. He was selling silver rings but couldn't seem to get any words out beyond a growling mumble. a small drum circle was going on across the street under an awning, an incongruous sight for this part of Philly.

Despite living in Philly (mostly) for the last 5 years, I'd never been to the Tower before. It seemed like a pretty nice place inside, sort of like a less-grand version of the Beacon in NYC. Our seats were on the center aisle right in front of the soundboard but when we got there someone's stuff was all over the seats. A guy indentifying himself as part of the crew (or a friend of the crew?) said he needed that space so he traded us our tickets for a pair of 5th-row (BB) centers---- no complaints from us!!!

ok, the music. the 1st jam kicked off good and propulsive. I called "Dancin'" early on and always get excited when I call the next song correctly. And this was actually my first time hearing the tune live. Lots of fun, though an angry looking security guard in a white button down shirt glared at the crowdand kept anyone from "dancin' in the aisles" for the entire show. The midsong jam was hot though it seemed like Rob kind of flubbed his vocal entrance after the jam (vocal entrance flubs became sort of a theme this night)

I like the way "NPC" descends upon the crowd from the stage like a morning mist. A slow realization sweeps across the rows as one by one people recognize what's being played. "New Potato" was good too. i especially liked Rob's keyboard tone on the accents, though I always think the PLQ has a tendency to veer too quickly into the freeform after the vocals.

And we certainly got a lot of "freeform" during this set. It was either during this jam or the next one that Molo briefly wore a pair of headphones that I assumed were keeping some sort of beat that the rest of us couldn't hear. He looked silly/scary with them on. I turned to my friend Steve and said "Molo looks like a cyborg!" Anyway, I like the way the chaos tumbled into the tight danceable "B E Women." I love smooth segues from one tune to the next but jarring contrasts can do the trick for me too. And I love how Lesh (the oldest in the group, I assume) sings the "old man" line.
After the vocals ,the jam continued, though this time it was pretty propulsive. Molo took a solo and I thought they were going into a jazzy "Milestones"-like jam but then I realized it was the intro to my first ever live "Alligator." This was certainly a rockin' version. It was fun seeing Rob doing the kazoo bit, though I could barely hear it from our seats. I also couldn't hear Warren's slide much. The vocals on the PLQ version come across as a bit monotonous (but who could really match the soul of Pig's version?....Warren. perhaps?) and it seems when the PLQ sing lines together they're never fully in sync, but the instruments were rockin. The energy went up a notch after the "waggin' his tail" line. My dancin' shoes were on and I was hoping for an extended rockin' jam but it soon tumbled into spacey chaos. And for what seemed like the next 20 minutes it was a free-for-all. Lesh gave little or no directions through the monitor mike. He stood near Molo and kept doing fast "Caution" runs on his bass but he'd only do it for a few seconds before letting the jam become very abstract again. I was hoping for a full "Caution" (that'd make it 3 Anthem tunes for the night) but never got it. After one of his quick bass runs I thought I saw Phil shake his
head at Molo as if to say "I can't do this." I realized Phil doesn't play a lot of fast patterns on his bass. Maybe it's hard for his to keep up at 60+ years or maybe it's just a coincidence. Well after the long slice of Caution teases and chaos the band locked into the tight rocker "Tons of Steel" Again, good contrast after the deep space. A good version too. I was more into it than the other version I'd heard live (7/15/02 Scranton) The set closer "Cosmic Charlie" seemed to sum up the theme of the set perfectly "deep unreal!'"

After the house lights came one I turnd to my friend and said, "good, but a bit TOO spacey." I wanted to dance more. And I figured set 2 would be the time for that......more in a moment

---





By Billy Blastoff (Billyray) on Saturday, November 29, 2003 - 02:53 pm: Edit Post

Taperrob - Thank You for getting the music out!!!!!!
---





By Erick Amonte (Scarlet5) on Saturday, November 29, 2003 - 02:54 pm: Edit Post

Okay, so I got to the Tower, waded through the somewhat crazy scene outside, and found my seat in the loge. My preshow was ruined a little when I heard the guy behind me drop the n-word(!)-I am kicking myself now for not saying anything, but he was VERY drunk and I did not want him to become violent, so I contented myself with shooting him and his friend dirty looks all night. Also behind me was a VERY dosed individual who was constantly invading my space all night-at one time, I was SURE he was going to fall right on top of me!But there were some very cool people around me too, so I soldiered on.

Now-on to the MUSIC!They opened with a fairly short warmup jam that, while interesting, did not pack the wallop that later jams did. The jam soon showed hints of Dancin', and we soon arrived at our destination. The Dancin' was big bouncy and fun, although again not as out of hand as it would soon get. The jam out of Dancin' was again BIG, thanks to Mr. Philip Lesh-he was absolutely unbelievable all night. Next we get the Tater, and it was very nice. Good-but not yet great. The jam after New Potato is where the greatness started for me. It raged, and hit a soaring crescendo, and BAM-Brown Eyed Women. This Brown Eyed was simply amazing. Go, Phil, go!After Brown Eyed, YET another cathartic jam, then Molo's drum intro to Alligator and I was FLYING with the music!The Alligator literally had me jumping up and down!WOW!I must say that they really have taken control of Alligator-it used to be a sort of innocuous, when will this be over? type tune in Phil's hands much of the time. NOT last night!The Jam>Brown Eyed>Jam>Alligator sequence might be the hardest I have ever danced at a concert. And it didn't go downhill at all from there, as we were treated to a kicking Tons of Steel from Warren. After the TOS, the next highlight of set came with an insane Cosmic Charlie. A+ set. I am sorry for all the superlatives in this review, but my mind really was blown last night.

Set two opened with a beautiful Mt. Jam that contained a nice Joy to the World quote from Jimmy. The Mt. Jam was fairly brief and led into a great Blue Sky. Warren took the reins as this one crescendoed again and again. Next came Night of a Thousand Stars-NOT one of favorites, but even this rocked last night. It didn't stretch out too much, and led into a ROCK AND ROLL UJB!Superb! Another highlight. Next came the NMDI, probably the least interesting song of the night but by no means bad. After NMDI there was a great Phil-led jam. Phil, you can play for me any day. Thank you. The jam led into the Terrapin, which I was very happy that they did not split up. The Inspiration coda was in overdrive, with the crowd screaming "TERRAPIN" at the band, and the band wailing back at us. Whew. After the Terrapin blowout, Warren went into Sugaree, and I must admit I am sort of sick of this song being done by anyone other than Jerry. Just my opinion, but regardless, this Sugaree was damn good with some wailing Warren slide. A very rocking jam led shortly into Rider, which was a nice cap to the night. The Grahame sung Sugar Mag was fun, and cute to see father and son on the same stage. 15 years from now we will all be at Grahame and Friends concerts!

A word about the jams-I am having trouble putting them in order-like I can't remember which jam went where. Suffice it to say that Phil was in control ALL night and the jams rarely became uninteresting. Every time it DID start to lag, Phil stepped up and put a stop to it. Get the discs people!Jimmy was also huge all night.


---





By Billy Blastoff (Billyray) on Saturday, November 29, 2003 - 03:05 pm: Edit Post

I thought I heard traces of "Love the One Your With" In between the "Joy to the World" and "Mtn Jam".

Damn this "Blue Sky" is freakin' SMOKIN'!!!!
---





By Dean (Deano) on Saturday, November 29, 2003 - 03:06 pm: Edit Post

Go Graham Go! Another fifty years and counting?
---





By six six six (Sebastian) on Saturday, November 29, 2003 - 03:54 pm: Edit Post

set 2

Mountain Jam>Blue Sky>Night of 1000 Stars>
Uncle John's Band>No More Do I> Jam>Terrapin>Sugaree>I Know You Rider
E) Sugar Mag (w/ Graham Lesh on rhythm guitar and lead vocals)

just before the 2nd set I noted to my friend that Warren was the only one who still had a music stand by his mike (I remember they all had them in 2002) I joked that with all his other musical commitments maybe it was necessary so that he didn't forget what band he was playing with and accidently bust into a Mule or ABB tune with the wrong band.

well, before they started the set, Waren played a bit of the scale-part of Hendrix's "Little Wing" I guess for his Jimi's birthday. Then suddenly we're at an Allman Bros' show getting a Mtn Jam>Blue Sky . The Mountain Jam was the longest PLQ version I've heard (though nowhere near the length of the 45 minute ABB originals) and even included a "Joy to the World" quote played by Warren (he just played the phrase a couple times so I wouldn't call it a jam) this segued into a blissful "Blue Sky" to chase the rainy Philadelphia night away with some Southern sunshine. I think the jam in this tune was the energetic peak of the set. Rob seemed to take a longer-than-usual solo that made the crowd cheer. I was afraid that they'd come to a cold stop after the tune or trail it off into spacey chaos but Phil just looked at Molo and the "Lion King" busted the band into a very fast paced Night of 1000 Stars. This is the first time i think I've seen it as something other than a set opener or closer. I had a hard time keeping up the pace with my dancing. After the jam we soon got the afro-cuban dance vibe of the UJB intro. I love the way they've revamped this tune (I guess it started with the 1998 TOO versions) it takes one of their overplayed mainstream tunes and makes it sound fresh again. After the final "he's come to take his children home" I noticed that Warren did do his usual "wah"-esque tone on the outro. In fact, it seemed he was much lower inthe mix than in 2002 and was doing mostly rhythm work with Jimmy handling leads. Plently of times during the show I looked a Warren and noticed him with no hands on his guitar pulling hair out of his eyes, wiping sweat, or scratching his face. I wonder if his new secondary role is by his own choice, jimmy's choice, Phil's choice or just a natural extension of the dynamic created on the Dead summer tour with Jimmy on lead.

The jams remained propulsive throughout the set. I think it was the jam after UJB that Warren did some excellent rhythm work on a reggae jam that lasted a few minutes. The No More Do I had a heavy groove to it, though Warren seemed a bit confused for his vocal entrance. He looked over a Phil a few times, seemed to miss the change and came in a few bars late.
But the band pulled through and it was a good version after that and the crowd kept dancing.

The jam after NMDI melted into a lovely Terrapin. Jimmy took some fluid solos and the band let the jam wander a bit with Phil bringing it back with his bassline. The pre "Inspiration" jam is always interesting with its minor key and "Eastern"-tinge. I was really hoping Terrapin would sandwich a "Blues For Allah" but I was happy with just the Terrapin. It had a lot of explorations mixed in with it. The jam kept building and building with a good sort of tension and then burst into "Inspiration!" though as he often does Phil kind of flubbed his vocal entrance and came in slightly late (I've only heard him hit it perfectly once, on the excellent stand alone 8/4/01 "Inspiration") though the energy was good and folks were dancing and doing the call and response for "i can't figure out...TERRAPIN!..." etc. This seemd to get a smile from Jimmy. The post-Terrapin jam seemed like it could've gone in any direction but it evolved somewhat slowly into Sugaree which seemed like the only tune of the night that Warren really did lead guitar work on. It was long and soulful as usual. I figured t would end the set but the after it the jam continued. It seemed to be to be pushing in a GDTRFB direction but we got a good singalong Rider instead. A powerful end to the set. A zoner I spoke with on the phone today said 'I liked the show until they intentionally started screwing up, like playing in the wrong key during Sugaree and Rider." I didn't catch this. They certainly sounded different than the original Grateful Dead versions but they seemed cohesive and played well.

Before the encore a second mike and guitar were set up. Before the show I overheard a guy in front of me say "I heard from a reputable source that Bobby is gonna come and play Sugar Mags with the band." So in typical diehard phil phan phasion I start whining to my friend "oh please ANYTHING but Bobby. We're gonna get spit on. Doesn't Bobby have anything better to do than play with Phil? Is he just lonely? Did he show up back stage all whiney and beg "come on Phil, can I pleeeeeze play with you?" But seriously. It would've been fun to see Bobby play an encore with Phil, especially since I was right up front.

So it was sort of surreal when Phil introduces his son, Graham. I thought it was cute that father and son had matching wrist bands. But as someone else wrote earlier, hundreds of Dead songs and Graham wanted to play "Sugar Magnolia?" I dunno. It's an ok rocker but I've really heard it too many times. Maybe they played it 'cause it's relatively simple and straightforward. Graham did an adequate lead vocal and rhythm guitar though Phil gave him a few lovingly sour looks during the song when he played some wrong chords. Overall it was surreal and kinda cheesy but fun.

And thus ended a fun evening. Not the best Phil show I've ever seen but still a great night of music. Outside the show I ran into my lovely friend Kerri and gave her and her friend Maryann bigs hugs, still high on the music.

After debating whether to head over to the Electric Factory for the late-night Dark Star Orchestra show (we decided we were just too tired) we went home to rest up for Saturday night's show.



---





By LessThan (Lessthan) on Saturday, November 29, 2003 - 06:14 pm: Edit Post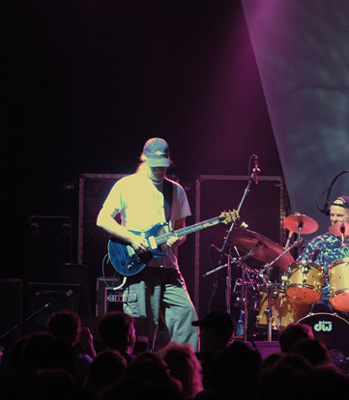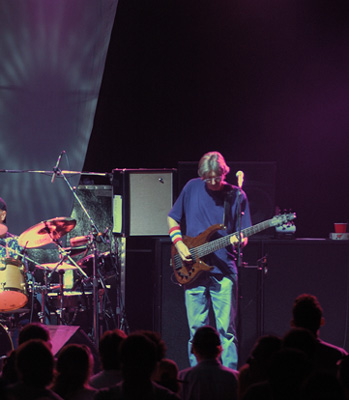 ---





By Lstroseofsummer (Lstroseofsummer) on Saturday, November 29, 2003 - 06:44 pm: Edit Post

Huckberry, you mentioned two people in your post that I'd like to give a shout out to! Good to see you guys!
---





By Andrew MacNeill (Acmac) on Saturday, November 29, 2003 - 08:48 pm: Edit Post

Duane Allman used to play Joy to the World at the end of You Don't Love Me.
---





By geewiz (Geewiz) on Saturday, November 29, 2003 - 08:56 pm: Edit Post

it figures Key,Bucky goes to a show that you dont and they play Phuckin' Sugar Mag





...

....missed by 1 show again huh?

---





By Jmoore (Jmoore) on Sunday, November 30, 2003 - 05:41 pm: Edit Post

nice photos LT.. thanks to you and others i take better photos myself.. keep them coming.. see you next week at the beacon..
---





By Eric (Doctordog) on Sunday, November 30, 2003 - 11:10 pm: Edit Post

Hello there
I'm a friend to the man known as Laughing Bones and a new convert to the PLQ machine...saw Friday nights show...jaw still on the floor from the music these guys create...still remember being nicely pummeled by Phils base...too many highlights to list suffice to say I will be catching more shows. Shining moment for me was definitely the re-vamped Terrapin.

Eric
---





By Hurricane (Garcya) on Monday, December 01, 2003 - 06:27 pm: Edit Post

Great Pics LT.......what a great eve it was....
---





By uncle dale (Davywavy) on Monday, December 01, 2003 - 09:29 pm: Edit Post

a few notes about Friday's show. 1st set> Super Tight!! the Q played thru a heavy setlist @ what seemed like breakneck speed. they were in & out of everything rather quick> noodling, jams, space & exploration. BUT IT WAS ALL THERE!! Dancin', Alligator & Cosmic Charlie were real treats.
2nd set opening w/the Mtn jam>Blue Sky was crispy, feelin' good!! Night of a 1,000 Stars was super hot!! Warren & Jimmy really interplayed well in the jams, wish they would have taken off, flown into the constellation! A tasty UJB lead beautifully> No More Do I. Again the boys didn't go too high here, but this song was played wonderfully. such an awesome song!! then Terrapin!!! YEs!! No sandwich!! Thanx PHIL...but did anybody catch Phil struggling>Inspiration? almost like he missed it. no biggie. Awesome!!!! MOlo was a total monster thruout Terrapin & the jam, which lead to... another Sugaree. I really wish the Q would "...shake it up..." somewhere else in the show. I heard the Q do it in Chicago, too. The Q seems to meander thru it, going from mellow>blowout>way mellow>big ending. well the Q worked into another jam that had me thinking about GDTRFB, but quickly landed into I Know You Rider. Not the total rockout that IKYR has been, rather powerfully emotional. Each verse was delivered w/inspiration. Donor Rap was great. Phil younger son delivered the message!! no donor, no dad!! onto the encore>>> Phil welcomed the older son Graham (sp?) onstage & w/guitar & mic stand he easily led the band thru Sugar MAg!! no joke. played & sang, note for note. Can Bob Weir even do this?? JUST KIDDING (NOT!) Graham seemed to be working pretty haRD, & didn't put a whole lotta pizazz into it, but it was enjoyable. Warren, Jimmy & Rob still rocked it. Gotta feel good about the family vibe!!
overall GREAT SHOW!! But I thought the Q moved much too quickly tonight thru the jams. I even heard some folks saying, "...uninspired playing by the Q..." I'd say rather they were very focussed. long live the Q
---





By Laughing Bones (Laughing_bones1) on Wednesday, December 03, 2003 - 10:34 pm: Edit Post

Welcome to the zone DoctorDOG!!!!!

careful waaayyyy addictive

---





By BassGreat (Leshphilling) on Wednesday, December 10, 2003 - 09:53 pm: Edit Post

Phil had his FUNK on that first night in Philly!!!

That show moved me deep in my soul.