Phish MSG & steve kimock BBs NYC 12/4/09
---
Philzone.org - Philzone Phansite Community Discussion Board: Setlists and Reviews: Non GD Related Reviews:

Archive: Phish MSG & steve kimock BBs NYC 12/4/09
---





By the was (Scarletfire8) on Sunday, December 06, 2009 - 02:55 pm: Edit Post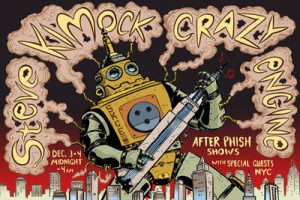 who went to both?....i have to admit its one of the greatest nights of music i have ever wittnessed, thats 35 years of shows....pefect night, bus to the city (could get plugged in that was, great dose)great dinner, phish was fucking amazing, that place was jumping, i mean really...great crowd, sound (listening to the the amazing 'YEM' and 'shine a light' as i write) and watchng the Eagles, phish is the hottest band right now, i was floored as i am listening to the band right now, this 24 perfect FLAC is the shit too, the best live recording ive ever heard, perfect matrix mix, pefect amount of audience, we were sweating as we melted out of the garden! walked 12 blocks in the cool air...

and then starting at 12:30am to 4am (thank goodness for the dose, or we'd never make it) Steve Kimock, with Melvin Seals and Bobby Vega at BB Kings on TIME SQUARE, wild scene plugged in...oh man they ripped it, a rapper guy from Brothered Past? was ok for 2 tunes, and a cellist was on stage too, the other bass player i think Trevor? also played acoustic guitar and sang...crowd got more into it as the night died and morning morphed, reminded me of Big Cypress 12am to dawn, what a show that was, i was there....so by 3:45 we were grooving with these hot chicks in a groove fest on the floor, talked a cabbie into driving us the 50 miles back NJ for 100$, then the hot tub at 5am, sleep at 7am...one of the best nights of my life....thanks Phish and Stevie!!

best part of the night was the sound at both venues, perfect...usually the garden is muffled and BBs is too low, nit tonight....what a nioght indeed....
---





By Mr.Tofu Head (Shakedown63) on Tuesday, December 08, 2009 - 02:03 pm: Edit Post

f-ing awesome, what a great night in the city and a bitching poster! if I were 2500 miles closer to NYC I woulda been there.
---





By jon brach (Jlbrach) on Thursday, December 10, 2009 - 12:56 pm: Edit Post

goes to show you,i saw phish at msg and thought the show was slow and uninspired...too much noodling around for lack of a better way of putting it....go figure
---





By the was (Scarletfire8) on Friday, December 11, 2009 - 09:07 am: Edit Post

to each his own....the 12/4 show wasnt the best phish show ever, but moments of YEM were some of the best moments of music ive ever seen....as it was with Steve, it was the total package of the night that made this night so special....and i hadnt seen phish really in 6 years, did see the 11/24 amazing philly night though,,,,more than a week later its still such a good memory, 12/4/09 will always be one for the books to me....