Steve Earle 3/18/08 Moore Theatre Seattle
---
Philzone.org - Philzone Phansite Community Discussion Board: Setlists and Reviews: Non GD Related Reviews:

Archive: Steve Earle 3/18/08 Moore Theatre Seattle
---





By Wasn't Born To Follow (Java_dave) on Wednesday, March 19, 2008 - 02:20 pm: Edit Post

sorry to repost this, but I was trying to copy it over to the reviews folder and it disappeared

Steve Earle & Allison Moorer
March 18, 2008
Moore Theater
Seattle, Washington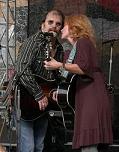 Steve & Allison at Bumbershoot 2007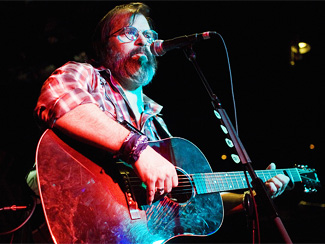 Steve at SXSW 2008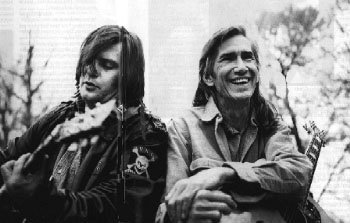 Steve & One Of His Main Influences, Townes Van Zandt

Allison Moorer (solo acoustic-partial list)

I'm Looking For Blue Eyes
Both Sides Now
The Old Farm Train
I'm Getting Somewhere
A Change Is Gonna Come



Steve Earle

Back Home To You
Devil's Right Hand
My Old Friend The Blues
Someday
Now She's Gone
I Can't Remember If We Said Goodbye
???
Tennessee Blues
Billy Austin
Goodbye Guitar Town*
Jehrico Road*
Oxycontin Blues*
CCKMP (Cocaine Cannot Kill My Pain)*
Transcendental Blues*
Sparkle & Shine
Days Aren't Long Enough#
Down Here Below#
City Of Immigrants#
Red Is The Color
The Galway Girl
Steve's Hammer (For Pete)*#
Sattelite Radio*
Way Down In The Hole*

Encores:
Jerusalem
Go To Sleep Little Rock & Roller
Copperhead Road

*w/ beatmaker Bill McConnell(?)
#w/ Allison Moorer (harmony vocals and guitar)

This show was enjoyable on many levels. I hope someone is getting recordings of this tour, because it's A-List stuff.

My hunch that the show was undersold was correct, as I immediately scored a $20 ticket (face was $37) in the 3rd row of the center balcony upon arriving at the venue. When I got in, Allison's set had already begun, and I'm guessing I missed 5 or 6 songs. She's a talent all on her own, great pipes, can play some decent rhythm guitar and she's a looker to boot. Her cover of Joni Mitchell's "Both Sides Now" was a pleasant surprise. Like Steve would later, she waxed political before her set closer, a cover of Sam Cooke's "A Change Is Gonna Come". She talked about how our country needs a change and that "one thing's for sure, that whoever wins is going to have worked for it." This precipitated some right-wing blowhard to yell out "JOHN MCCAIN" at the top of his lungs from a few rows behind me. This just got Allison shaking her head, although I clearly heard a woman's voice in front of me loudly retorting "fuck that noise!"

A shot and a beer at intermission and I got back into my seat for Steve's set. He switched off on guitars and other instruments throughout, at times playing a banjo, harmonica, mandolin and National Steel Guitar, as well as a few other acoutic guitars. He had the same set-up as last Fall when he played at Bumbershoot, at times accompanied by Bill McConnell (I think that's the guy's last name) and his wife, Allison.

The crowd yelled out lots of encouragement and song requests, but mostly put a lid on their boisterousness and were good listeners. Steve responded with great playing and some good storytelling. It's amazing to think about the great songs he has in his repetoire that he didn't play. This guy is a MAJOR American songwriting talent.

Allison is something like his 5th or 6th marriage, and at times, I wondered if he is starting to feel the reins pulling tightly again. Nothing overt, but it just seemed to me that he seemed to be feeling a little hemmed in. They played great together though, and they kissed when she came on stage and he was generous in acknowledging both her and his dj.

I also wonder about Steve's own health when I see him. He'll always be a recovering substance abuser, but he seems to be winning the battle with this one. He seemed clear as a bell, looks like he's lost lots of weight and seems grateful to be here. He said that he knows that there are no "lost causes" because he was once written off as one yet stands here today. It was interesting watching the looks on his face during the midset trio of "Oxycontin Blues," "CCKMP" and "Transcendental Blues". He definitely was showing the face of a person who'd made the journey to hell and back. I so wish that he and Jerry Garcia had been able to connect. We might still have Jerry around. For "Steve's Hammer," he got the whole audience singing along, pointing out that he knew music can help end a war, as he'd seen it's effect personally on the Vietnam conflict. During the 2nd encore, "Good Night Little Rock & Roller," he dropped into an extended "talking blues" voice before performing the body of the song, talking about how he had written this song 24 years ago for his now 26 year old son. He'd stopped performing it for the last 20 years, but had revived it after the passing of his father a few days after this past Christmas. He dedicated it to his two sons, his nephew, his brothers and sisters, and foremost his dad, recounting the journey of his ashes to the family church back in Texas for interment. It was a beautiful, you-had-to-be-there performance.
---





By Deep Dial (Jeremy) on Wednesday, March 19, 2008 - 02:42 pm: Edit Post

Steve at his finest, thanks for the review Dave...you got a gem from him
---





By Bluetrain (Bluetrain) on Wednesday, March 19, 2008 - 02:56 pm: Edit Post

I love Steve Earle's songs and I love his life story. Proof that there are no lost causes. Actually I think Allison is more like his seventh or eighth marriage, but he married the same woman twice at one point, so I'm not sure if she counts twice. As he said on "Live From the Bluebird" (an album my wife lvoes because Earle namechecks her good friend Steve Runkle) "Our divorce did not work out."
---





By Wasn't Born To Follow (Java_dave) on Thursday, March 20, 2008 - 01:50 pm: Edit Post

From Steve's official website:

>>>>>
Steve has been confirmed to appear on The Tonight Show With Jay Leno on Tuesday, March 25. For local listing visit nbc.com.aggbug

There are also tickets still available for that night's show at UCLA's Royce Hall, which is the last night of the West Coast portion of the tour. If anyone saw last night's show at the Aladdin in Portland, I'd love to hear your thoughts. The Friday night show at the Palace of Fine Arts in San Francisco is sold out, but there are still tickets for Saturday night's show. Here's the rest of his announced tour dates:

Mar 21, 2008 Palace of Fine Arts San Francisco, CA Sold Out
Mar 22, 2008 Palace of Fine Arts San Francisco, CA Public Sale
Mar 23, 2008 Belly Up Solana Beach, CA Buy Now
Mar 25, 2008 Royce Hall Los Angeles, CA Buy Now
Apr 10, 2008 The Egg Albany, NY Public Sale
Apr 11, 2008 Bearsville Theater Woodstock, NY Public Sale
Apr 12, 2008 Whitaker Center Harrisburg Buy Now
Apr 14, 2008 Jefferson Center Roanoke, VA Public Sale
Apr 15, 2008 The Paramount Theater Charlottesville, VA Public Sale
Apr 16, 2008 Carolina Theatre of Greensboro Greensboro, NC Public Sale
Apr 18, 2008 Charleston Music Hall Charleston, SC Public Sale
Apr 19, 2008 McGlohon Theatre Charlotte, NC Public Sale
Apr 20, 2008 Playhouse Atlanta, GA Public Sale
Apr 22, 2008 City Hall Nashville, TN Public Sale
Apr 23, 2008 Gertrude C. Ford Center for the Performing Arts Oxford, MS Public Sale
Apr 25, 2008 Verizon Wireless Theater Houston, TX Public Sale
Apr 26, 2008 Floore Country Store Helotes, TX Public Sale
Apr 29, 2008 The Lakewood Theater Dallas, TX Public Sale
May 1, 2008 Liberty Hall Lawrence, KS Public Sale
May 2, 2008 Rococo Theatre Lincoln, NE Public Sale
May 3, 2008 The Englert Theatre Iowa City, IA Public Sale
May 4, 2008 The Pageant St. Louis, MO Presale On Now
May 6, 2008 Southern Theatre Columbus, OH Public Sale starts Fri, Mar 21
May 7, 2008 Pepsi Cola Roadhouse Burgettstown, PA Public Sale
May 8, 2008 The State Theatre State College, PA Public Sale
---





By Wasn't Born To Follow (Java_dave) on Thursday, March 27, 2008 - 04:49 pm: Edit Post

Here's the L.A. Times review of the L.A. show:

Live: Steve Earle and Allison Moorer

Wally Skalij / Los Angeles Times

Steve Earle's set at UCLA's Royce Hall ranged all around his 21-year-deep catalog.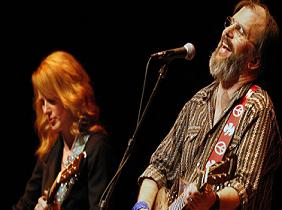 The singer-songwriter roams his 21-year-deep catalog in a Royce Hall show. His wife, Allison Moorer, lends her voice too.

By Natalie Nichols, Special to The Times
March 27, 2008

Singer-songwriter Steve Earle offered up all sides of himself Wednesday at UCLA's Royce Hall, illuminating the best and worst of humanity in a two-hour show so authentically gritty at times he seemed to actually kick up dust while stamping his feet in time with his songs.

The veteran Texas-bred musician, activist and writer inhabited the many roles he's played over the years: hard-luck troubadour, sadder-wiser substance abuser, chagrined suitor, angry humanitarian, guilt-ridden father, renewed romantic. Alternately confessor and storyteller, he sang a lot of songs and talked a little politics, touching on everything from the state of the union to the plight of immigrants and organized labor.

Earle mostly just accompanied himself on acoustic and steel guitars, banjo, mandolin and harmonica, but was joined later in the set by opening act Allison Moorer, his wife. Her 35-minute performance was a lovely complement, as she also stood on the stage with just an acoustic guitar and drew mostly on her recent album, "Mockingbird," featuring versions of tunes by favorite female songwriters.

She opened with the title track, her own composition, a bluesy folk ballad that showcased her beautiful voice and incredible control. Moorer radiated serenity and poise, yet fearlessly delved into the intense emotions of such diverse selections as Patti Smith's "Dancing Barefoot," Jessi Colter's "I'm Looking for Blue Eyes," and even Joni Mitchell's "Both Sides Now," a song that arguably never needs to be sung by anyone else, ever.

"I work real hard at not being a cynic," Moorer said lightly, before closing her set with a truly moving take on Sam Cooke's 1964 R&B ballad "A Change Is Gonna Come," evoking the historic civil-rights movement while underscoring her own observation that America needs some real change, and hope, right now.

Just before Moorer returned for Earle's set, he introduced her with the sweetly infatuated "Sparkle and Shine," from his 2007 album "Washington Square Serenade." The couple embraced adorably before duetting on such numbers as the love song "Days Aren't Long Enough," also from that collection, a New York City-centric work that reflects their recent relocation to Greenwich Village.

Earle also brought out DJ Neil McDonald for other new tracks, including "Down Here Below," a talk-sung tune that contrasted the freewheeling life of New York City's celebrity red-tailed hawk Pale Male with the struggles of "us mortals" on the streets beneath the bird's flight paths.

But Earle's set ranged all around his 21-year-deep catalog. He offered the melancholy-yet-comforting "My Old Friend the Blues" (from his 1986 debut, "Guitar Town"), the anti-death-penalty ballad " Billy Austin" (from 1990's "The Hard Way"), the regretful breakup tune "Goodbye" (from 1995's "Train a Comin' "), and his cover of Tom Waits' "Way Down in the Hole," used as the opening theme for the fifth and final season of HBO's series "The Wire" (in which Earle appeared as a recovering heroin addict).

He paid tribute to folk hero Pete Seeger with "Steve's Hammer (For Pete)," and to his sons and his recently deceased father with the road-weary lullaby "Little Rock 'n' Roller."

His set might have run a little long, but the evening's warts-and-all humanity provided a potent tonic in this world so obsessed with celebrity trivia and polarized debates that so often obscure the real issues. We need guys like Earle to remind us, with adept wit as well as compassion, that we're all in the same boat.