GAT w/ Sless, 3-25-08, Red Fox Tavern, Eureka, CA
---
Philzone.org - Philzone Phansite Community Discussion Board: Setlists and Reviews: Non GD Related Reviews:

Archive: GAT w/ Sless, 3-25-08, Red Fox Tavern, Eureka, CA
---





By GAT w/ Sless -- GO SEE THIS BAND!! (Garyfish) on Wednesday, March 26, 2008 - 08:41 pm: Edit Post

GAT + Barry took names, KICKED ASS, and left a smoking crater of the Red Fox last night!! An exhilarating, high-energy Americana jamfest from start to finish. This band is a well-oiled machine and Barry is a perfect fit -- he's not just a sideman here, he played the songs like he OWNED 'em, and Vince and the boys gave Barry plenty of room to maneuver. Barry played a prominent role in nearly every song, and let loose with some SCORCHING extended jams at least a couple times in each set. WOW!!

Taxi is normally a 5-person band, and apparently their regular guitar player is sitting out this mini-tour with Barry. The core members are all excellent musicians in their own right -- rock-solid bass, colorful keys, kickass drums, tight vocal harmonies -- and of course Vince is great on guitar and mando and he's quite the showman to boot. The nearly packed house at the Fox was totally locked in and gettin' down with perma-grins all around, and the band definitely fed off the energy of the booze 'n budz Humboldt crowd.

Nothing seemed scripted and the music flowed beautifully -- it seemed like Barry's been playing with Taxi for years! In fact, I looked up an archived PZ thread and confirmed that Barry played 4 shows with GAT in early March, in Wyoming and Colorado. And it definitely showed in the way the boys played so comfortably and seamlessly together.

I tried to keep a setlist, and I did OK until near the end of the show when *for some reason* I spaced on writing things down and later couldn't recall what had been played. I probably got some of the song names wrong, and it seemed like Barry played guitar on more songs than my notes indicated, but you get the idea.


Great American Taxi w/ Barry Sless
3/25/08 (Tues.)
Red Fox Tavern
Eureka, CA

(opening set by Victor Barnes -- Sless sit-in on pedal steel for one tune)

Set 1 (approx. 1 hour):
Kansas City Southern
Ain't Gonna Work Tomorrow
One Of These Days
American Beauty
Ride #
Lovin' In My Baby's Eyes #
Straw Man > monster jam > Straw Man
Appalachian Soul
(unknown - w/ banjo sit-in by Ryan ____)
Jack London

Set 2 (approx. 1 hour):
Lumpy, Beanpole & Dirt
Thinkin' About Whiskey #
Ophelia #
Kali #
(unknown - HUGE extended jam)
Wagon Wheel
(unknown)
(unknown - w/ guitar sit-in, maybe Vince's son) #

E: Fuzzy Little Hippie Girl

Vince Herman - guitar, mando, lead vocals
Barry Sless - guitar #, pedal steel
Chad Staehly - keys, vocals
Edwin Hurwitz - bass
Jake Coffin - drums, vocals


Needless to say, the show far exceeded my expectations and I even seriously considered hopping in my car and traveling south to catch the Santa Rosa and SF shows (reality set in today, however, after my now-sober mind weighed the all-important factors of soaring gas prices and my sparse bank account). At $10 a ticket, this is the most jam for the buck I've gotten in quite some time. GO SEE THIS BAND!!!!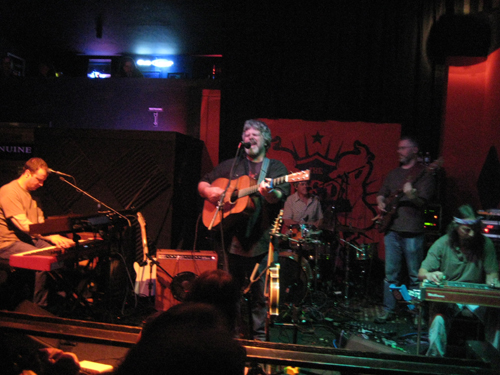 Barry rippin' it up on guitar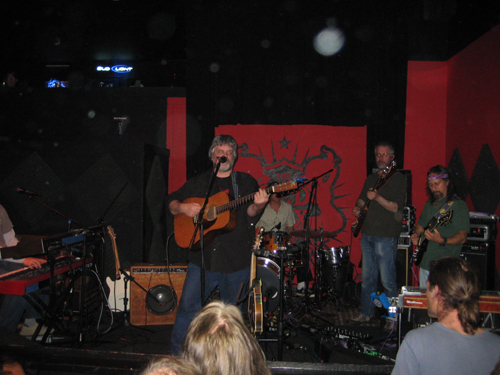 banjo sit-in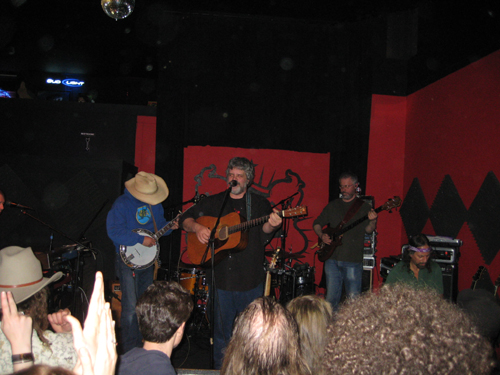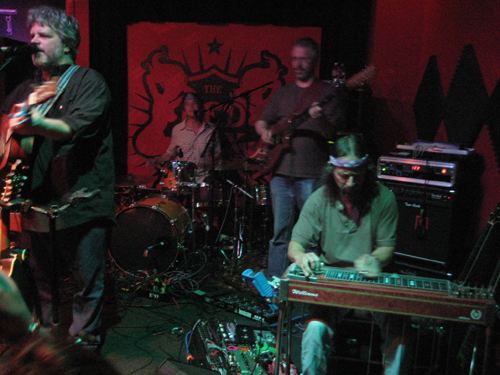 guitar sit-in, maybe Vince's son??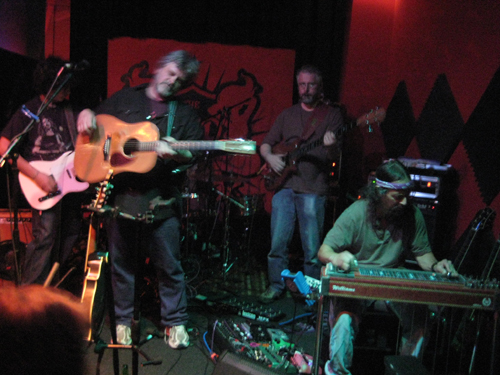 ---





By 1st One's Named Sweeeeet Emily (Odessablue) on Wednesday, March 26, 2008 - 08:47 pm: Edit Post

Yay! I'm seriously stoked for thursday!!

KC Southern...great choice, always love the M.Hips take on this tune...hopefully it'll come back for the Yankee



Glad to hear it went above and beyond for ya...I never doubted it was possible, but I've also seen Vince's, ahem, 'showmanship' get in the way of the music

Of course, that is definitely part of the reason I have such a soft spot for him!

Whooo-hoo!! The Yankee is gonna be a good time!
---





By GAT w/ Sless -- GO SEE THIS BAND!! (Garyfish) on Wednesday, March 26, 2008 - 11:04 pm: Edit Post

Yeah, Emily, I know what you mean about Vince's tendency to occasionally over-imbibe and how that affects his performances. But at the Red Fox he kept his consumption in check and it showed in the music.

Hope I'm not over-hyping the GAT-Sless pairing too much. I went to the Red Fox show with modest expectations and was totally blown away by what Barry brought to Taxi's music. Hope the remaining shows on this mini-tour will follow suit and that they'll continue to impress and amaze.

I forgot to mention that the opening band, Victor Barnes, played a great set of "insurgent bluegrass" (although I could have done without the drums on most of their tunes). VB is a headliner in their own right. Check 'em out if you get the chance.
http://victorbarnes.com/vb.asp?page=home
http://www.myspace.com/victorbarnes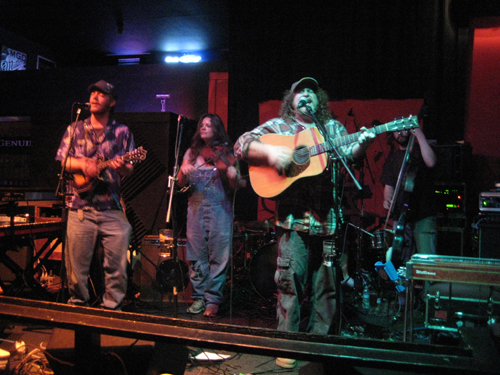 a headband-less Barry sitting in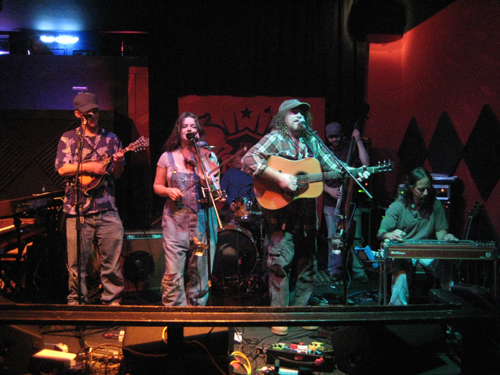 ---





By Peter T (Petert23) on Thursday, March 27, 2008 - 12:44 am: Edit Post

Hey, are Victor Barnes opening the whole tour? Cool! I met their lead singer while eating sushi in Berkeley a few years ago (Kirala's, best in town, if you must know). Thanks for the great review, Gary, you rock! I only missed the Wed show because I have other bookings for Friday and Saturday too...
---





By GAT w/ Sless -- GO SEE THIS BAND!! (Garyfish) on Thursday, March 27, 2008 - 01:28 am: Edit Post

Peter -- the rest of the Taxi-Sless tour has no opening band (at least that's how I interpret the schedule)
http://www.greatamericantaxi.net/dates.php

With no opener, I expect the sets will be slightly longer than the 2 one-hour segments we got at the Red Fox...
---





By '08 - '07 - '06 (Plf9905) on Thursday, March 27, 2008 - 10:02 pm: Edit Post

thanks gary.
---





By Wino _________ does __________ (Spatlese) on Friday, March 28, 2008 - 05:46 pm: Edit Post

Bravo !!!
can`t wait to see this!