Harmony Fest, June 6-8 ~~ pics & commentary
---
Philzone.org - Philzone Phansite Community Discussion Board: Setlists and Reviews: Non GD Related Reviews:

Archive: Harmony Fest, June 6-8 ~~ pics & commentary
---





By G.Fish ‹º))))))›‹ (Garyfish) on Friday, June 13, 2008 - 03:52 am: Edit Post

Harmony Festival
June 6-8, 2008
Sonoma County Fairgrounds
Santa Rosa, CA
http://www.harmonyfestival.com/

OK, better late than never getting this stuff posted. I started going through my Harmony photos a few days ago, then things got busy and… well, you know how it goes sometimes…

FYI, I see that Sueshi has posted some of her pics ~~ from June 6 only ~~ over on JamBase at
http://www.jambase.com/Articles/14193/Harmony-Fest-06.06.08-Santa-Rosa-CA

Hope I was able to match captions & photos here… but if I mess it up, I'm sure you'll get the idea.



Here we go! Festivaaaaaaaaaaal !!!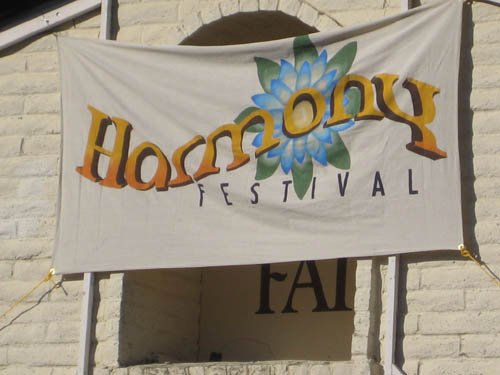 Best day of the fest, music-wise, was the very first day, IMO. Here's the Main Stage lineup (not listed is the late-night show by George Clinton & P-Funk at the Grace Pavilion)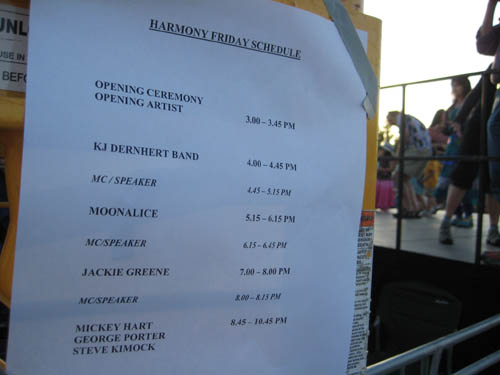 KJ Denhert kicked things off on Friday afternoon with an entertaining jazzy set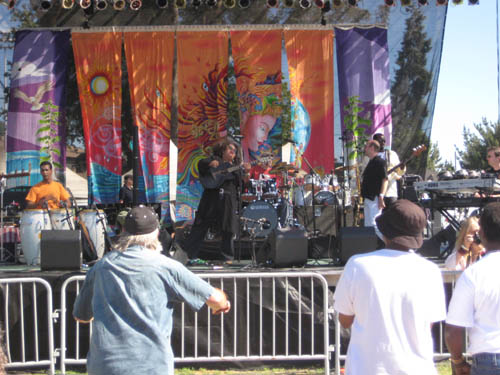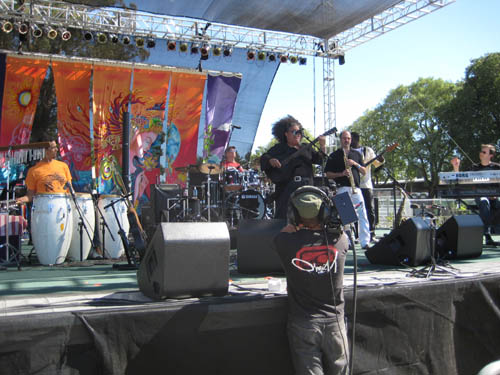 Zoners with overpriced festival beer ~ $7 a pop!!! (Lagunitas & Fat Tire)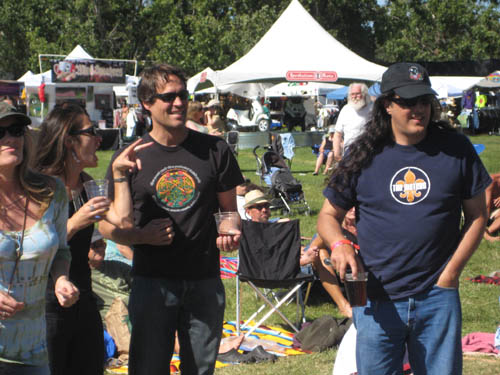 heap big peace pipe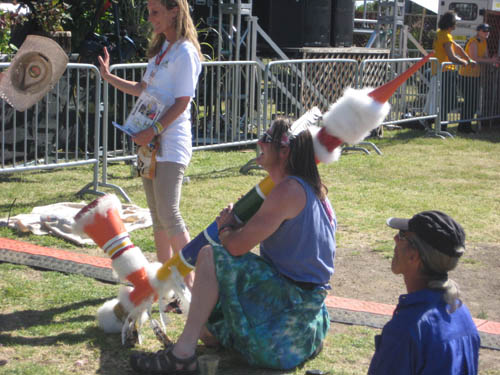 Moonalice, unfortunately without Jack Casady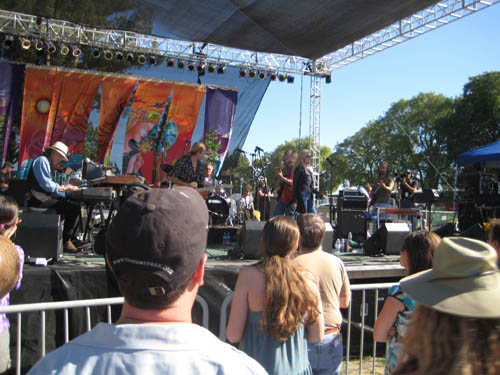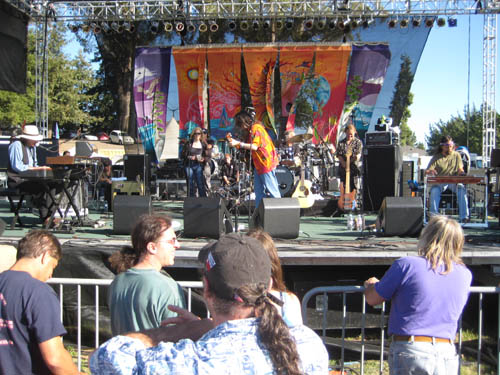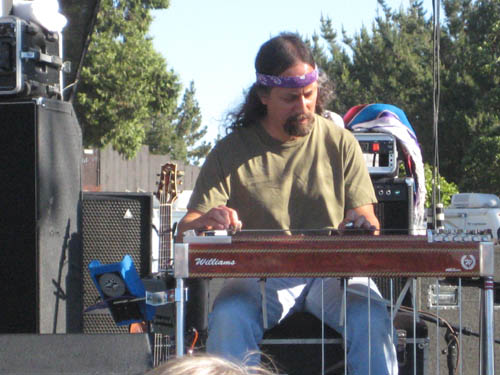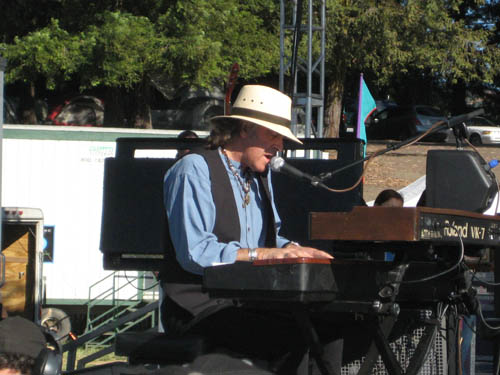 Sueshi in a familiar pose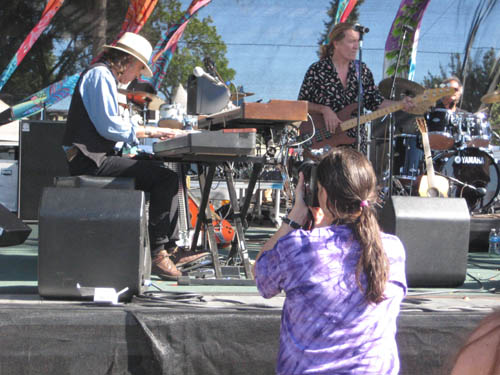 Zoners meeting George Porter Jr. ~~ highlight of the day!!!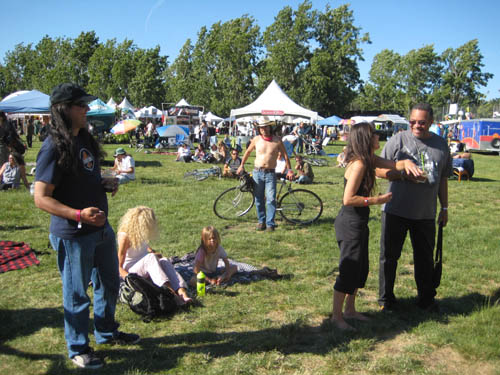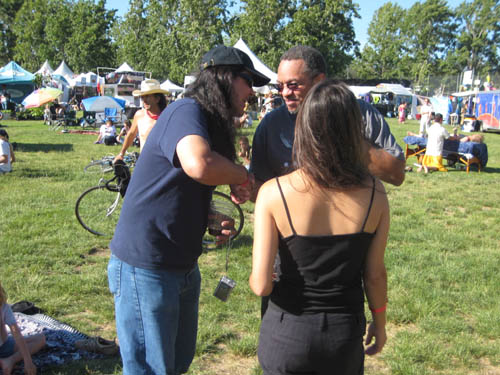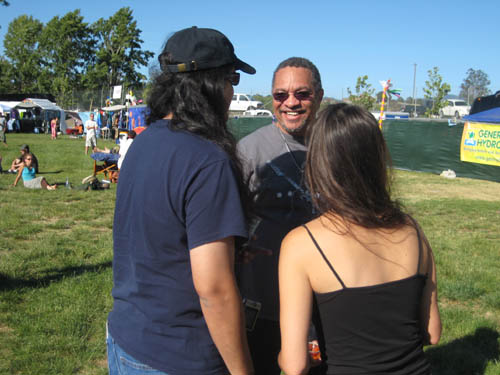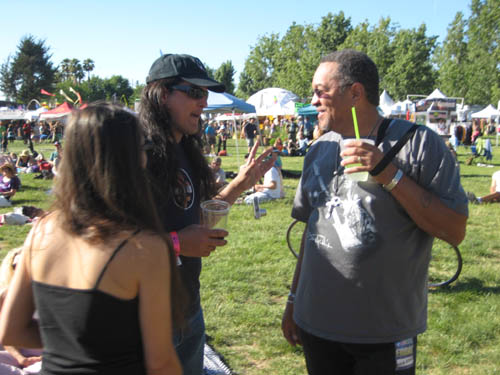 pimp my ride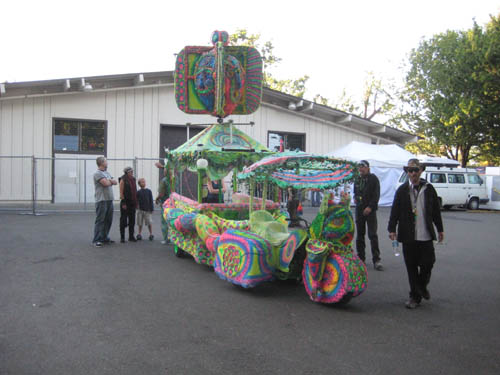 JGe Band, w/ Barry on steel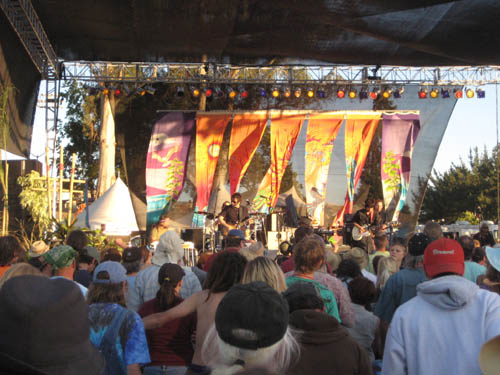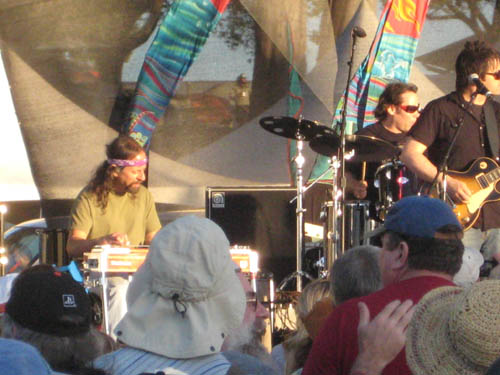 You lookin' at ME?!?!?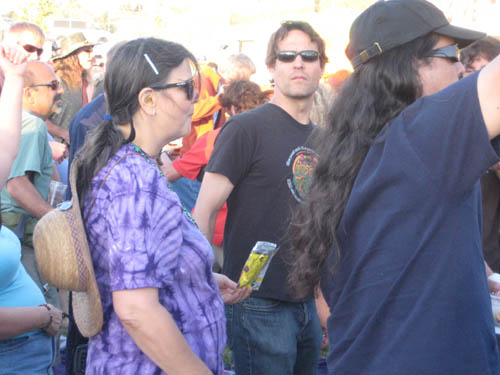 It is GOOD to be the king!!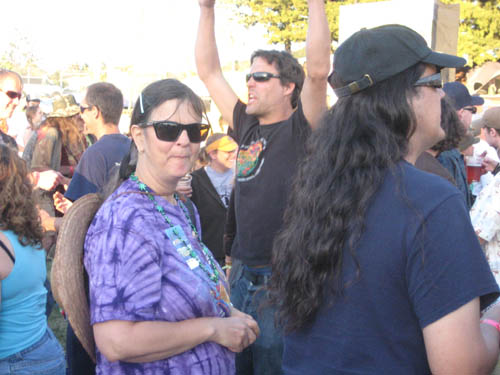 JGe w/ Mickey Hart Band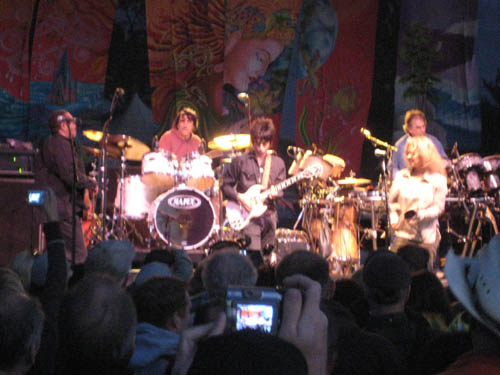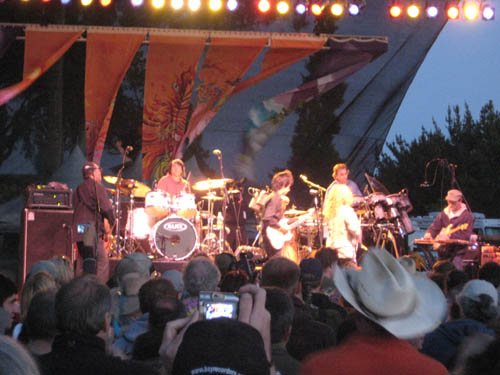 Sikiru on talking drum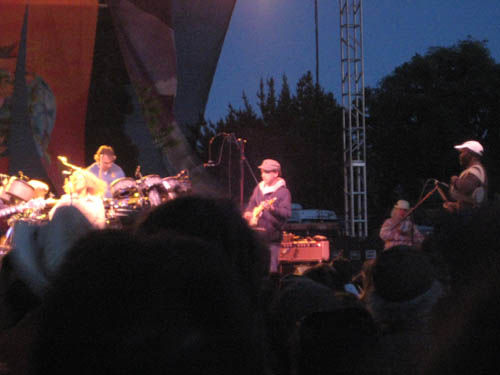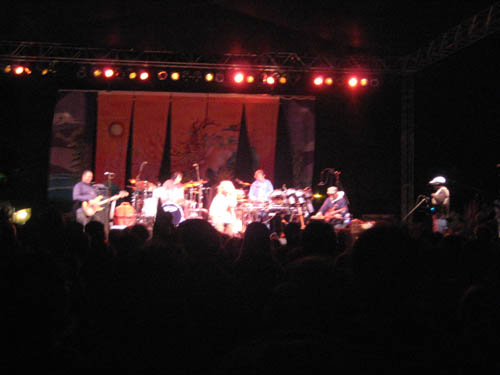 George Clinton & P-Funk



Zoner Negman, 3rd from left, on shakers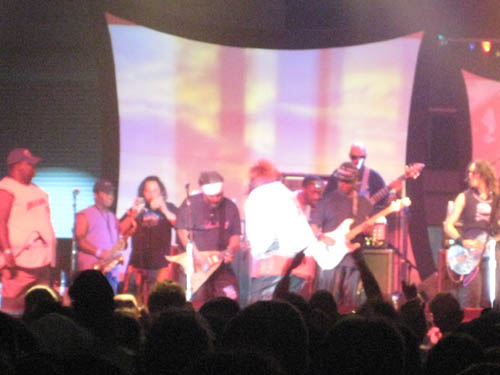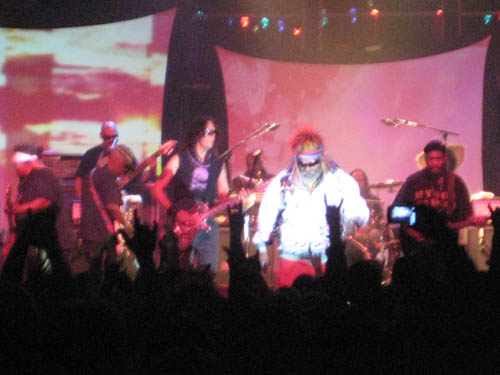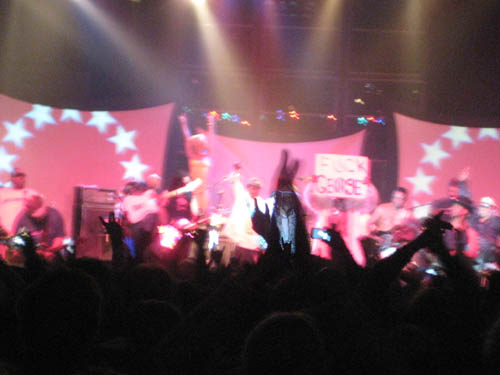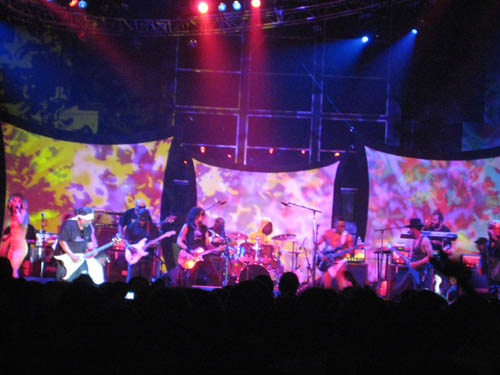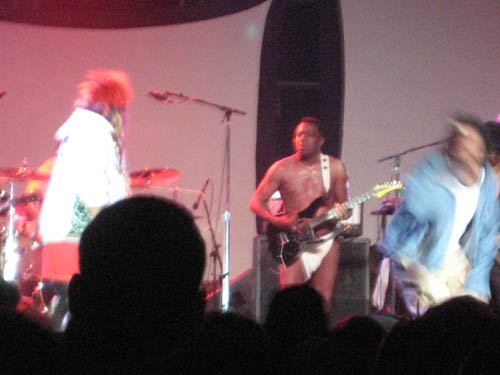 ---





By G.Fish ‹º))))))›‹ (Garyfish) on Friday, June 13, 2008 - 04:05 am: Edit Post

Day 2 at Harmony, Saturday June 7

sign at the Community Stage ~~ no connection to the ZONE we all know and love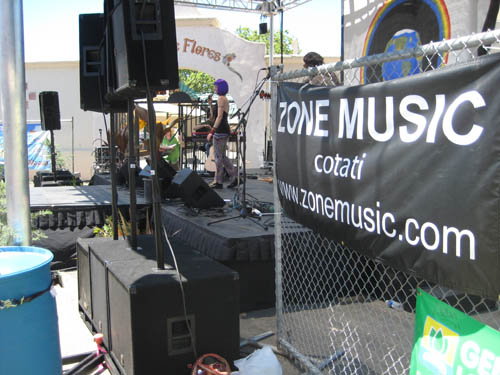 fun with mannequins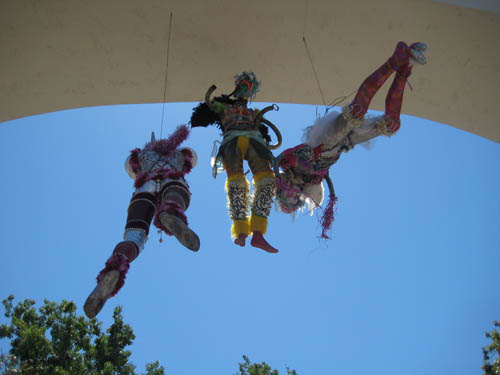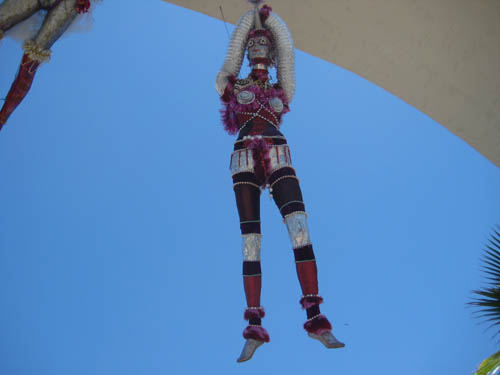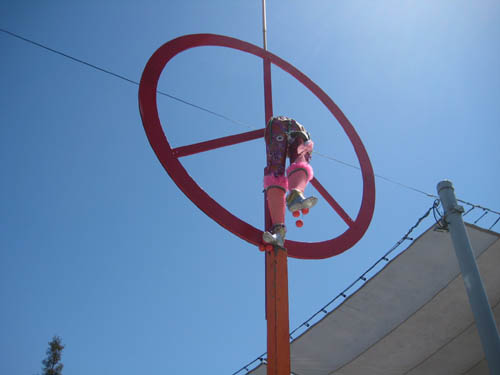 New-age hippie shit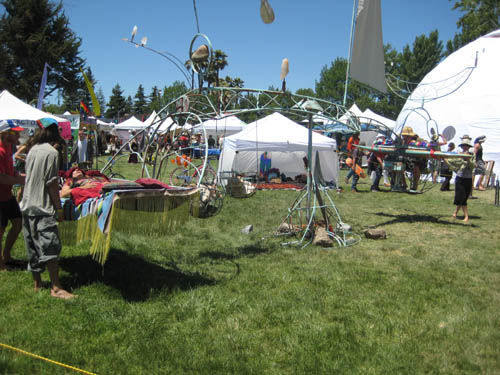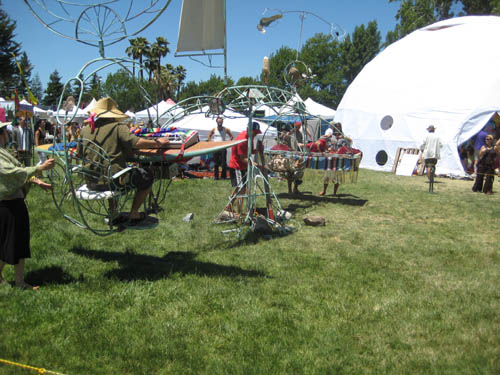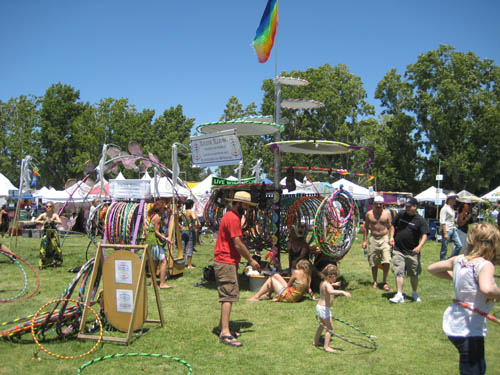 Paula Cole at the Main Stage ~ I didn't stay long…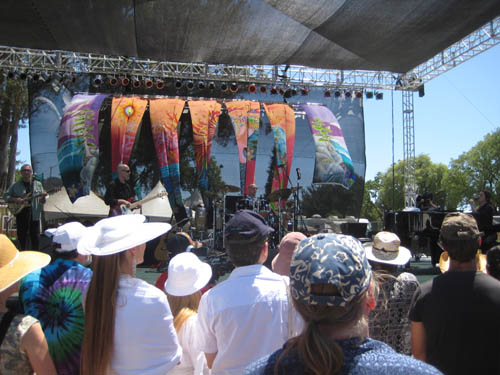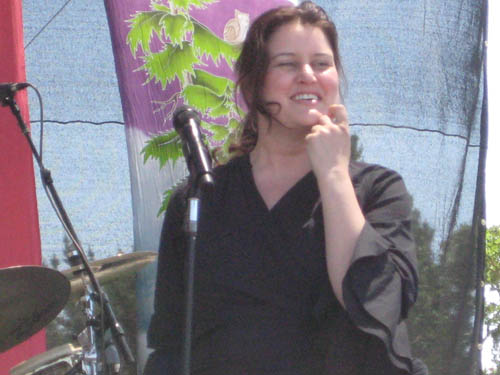 Freaky People Parade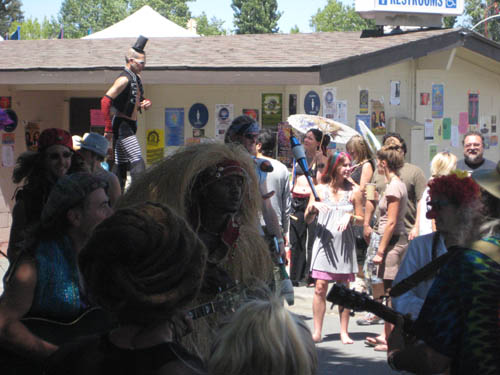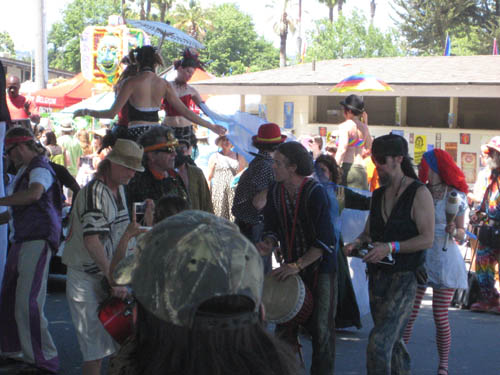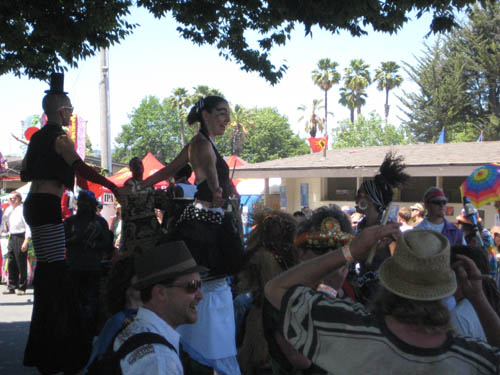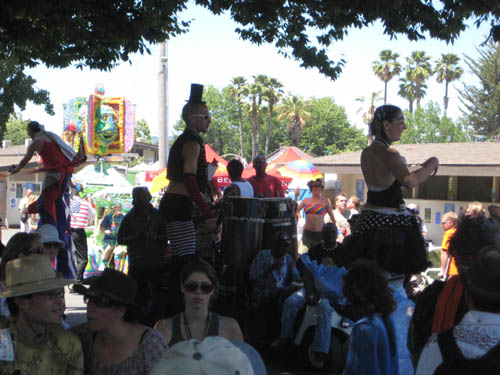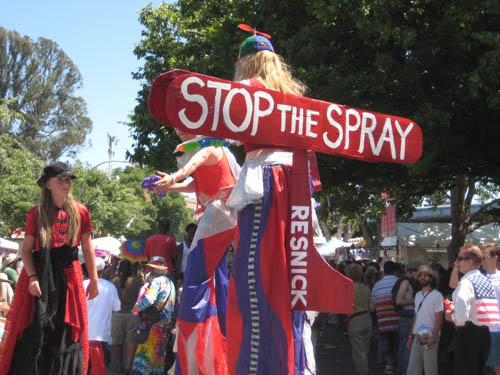 psychedelic fish art at the Main Stage on Saturday afternoon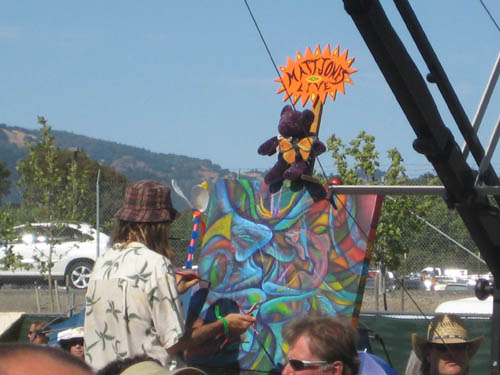 Charlie Musselwhite wailin' some kickass blues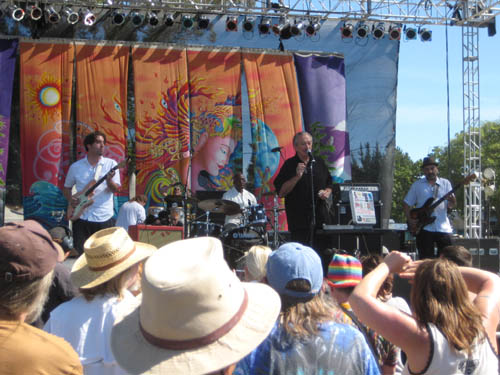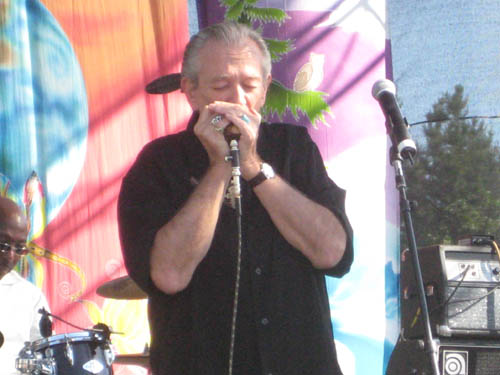 Matt Stubbs played some RIPPIN' blues guitar in Charlie's band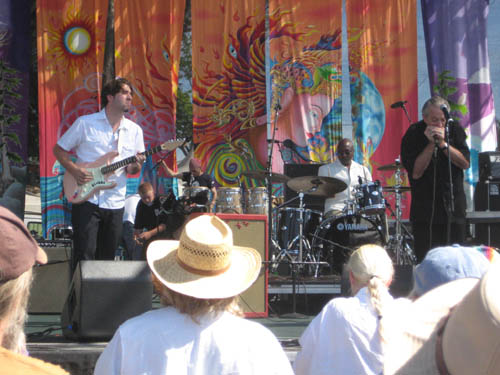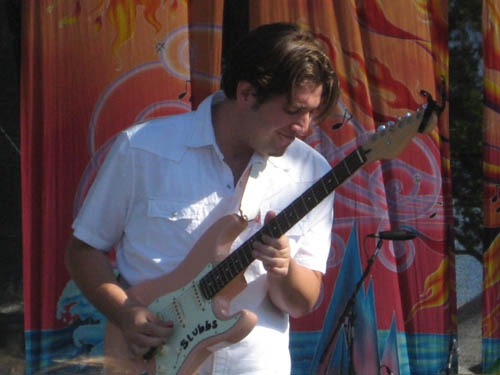 Dalai Limo on the road to enlightenment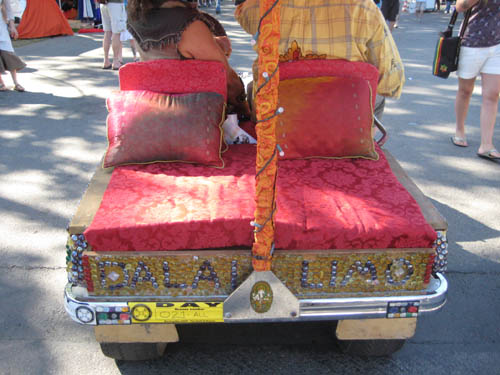 bet the Dalai Limo looked really cool all lit up at night!!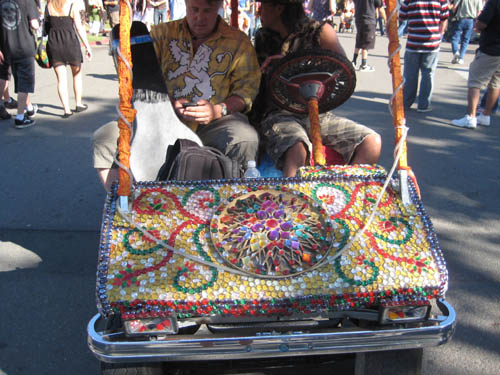 KJ Denhert (again) at the Goddess Stage on Saturday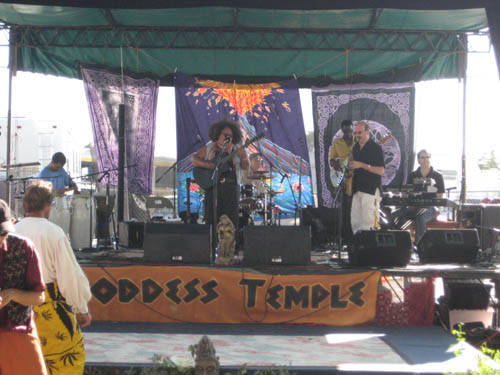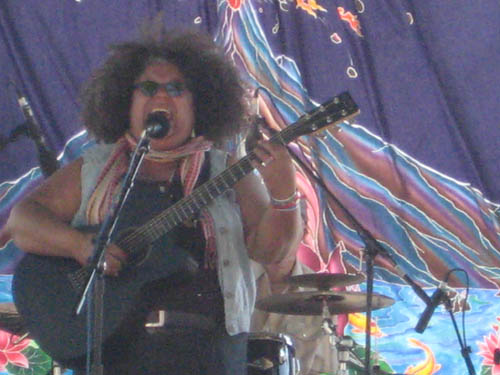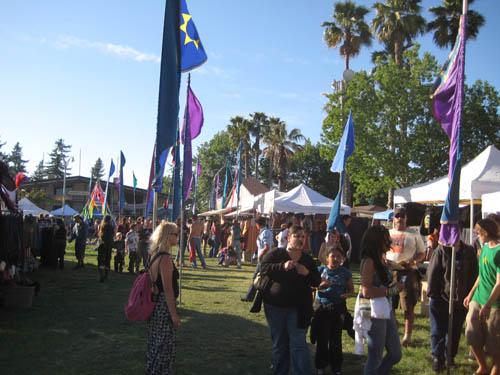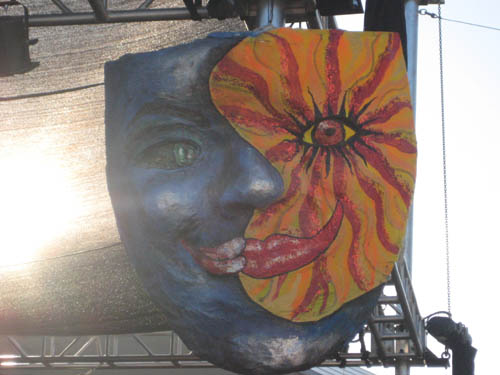 The Devil Makes Three drew a huge vocal crowd on Saturday afternoon at the Community Stage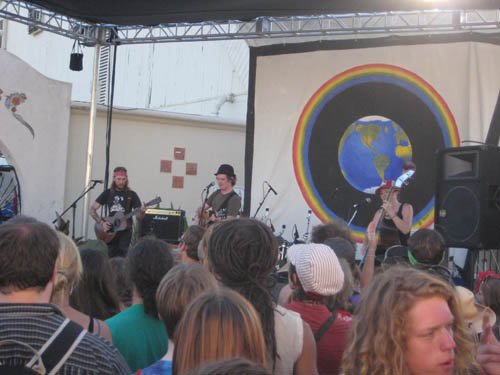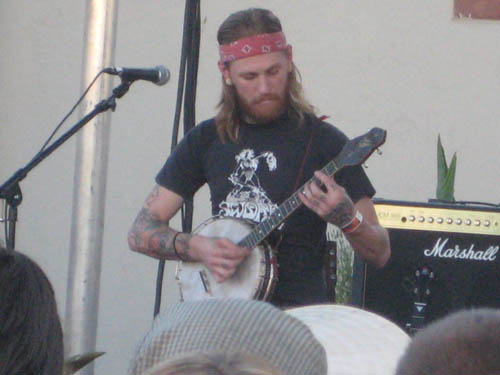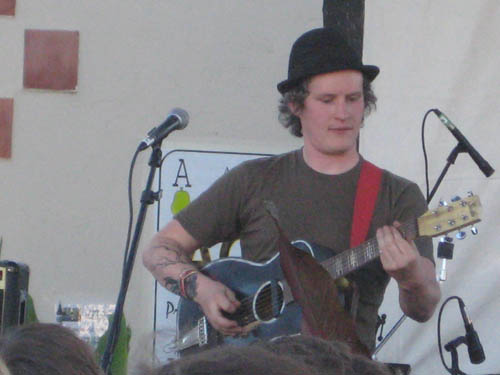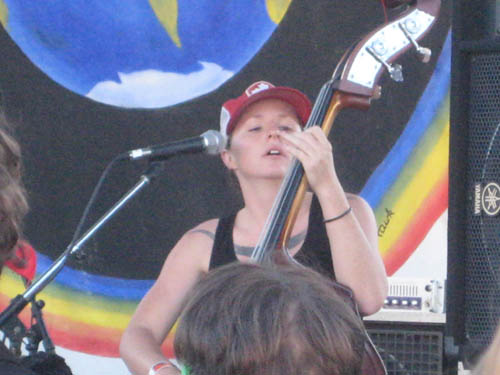 Fast-forward to the Techno-Tribal Dance, Saturday late night at the Grace Pavilion, an indoor venue the size of a football field ~~ transformed into a Burning Man-type experience!

People who wear giraffe headgear just wanna be noticed…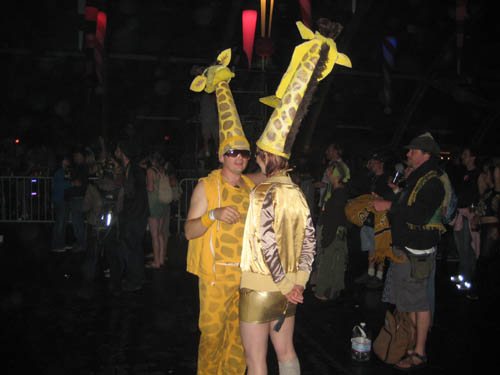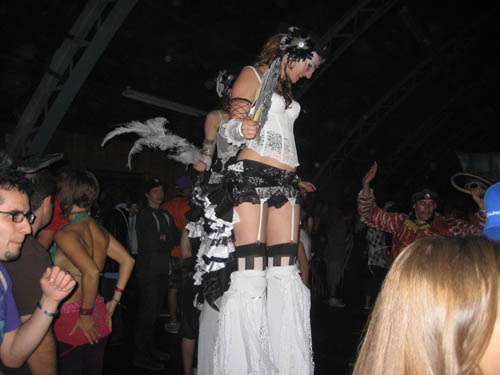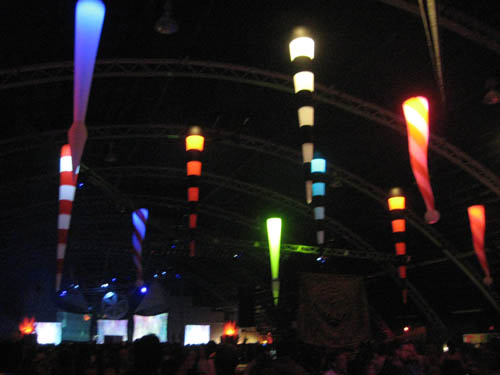 Chill-out area in the back of the venue, with morphing psychedelic projections, a carpeted floor, comfy couches & pillows…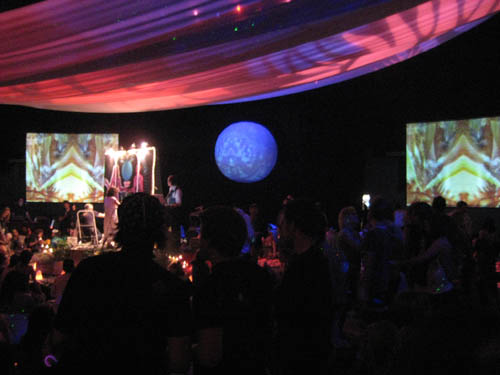 …and visionary artist Alex Grey and his wife Allyson creating an original painting to the throbbing soundtrack pumped out by a succession of "popular" DJ's (e.g., RJD2, Heavyweight Dub Champion, Freq Nasty)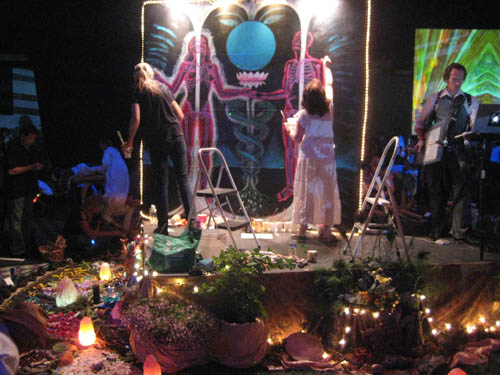 early stages of painting, about 11 pm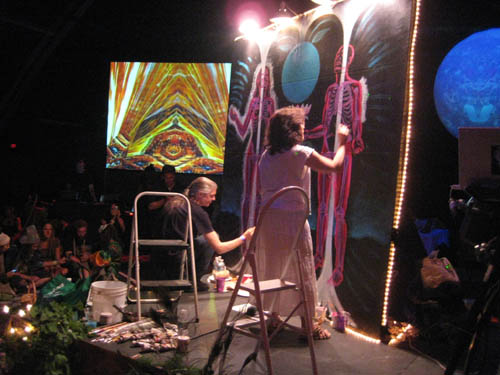 painting nearly finished, about 3 am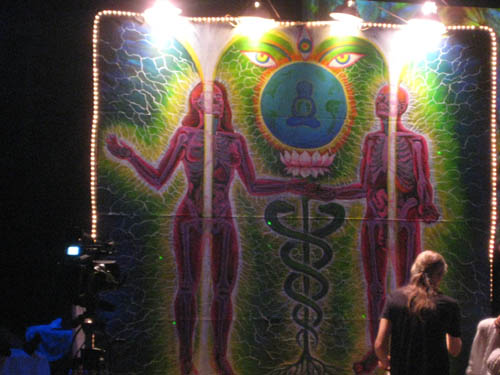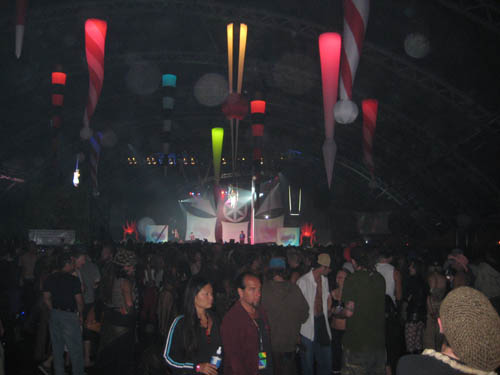 frikkin' amazing aerial acrobats, pics don't do it justice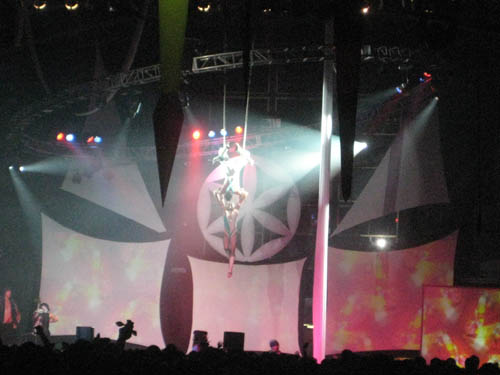 Good Night, and colorful dreams to all !!

---





By G.Fish ‹º))))))›‹ (Garyfish) on Friday, June 13, 2008 - 04:23 am: Edit Post

OK, pics from the last day, Sunday June 8


Melvin Seals & JGB in their Sunday finest at the Main Stage. It's not often you'll see Melvin decked out all in white, and Stu Allen wearing Dockers and a dress shirt!!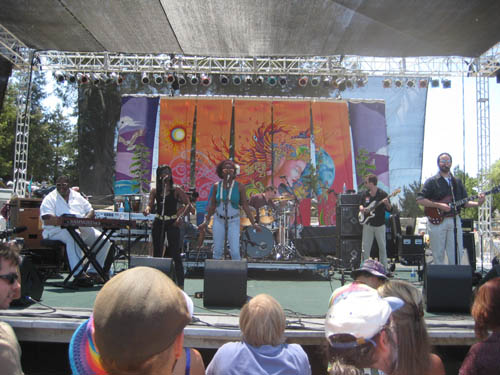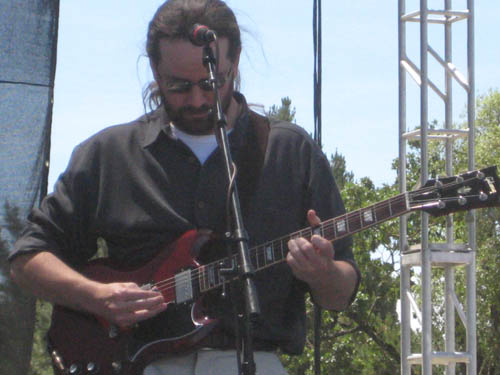 new bass player Justin Purtill was pretty damn good, lots more animated and jazzy than Marty Holland was (no slight to Marty intended!!)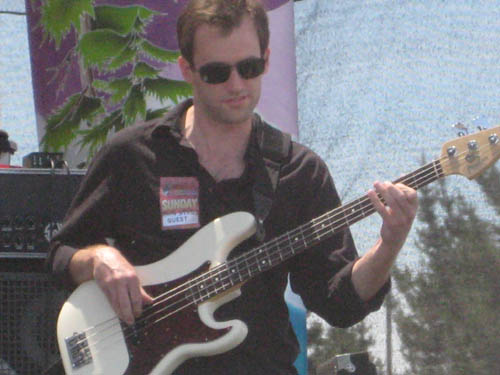 one Zoner suggested to me that Melvin's new drummer (Mark Corsolini) looked like Big Johnny!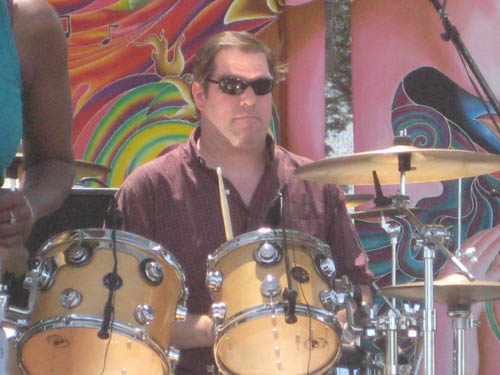 Zoner sighting at Melvin's Sunday service, with unidentified oral emanation (can I get a witness?!?)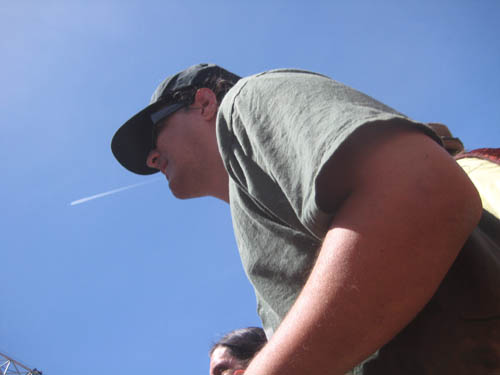 Right after Melvin's set, I skipped Geriatric Starship & caught Five Eyed Hand at the Community Stage ~~ a smallish crowd, but I was very suitably impressed with their ethereal brand of jazz-rock fusion



Chris Zanardi played some damn good guitar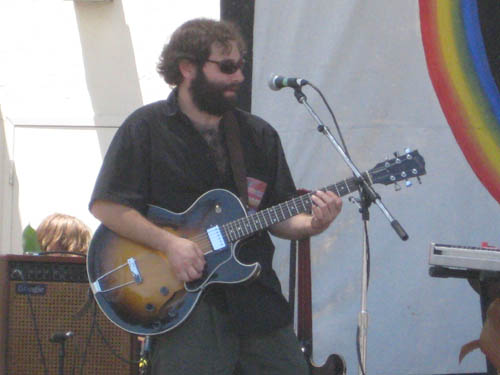 the "Whistling Drummer," who I first saw with FEH at WCZJ-1 in early June 2007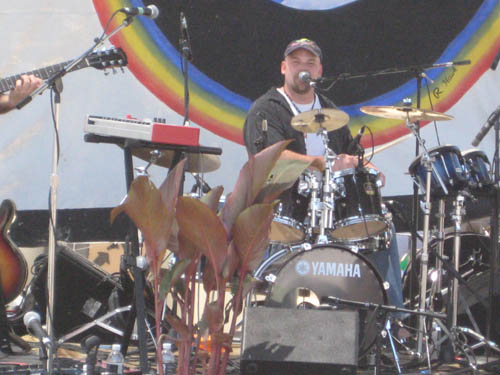 Zoners getting' down to FEH from close range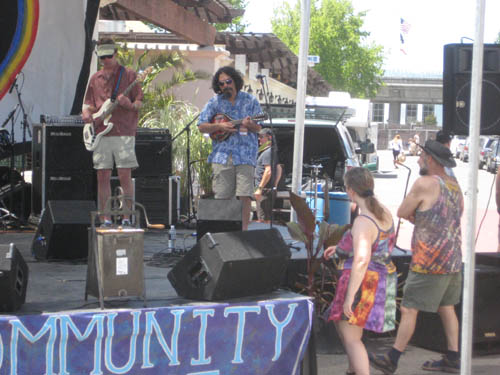 the festival crowd thinned out on Sunday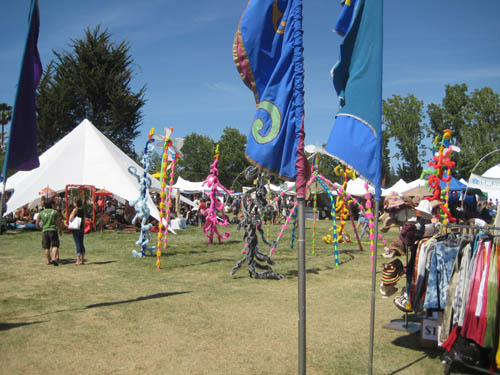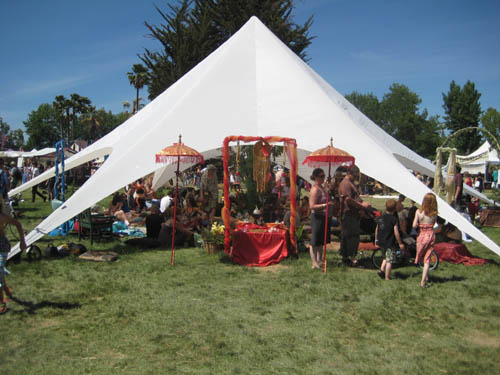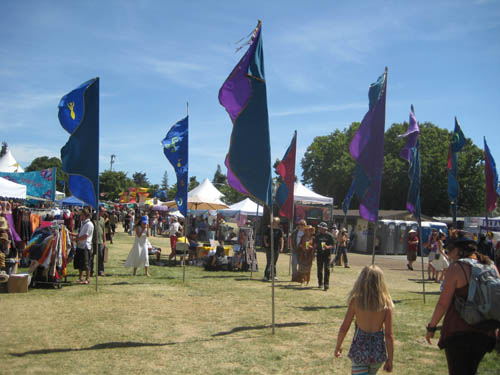 next was Free Peoples at the Community Stage. I really enjoyed their set of progressive bluegrass/folk/jazz. Note the heavy wook factor here (and pretty much everywhere at this festival, now that I think about it).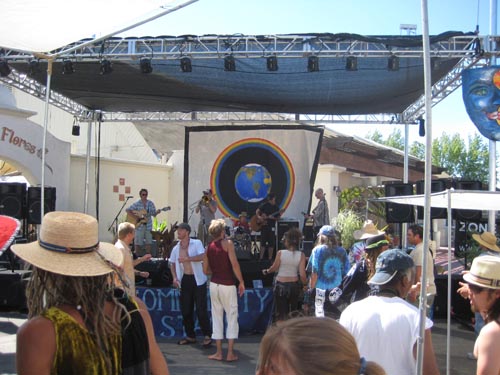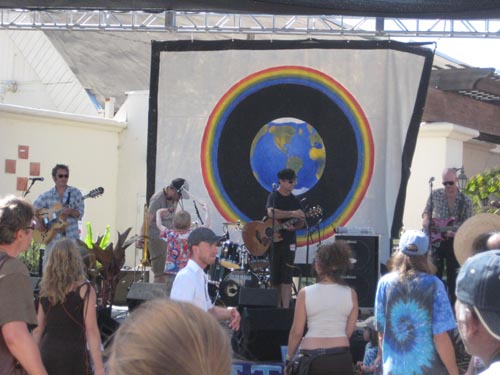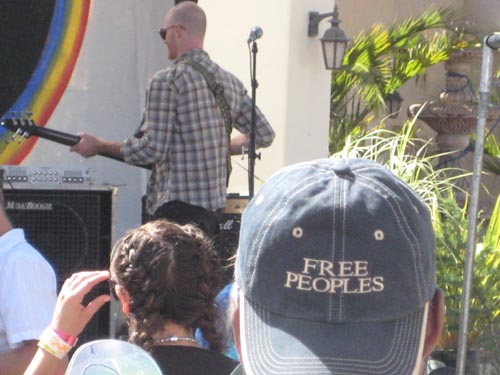 Next was Poor Man's Whiskey, who played an electrifying set of bluegrass on steroids (ha!)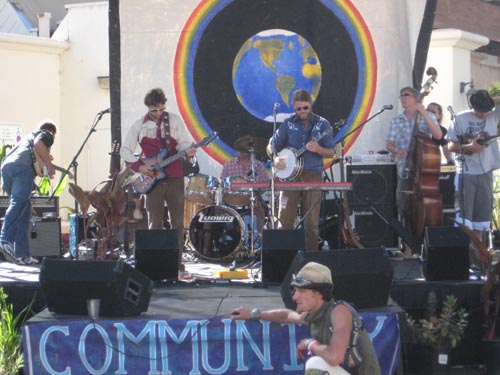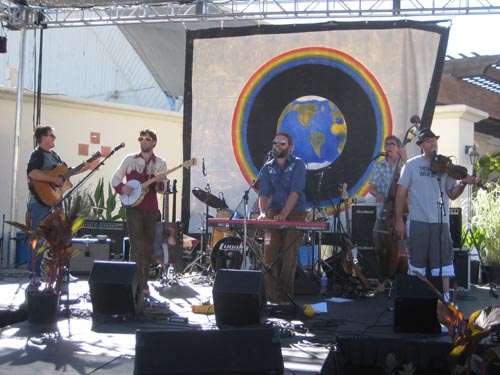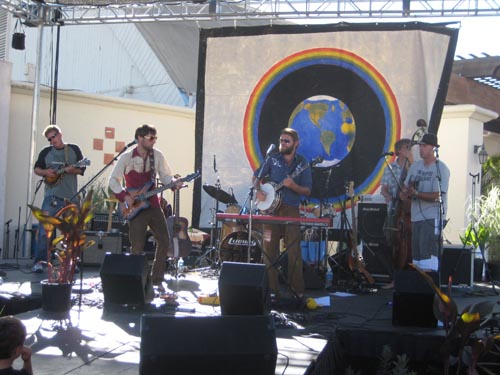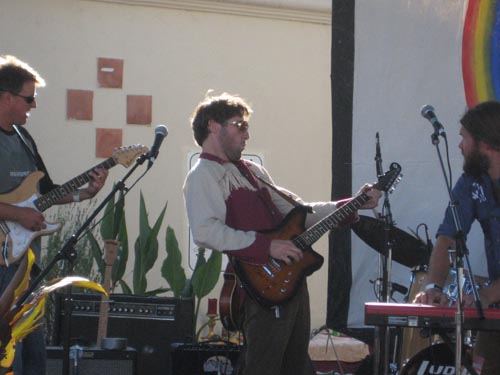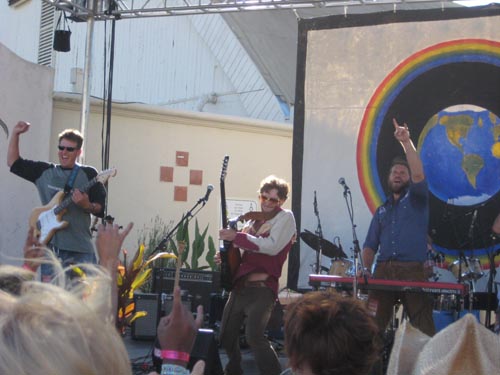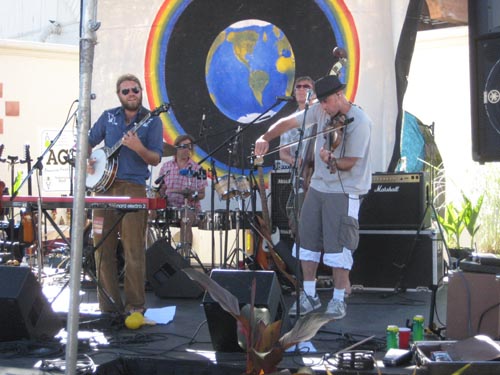 The fiddler for PMW evidently borrowed the t-shirt that Sueshi wore @ WCZJ-2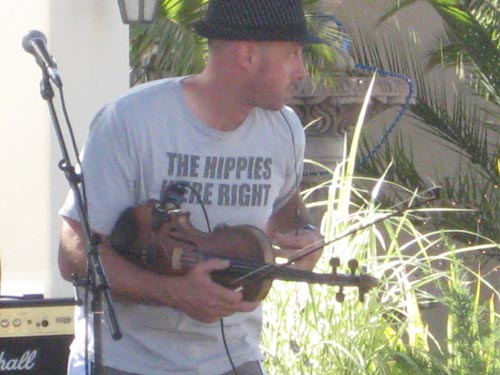 For their encore, PMW came out into the crowd and played an acoustic rave-up tune ~~ very cool and fun!!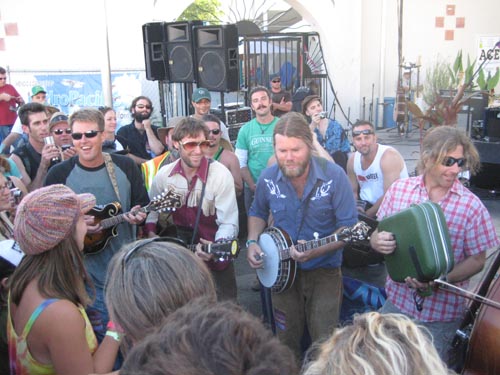 Drummer (at right) playing "washboard suitcase," scraping the pebbled surface w/ a coin in his right hand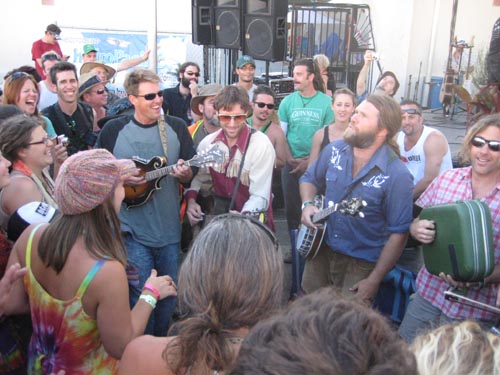 a capella finale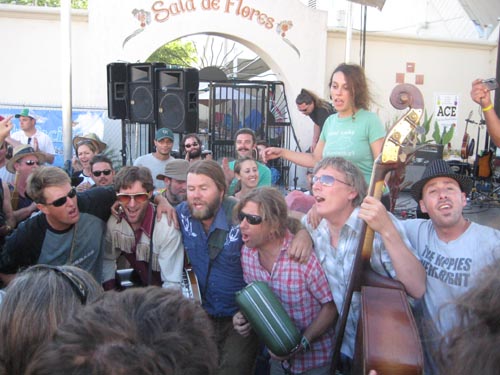 Back over to the Main Stage for the final act of the festival ~ Angelique Kidjo brought the high-energy Afro-beat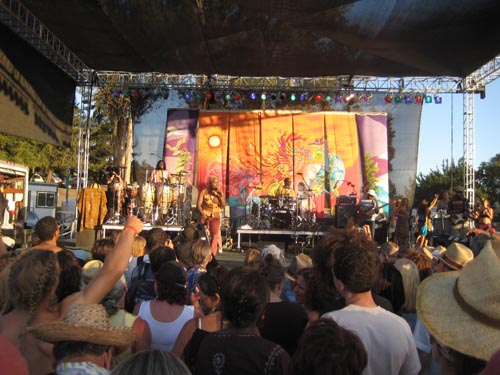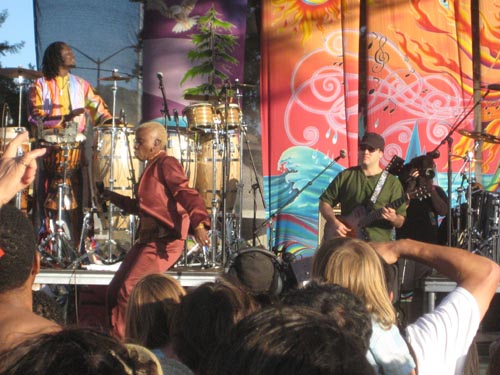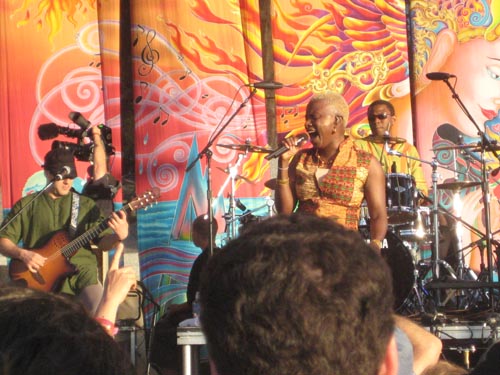 about halfway through her set, Angelique came out into the crowd, singing & chanting…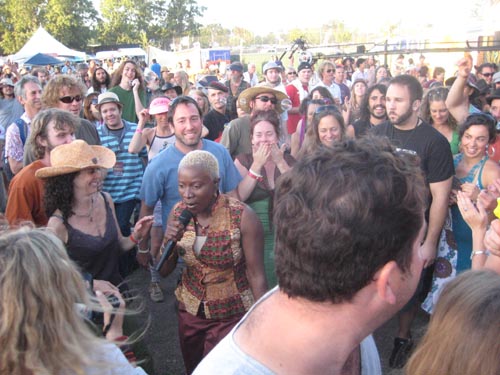 …she really got the crowd going…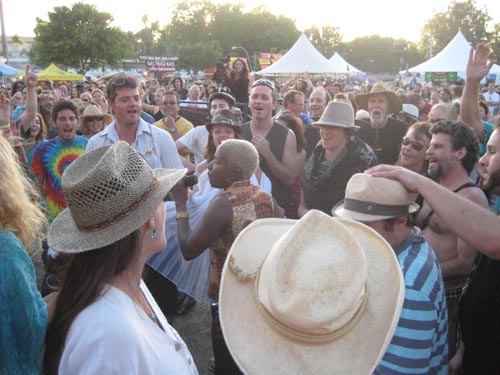 …and then she brought a shitload of people in the crowd up onstage!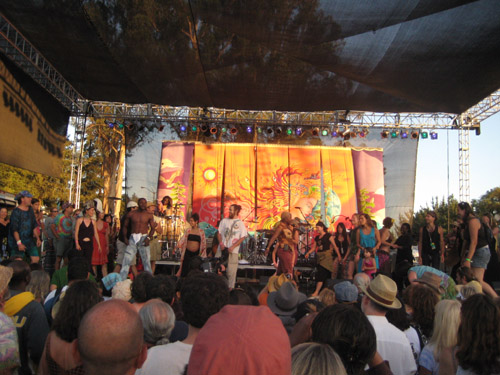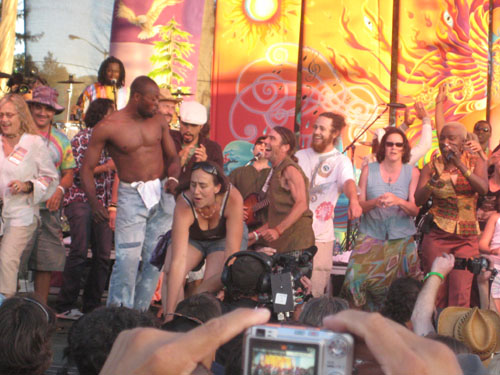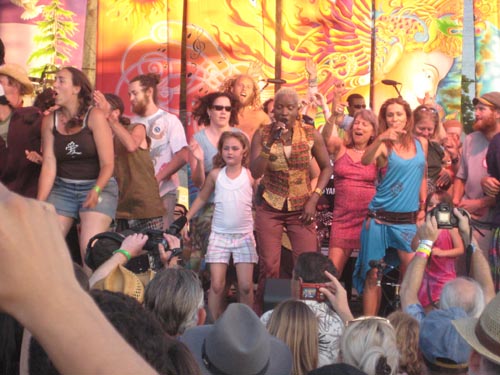 Must have been 60-70 people onstage at one point, all dancing up a storm!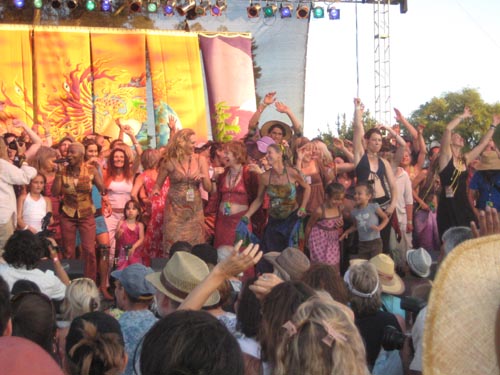 And that's all, folks!



Final thoughts: I didn't see any uniformed police inside the festival grounds, except a couple mellow rent-a-cops… nor did I see any fights or unkind behavior ~~ that's one of the things I LOVE about the Harmony Fest. Hope they have a little stronger lineup next year!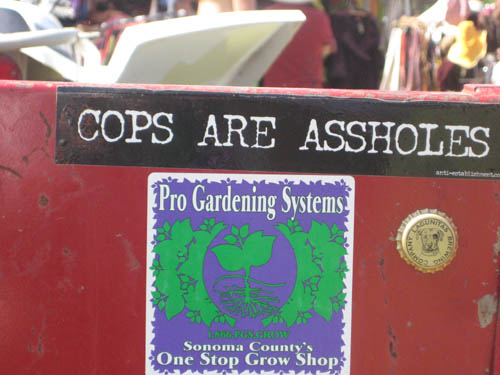 ---





By _ (Frank__sinatra) on Friday, June 13, 2008 - 05:23 am: Edit Post

Great pics, Garyfish. Nice hanging out with you.
---





By frank fledman (Billytnola) on Friday, June 13, 2008 - 09:46 am: Edit Post

what a fantastic photo essay. Thanks so much for putting the effort into producing this and allowing those of us sitting at a desk to live vicariously thru you.
---





By Only Fools Have Needs (Canyon) on Friday, June 13, 2008 - 11:22 am: Edit Post

nice Gary!! what are all those funny symbols though?

??'??
---





By Sueshi (Sueshi9) on Friday, June 13, 2008 - 12:35 pm: Edit Post

Nice shots, Gary!
---





By 1st One's Named Sweeeeet Emily (Odessablue) on Friday, June 13, 2008 - 01:16 pm: Edit Post

Wow...I've never seen F_S with his hair down before!!

---





By _ (Dynamohum) on Friday, June 13, 2008 - 02:21 pm: Edit Post

Thanks Garyfish!!!! So many great shots. Loved the ones of Sinatra and Kate and Googly of course! Its cool to see what I missed the rest of the weekend. Wow, that was quite a party with Angelique.

Only thing missing....is a shot of YOU. :>)
---





By Pick E. Bastard (Jjwood64) on Friday, June 13, 2008 - 02:25 pm: Edit Post

Great photos and thread, Garyfish! Thank you for sharing.