David Byrne, SF, Ca, 10/6/08
---
Philzone.org - Philzone Phansite Community Discussion Board: Setlists and Reviews: Non GD Related Reviews:

Archive: David Byrne, SF, Ca, 10/6/08
---





By Experimental Emily (Odessablue) on Tuesday, October 07, 2008 - 12:12 pm: Edit Post

David Byrne
Davies Symphony Hall
San Francisco, Ca
Monday, October 6, 2008


This was my first time being in the symphony hall and I'll definitely go back there again! The sound was awesome, the seats were comfy, it was a zero hassle entry and seating process, no one freaked out when people wanted to dance on the side...I definitely give the place two thumbs up!

As for David Byrne, what a quirky fellow! The visual part of this show was definitely important, almost more important than the musical part. Everyone on stage was dressed head to toe in white--that was the first ovation of the evening--all he had to do was show up. The band was Byrne on guitar, he went between a Tele, a Strat and an acoustic all night. A bass player, a guy on Keys, a percussionist/acoustic guitarist, a drummer, three singers/dancers and three dancers.

The dancers were what I would expect from the Talking Heads alum, although there were not predictable. They engaged the band, frequently taking the mic stands away from the backup singers, placing them in other areas of the stage and making the singers part of the dance troupe. Even Byrne got in on the act, joining the dancers formation and mimicking them frequently throughout the night. At one point they sat in swiveling desk chairs and ran through a slow, lazy choreography...Byrne in step with them as he played the song. At one point the male dancer, leapfrogged over Byrne as he was playing, clearly one of Byrne's favorite moves, He had a big smile which the dancer returned with a quick thumbs up and then it was back to the rest of the choreography. It was cool to see such a visually interesting show that didn't rely on lights and screens. Those dancers worked hard!

As for the music, Byrne sounded great, his voice is as strong as ever. His guitar playing--nothing to write home about. No surprise though, that's never been his selling point. Most of the show relied on the heavy drum beat to set the tone, eh...it was what it was, not bad at all but it didn't serve the new songs well. The crowd went wild for the Talking Heads material, the instrumentation was an aside but the songs from the new album didn't turn many heads. I think a different band could have highlighted the new stuff in a much better way. One Fine Day was my favorite of the new material--a soft melodic tune that instills a comforting sense of hope, real sweet.

The Talking Heads songs brought the seated crowd to it's feet, there was dancing and reveling and much cheering. They graciously accepted the applause and played an encore, Take Me To The River...followed by the third or maybe fourth ovation of the evening. The applause went strong for several solid minutes--the only time of the night I wanted my earplugs

and then came the second encore--completely unexpected by me, but apparently not a new trick for Byrne--the Extra Action Marching Band entered through the back and strutted it's way down the aisle! Gotta love the sparkly black thong and all the glitter on the male dancer and the beefcake color guard...in the symphony hall! After their big entrance and a number from the them, Byrne and the rest of the band and dancers came out for an ensemble version of Burning Down the House...there had to be about 30 people on stage, the horn players were all lining a riser around the back of the stage, 4 Extra Action Cheerleaders, Byrne's Dancers...all synchronized perfectly...such fun. And then there was a lot more cheering, the show was about 1:45 minutes, on the short side, but not unexpected, everyone involved put a lot of work into this show, it was some damn fine entertainment.


A loose interpretation of the setlist, by no means complete...

Strange Overtones
I Zimbra
One Fine Day
Help Me Somebody
Heaven is a Place
Houses in Motion
Life During Wartime
Once in a Lifetime

E1: Take Me To The River
E2: Extra Action Marching Band song
Burning Down the House
---





By Lance Newberry (Heathentom) on Tuesday, October 07, 2008 - 01:26 pm: Edit Post

Wow. Look at those THeads songs! I knew that would be the meat of the show this time, but I just can't really get excited for Byrne anymore, and your statement "it was some damn fine entertainment" kind of explains why.

When he was leading the TH they were an amazing group that was doing something different, original and excellent with every project, but for so long now IMO Byrne has been more "entertainer" than artist, and the best you can hope for are well done returns to the Heads songs.

Knowing the Eno aspect to these shows I knew it would be heavy on good THead songs, and damn I love every one of those listed, but every time I see him it makes me miss his REAL group.

I wasn't expecting much when I walked into the Greek to see the Talking Heads as a young Dead Head long ago, but when I walked out I was a changed man. That show still ranks as one of the greatest I've ever seen and set the Byrne bar VERY high for me, and I've never seen him do anything even close since their break-up.

Still, he always puts on an entertaining show and Davies is a sweet venue, I wish promoters used it more (they charge an arm & a leg to use it) and it sounds like this was a good one. But I just couldn't pull the trigger on tickets, so thanks for the review.
---





By Experimental Emily (Odessablue) on Tuesday, October 07, 2008 - 01:45 pm: Edit Post

Yeah, it was good fun but not musically significant. Byrne has been on my must see list for a while, and now he's been crossed off. Not sure I need to go back for the price. There was no break, so I was assuming the ticket price was to offset the cost to the venue for no intermission drink sales...sign me up for a Talking Heads show though, I'll pay for that one! At least once

---





By matt (Mattjthomas) on Tuesday, October 07, 2008 - 04:50 pm: Edit Post

Thanks for the review Emily.
I'm going tonight, and hoping he saved Crosseyed and Painless for me. ;)

Lot more talking heads songs than i thought he would bust out, in under 2 hours, with the new album having just been released.

Look forward to tonight. Quick show, guess i'll be taking BART.

Always so helpful and insightful with your reviews, always look forward to them.
---





By Experimental Emily (Odessablue) on Tuesday, October 07, 2008 - 04:59 pm: Edit Post

I think they're doing the same show each night--I do believe Cross Eyed and Painless was part of the show, not exactly sure where it belongs on that list though so I left it off. There's definitely a bunch of stuff left off that setlist, it's in no way the full show



Hopefully the Extra Action Marching Band will be back tonight--I chatted with them out in front of the restaurant across the way, after the show. They absolutely raved about being able to play such a great venue

---





By Experimental Emily (Odessablue) on Wednesday, October 08, 2008 - 01:34 pm: Edit Post

Found this on flickr...taken from right about where my seat was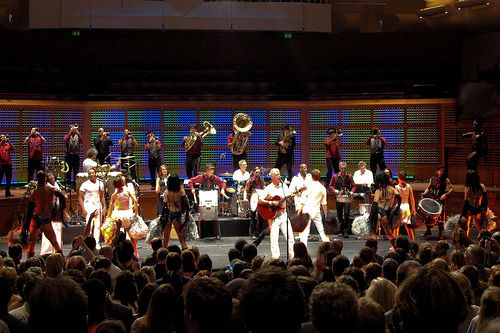 and a few others...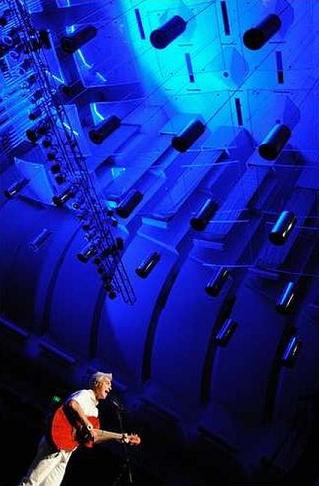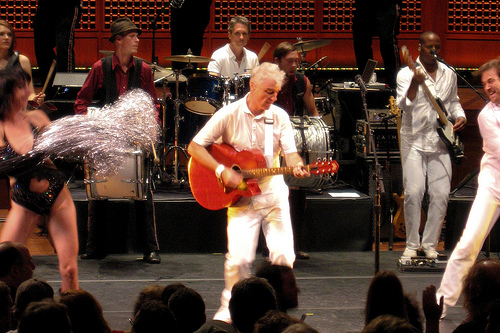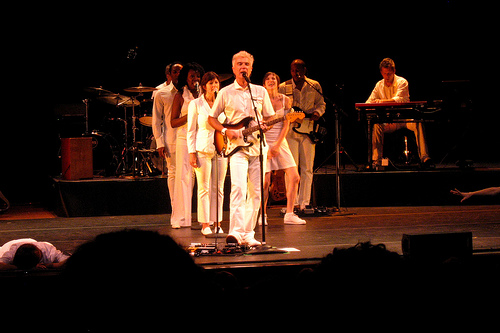 ---





By matt (Mattjthomas) on Friday, October 10, 2008 - 02:52 pm: Edit Post

Well, tuesdays show lived up to Emily's review.
What a show! Was really happy to have gone. Had great seats (7th row, right on the aisle, perfect for dancing!).
The crowd was on its feet most the night groovin'.

Very beautiful amazing venue. Wow!

Very similar setlist.

Although, they played Take me to the River during the main set.
1st encore was Life During Wartime and a new tune.
2nd encore was Extra Action Marching Band (very cool) and Burning Down the House and a new tune.

Just a little over 2hours.

David was trying to say thanks at the end (for like 10 minutes) but the loudness of the crowd/ovation was blowing him away, and he was laughing and kept backing away from the mic unable to speak. Truly heart felt.

Great Crowd! You Rock San Francisco. Even if at some shows, you're just too CHATTY, this show you proved your class.
---





By DublinBlues (Blackjack_david) on Tuesday, October 14, 2008 - 08:50 am: Edit Post

Saw them in Austin last month. Byrne's show was the highlight of the fest for me!!
---





By Experimental Emily (Odessablue) on Sunday, October 19, 2008 - 12:26 pm: Edit Post

I was talking to someone who recently toured Davies, he was telling me those panels hanging from the ceiling are all electronically controlled, they can be raised or lowered and tweeked in a bunch of different ways...I'm really curious to know more about it. I'd imagine they get the most use like that from the Symphony given their long term residency, I'm interested to know if they were changed for this show or just left as is...

The recording was fun...but not the greatest recording ever, the beginning is rough, lot of crackling in the beginning.

http://www.dimeadozen.org/torrents-details.php?id= 218628
---





By Bobby's Belly (Turtle) on Monday, October 20, 2008 - 04:02 pm: Edit Post

looks fun~!
---





By joe fabes (Skyboy) on Monday, October 20, 2008 - 05:28 pm: Edit Post

Thanks, these reviews and Postheads review of Denver got me off my ass, got 4th row tickets for Tampa. Hell I'm even gonna take the wife this time. Can't wait, Black Crowes, Ratbob, Ray Davies, and Byrne. Gonna be a sweet holiday.
---





By weeeee (Tar_w) on Monday, November 24, 2008 - 02:18 am: Edit Post

Great review, great pics. I love David Byrne!!