AC/DC, Oakland
---
Philzone.org - Philzone Phansite Community Discussion Board: Setlists and Reviews: Non GD Related Reviews:

Archive: AC/DC, Oakland
---





By Experimental Emily (Odessablue) on Friday, December 05, 2008 - 03:39 pm: Edit Post

AC/DC
Oakland Arena
12/4/08


An expensive ticket, but totally worth the money! These guys put on a great show, at least we got lights and explosions and crazy props for our money...they really went all out and certainly justified the price they asked! The setlist was the same as the first night, I think. If there were changes they were minor but I'm imagining the whole tour has the same setlist.

Setlist:

Intro
Rock 'N' Roll Train
Hell Ain't a Bad Place to Be
Back in Black
Big Jack
Dirty Deeds (Done Dirt Cheap)
Thunderstruck
Black Ice
The Jack
Hells Bells
Shoot to Thrill
War Machine
Anything Goes
You Shook Me all Night Long
TNT
Whole Lotta Rosie
Let There Be Rock
Crowd
Highway to Hell
For Those About to Rock (We Salute You)


The new stuff does indeed sound like the old stuff. If it ain't broke, don't fix it

Not too many surprises after reading reviews from the rest of the tour.

The one surprise of the night was the audience. Best crowd ever! No joke! Plenty of old guys, a whole bunch of younger folks, quite a few guys who brought their kids...and even a few women in the mix. The surprising part was how calm and mellow everyone was, while at the same time totally rocking out. I was sitting in the back, way up top. It was wild having a view of the entire room and seeing everyone in their place. The grid effect was perfect, no seat unfilled, no crooked row. No swirling, spinning masses of color like a dead show. No commotion as people moved back and forth to the bathrooms or beer lines, the aisles were always clear, everyone was watching with rapt attention. No nonsense when it comes to AC/DC and no one wanted to miss a thing. The juxtaposition of everyone politely and contentedly in their assigned box verses the loud, raucous, rock n roll, highway to hell attitude of the music was not lost on me for even an instant. It was wild, and completely delightful, made for a really great large crowd experience.

The band really gave it their all, Angus was great, strutting and prancing back and forth across the stage, stripped out of his school boy outfit as expected. It's impossible to not laugh at the ridiculousness of it all, Brian Johnson sounded great, screamed out the songs with the mischievous grin of a much younger man. Somewhere, somehow they've found a fountain of youth, it was a sight to see. They delivered a great show and it was well received, I give it two thumbs up

---





By Sleeping Less (U_hollis) on Friday, December 05, 2008 - 04:01 pm: Edit Post

I saw the show in Nashville in 91
the crowd was a bit more crazed than it sounds like you got.
much leather, and many women with scant clothing.

i remember having a freakin blast.

thanks for the review
---





By Nick (Lazybones8) on Friday, December 05, 2008 - 04:45 pm: Edit Post

Did the woman wear their devil's horns???
---





By Experimental Emily (Odessablue) on Friday, December 05, 2008 - 04:50 pm: Edit Post

Lots and lots of devil horns blinking away, didn't see any leather pants though, and we were looking.

---





By JHT or Johnyrider or (John) on Friday, December 05, 2008 - 11:38 pm: Edit Post

thanks for the review Emily. sound like good stuff. was real nice meeting you and getting to chat in Peataluma. That place was perfect. Thanks for the hospitality!
---





By Pete Jennings (Pete441) on Saturday, December 06, 2008 - 12:51 am: Edit Post

Whole Lotta Rosie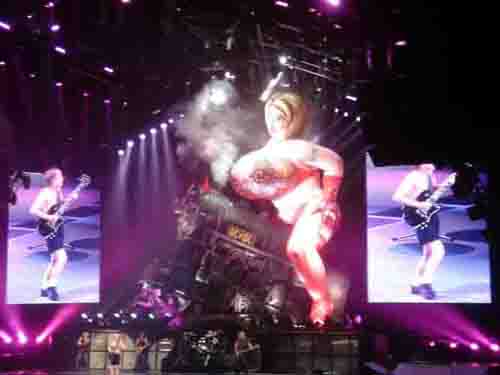 ---





By Sexy Freak Santa (Creekhead) on Saturday, December 06, 2008 - 11:52 am: Edit Post

You go Emily

one of my all time favorite acts!

I am glad you had a blast and that they are ripping it up AC/DC style in 2008
Too cool
---





By Pete Jennings (Pete441) on Saturday, December 06, 2008 - 08:58 pm: Edit Post

From Matier & Ross:

Power play: Hard times be damned - 28,000 fans plunked down $94.50 apiece for Aussie rockers AC/DC and their array of special effects at the band's two-night stand at Oakland's Oracle Arena.

After the 90-minute blast Thursday night, guitarist Angus Young and company were joined by Sean Penn, plus wife Robin Wright Penn and their kids, St. Louis Cardinals manager Tony La Russa and his family and Food Network chef Guy Fieri of "Diners, Drive-ins and Dives," who added sushi and pulled pork to the mix.

How big was it?

"A big rock show takes seven or eight trucks to haul everything in," said Another Planet promoter Greg Perloff.

"AC/DC had 16."

http://www.sfgate.com/cgi-bin/article.cgi?f=/c/a/2 008/12/06/BAS914IPK5.DTL