Woodshed Prophets 2/22/09 Manleys
---
Philzone.org - Philzone Phansite Community Discussion Board: Setlists and Reviews: Non GD Related Reviews:

Archive: Woodshed Prophets 2/22/09 Manleys
---





By Spunday Driver (Nups_dog) on Thursday, February 26, 2009 - 12:20 am: Edit Post

Well, since pretty much nobody knows who these guys are, allow me to introduce to you the Woodshed Prophets. Ed Gilha on Bass, Ken Held on Guitar, John Edick on the snare & cymbal, Rob Stachyra on guitar & mandolin and Darin Trass on fiddle (as his schedule allows). They're all from the Binghamton, NY general area....

Well, one of our Zone's very fine digital artists did the flier for the show. Thanks brother. Absolutely amazing. The guys absolutely LOVED the posters we printed. Loved might be an understatement.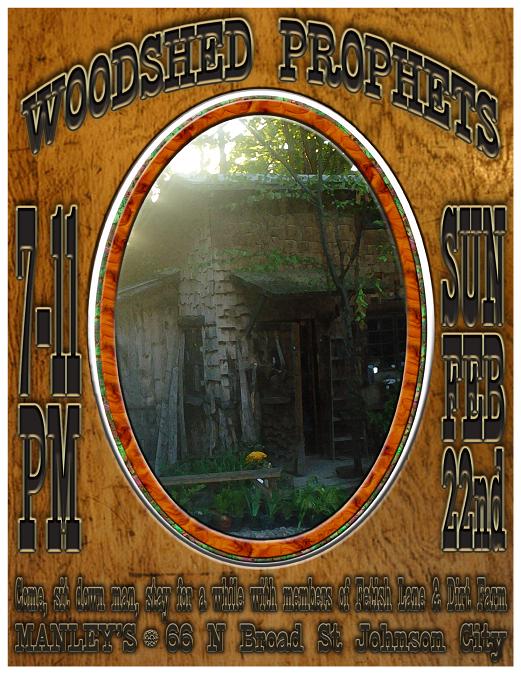 (by Lou at tortugagraphix@gmail.com)

Set one was rock solid through and through. Opening up with solid Stealin and Heart Of Gold covers before their first original song (Rob) Just A Little Bit Longer. (Also uploaded on their myspace page player.) A very soulful Ed on Till It Shines, followed by a run of original songs. Bucket of Blues (myspace player) was a real fine treat in the first set. Ken and Rob trading licks back and forth. A nice jam to get the blood flowing just in time as some good friends came rolling in and the place started to pick up rather quickly. Cold Steel and Maggie rounded out the run. Then they did a real nice job on the Traveling Wilbury's Handle Me With Care. Bury Me and Annabelle are two more original songs by Ken and Rob respectively. Then another soulful ballad ELO's Can't Get It Out Of My Head followed by a crowd pleasing Friend Of The Devil. Garden Party, Lake Marie and one of the new original Woodshed Prophet songs These Old Boots to end a very long, very solid first set.



Set two really got thing moving. They stepped it up a notch and you can get a taste of that too on their page.

One of my favorite songs, Misunderstood, written by Ed, kicked off set two followed with one of Rob's new song's, a tribute to the native Americans, Bury Me In Wounded Knee. Then they got thing's really fired up with a kick ass Jammin version of another original tune, Kindness (player). Motown Eddie (player) kept it going with another nice jam. It's good to see the guys in a place that is geared more for that than the sit down type evening. A little change of pace, Twenty Flight Rock made an appearance, a bee bop tune. Then came an old original song, a real crowd pleasin, foot stompin, Old Brown Jug. "Well I think we need an UPRISING now!!!!" followed by another of Ken's gems, Fool's Gold. And to end set two, an unexpected and very tasteful cover of The Weight. Such beautiful harmonies.


Set Three just picked right back up where Set two left off with a very fine cover of I Know You Rider. Followed by another Ken gem, and another of my favorite songs, Settle Down. Just a rock solid song, they really need to take this fucker out for a spin some time. They always cut it off, damn it. Another Young cover, Sugar Mountain followed by Blue Moon Of Kentucky, Aint No Sunshine and Can't Always Get What You Want. Then a totally unexpected Friends. Kind of like a we bid you goodnight type tune just saying goodbye for now, till we see you again, just a really beautiful version too.

"Encored" if you will, with Ken and Ed playing Thick As A Brick and then I can't remember what song they played last. Ha ha. Go figure.

All in all a really fine show, and a great time was had by all. Stop by their myspace page and say hey and you guys can check out some of the songs from the night and see what you think. If you like em, shoot me an email and I'll see what I can do.



http://www.myspace.com/woodshedprophets
---





By Jam Grass Honey (Microfishie) on Wednesday, March 25, 2009 - 01:06 pm: Edit Post

Nice stuff Nups

Can I share?