Govt Mule 8/8/09 Atlantic City NJ
---
Philzone.org - Philzone Phansite Community Discussion Board: Setlists and Reviews: Non GD Related Reviews:

Archive: Govt Mule 8/8/09 Atlantic City NJ
---





By the was (Scarletfire8) on Sunday, August 09, 2009 - 02:17 pm: Edit Post

i gotta say it was just amazing....one of the best mule shows i ever saw...i was really toasty before in my showboat room, pizza on the boardwalk, in teh ocean for dip, then after some kynd and champagne we got right in front of Jorgen and they blew my mind DAM IT WAS LOUD in front...to me its much more psychedelic than it was, Jorgen isnt better tahn Andy, but he;s louder, and more jammy, and more psychedelic, more freestyle...really soloed alot imo...the place is so cool, can leave anytime to beach or room to smoke, it was pretty loose in there, very little security...great art on the walls to trip on, it was getting weird at times...but man did Warren rip it up, so forceful at times, then quiet adn subltle....he is a class act...Farmer was entertaining the crowd at times...wild times....nitrous mafia outside on the boardwalk after, became scetchy...we then were so dosed in the casinos. jsut too much....watch Wolverine

rigins in room till 4:20, cool...best of times with the Mule in AC!!!!!!!

Set 1
Blind Man In The Dark
Perfect Shelter
Gameface
Towering Fool
Fool's Moon
Life Before Insanity
Thirty Days In The Hole
Thorazine Shuffle

Set 2
Stay With Me
No Need To Suffer
Trying Not To Fall
Mule
Drums
Left Coast Groovies
World Of Difference
Lola Leave Your Light On
Encore
Far Away
Soulshine
---





By Bruce Edward Weber (Eddieboy) on Sunday, August 09, 2009 - 05:35 pm: Edit Post

greatreviewthanks!
---





By the was (Scarletfire8) on Thursday, August 20, 2009 - 10:26 am: Edit Post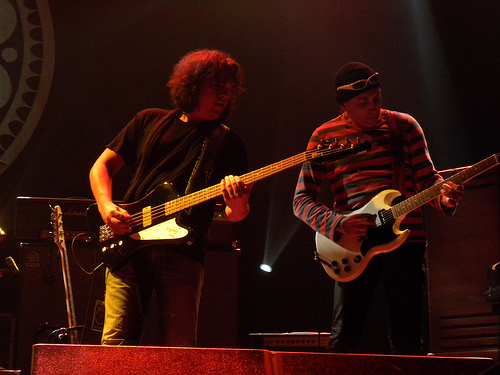 AC mule!!!