Dickey Betts & Great Southern, Slims, SF, 8/17/09
---
Philzone.org - Philzone Phansite Community Discussion Board: Setlists and Reviews: Non GD Related Reviews:

Archive: Dickey Betts & Great Southern, Slims, SF, 8/17/09
---





By 1st one's named Sweeeet Emily (Odessablue) on Tuesday, August 18, 2009 - 01:12 pm: Edit Post

Dickey Betts & Great Southern, Slims, SF, 8/17/09

Set One:
Les Brers
Nothing You Can Do
Statesboro Blues
Blue Sky
Paradise
One Way Out
Hoochie Coochie Man
Change my Way of Living
My Getaway
Having a Good Time at the Rock Bottom
Liz Reed>
Back Where it All Began
Nobody Left to Run With
Jessica

E: Rambling Man

This is what the setlist said, but not quite what they played.

I think it was something more like this...

Set One:
Les Brers
Nothing You Can Do
Statesboro Blues
Franklin's Tower>Blue Sky
Paradise
Hoochie Coochie Man
One Way Out
Jessica

Set Two:
Back Where it All Began
One Way Out Reprise
Change my Way of Living
My Getaway
Having a Good Time at the Rock Bottom
Liz Reed>Drums>Liz Reed
Nobody Left to Run With


E: Rambling Man

Kinda funny that they'd have a setlist but not follow it. In reality, it seems the Solano Beach show had a nearly identical setlist. Comments about the show...it was loud, but not as loud as the last one. It seemed a bit rushed at times, the Franklin's intro to Blue Sky for example, I can always use some more of that, would have liked it stretched out and long! There was a little space intro to Liz Reed, it lasted about 15 seconds...sort of defeats the purpose of space, but that's not what this band is about, they do the full on guitar assualt and they do it well. Dickey is a classic, it's hard to ignore those tried and true riffs he plays.

I'm still not into the kid, his vocals show his age. The Son-in-law from Tesla played guitar on a tune, I forget which one...I think he played at the last show as well. Scott something? I liked the bass player a whole lot...he's got a Les Claypool with dreads look going on and he sounded great, nothing boring about him at all.

And of course, Elizabeth stole the show by winning the Gibson SG they raffled off...if only I had beat her to the box office

Of course I don't play so it wouldn't have done me any good anyhow!
---





By Mr.Tofu Head (Shakedown63) on Tuesday, August 18, 2009 - 03:37 pm: Edit Post

I don't remember the exact setlist either, so here's what i have to share.

1st set opener was High Falls, the wonderful instrumental written by Dickey in the mid 70s. The ABB didn't perform it often, unfortunately. Last night, DB & Great Southern played it long and sweet.

I don't recall that they played Les Brers at all.

Southbound was the 2nd song/2nd set, played with Frank from Tesla on guitar.

I thought the whole show was excellent. I liked the song selection and jams, and i thought Dickey was on. He may be past his prime, but he can still play like no other. When Dickie took his leads last night, it tickled me into X-factor happy place. Overall, I think Dickey's band sounded more like classic Allman Brothers, than the current Allman Brothers did in May.

The show, and the band wasn't perfect, without flaws, but this long time Dickey Betts fan didn't care. Duane Betts was not bad, but not particularly impressive either. The other guitarist played a few slide leads but otherwise was invisible. Bass player (Pedro?) was great, thumping away just right, all night WOW! I could have listened to Dickey play his signature lead guitar tones all night long, backed by the fabulous bass player and 2 fine drummers.

My only complaint is that the sound system mix was poor. I could not hear the keyboards or his vocals from anywhere except near his monitor. The sound changed dramatically as one walked around the room. I don't know whether the problem was Slim's, or the band's equipment.

The jams in Jessica, Blue Sky, Liz Reed, High Falls and other songs were sweat-inspiring awesome. They extended well, and didn't skimp. The legendary Dickey Betts delivered the goods last night to an appreciative San Francisco crowd. A wonderful Monday night treat for lovers of Allman Brothers music. Very satisfying indeed!
---





By 1st one's named Sweeeet Emily (Odessablue) on Tuesday, August 18, 2009 - 03:48 pm: Edit Post

>> I don't recall that they played Les Brers at all. <<

Could be right, I was a few minutes late, came in during Statesboro...

The way the printed setlist was laid out, quite a few songs were either/or...

High Falls or Les Brers
Nothing You Can Do or Long Time Gone
My Baby's Gone or Hoochie Coochie Man
My Getaway or Seven Turns

...I was relying on the memory of others to pick the first couple




I, too, noticed the uneven sound of the room...up close it didn't sound so good, dead center all the way back sounded the best to my ears.
---





By Mr.Tofu Head (Shakedown63) on Tuesday, August 18, 2009 - 04:19 pm: Edit Post

They did play Nothing You Can Do, an old 70s Great Southern tune. Too bad no Seven Turns or Bougainvillea, sweet Betts-penned songs.

I don't remember Change My Way Of Living, can anyone confirm that one from the setlist?
---





By 1st one's named Sweeeet Emily (Odessablue) on Tuesday, August 18, 2009 - 04:24 pm: Edit Post

The Great Southern tunes are not familiar to me...so I'm no help there, just going on what was printed...I'll post a pic of the setlist when I get home, can't confirm what was actually played though...

From looking at past show setlists I kinda feel like they print the same setlist every night and just play whatever they want when they get to the stage...
---





By SHASTADAVE (Funlovin) on Tuesday, August 18, 2009 - 05:07 pm: Edit Post

Glad you guys had a great time. If it wasn't a Monday and I wasn't so burnt from a long weekend, would have made it down. I saw Dickey at Winterland w/out the brothers back in 77 or so and several times w the bros in the 80s and he is one of the best....Its so sad he no longer plays w the ABB....cuz they just are not the same with out him...he has the best tunes in my humble opinion...thanks EM for the review...and sweet photos of that guitar on Facebk
---





By Mr.Tofu Head (Shakedown63) on Tuesday, August 18, 2009 - 08:07 pm: Edit Post

This is a great review, re-posted from Other Stuff. A correct setlist follows. There are several songs on the previous setlists that I could not remember hearing, because they were not played! I am glad that my memory is still mostly intact.

Thanks for the review!

Here is a Slims show review and setlist from the ABB site.

Excellent show last night, in fact, I am quite blown away by what I just witnessed. After the occasional stories being passed around here of Dickey being drunk and/or verbally abusive to stage hands, I didn't know what to expect. They had just done four consecutive dates in Southern California, then made the 400 mile bus trip to San Francisco the night before, which to be honest had me a little concerned. Dickey admitted late in the show that they were tired, but I sure couldn't tell. Dickey was certainly NOT substance inhibited last night, nor was his band.

Other than ABB, I had only heard Dickey Betts solo in 1974 in Santa Monica, CA, the Highway Call tour. And there is nothing like hearing Dickey Betts do a Dickey Betts tune. His tremendous tone on his gold Les Paul is still there, his economical, tasty and beautiful solos. Dickey sounded last night like he was in a time machine back in the heyday of The Allman Brothers Band, when he did not try and overplay or overshadow other band members. That may not have always been the case towards the end of his tenure with ABB. He was back to just letting it flow, knowing that a few notes in the right place mean more than one hundred staccato ones.

High Falls was a tremendous, delicate and intricate opener which really made a statement to the 500 or so in attendance to pay attention 'cause this may be a night to remember. Statesboro Blues followed............Statesboro is Statesboro, I've heard it enough times, but a good rockin' version, sung by the keyboard player, who actually sounds a little like Gregg at times. Nothing You Can Do was next, Dickey's first turn at vocals. I was really happy that Dickey dug into the Dickey Betts and Great Southern record (1977?) because I've always loved it since it came out, and "Nothing" was a real nice, funky rendition. Next up was Paradise, a new tune sung by guitarist Duane Betts, Dickey's son. It's a pleasant, country rock flavored tune. Duane has taken some heat here for his vocals but he did a real nice job last night on this, I have nothing negative to say. According to mundeleinhoward it's a new song which Duane wrote. Maybe he needs to keep writing because it was a very nice song. A funky Franklin's Tower followed, and I was wondering who would sing it, but after three or four ecstatic minutes, the band proceeded to break into Blue Sky. Let's face it, NO ONE, even the current ABB lineup, will ever be able to do Blue Sky like Dickey Betts can do Blue Sky. The three guitarists were locked in on the intricate melody lines and Dickey's voice was pleasant. This was the point in the show where I thought that maybe Dickey is in a pretty good place right now. I remember renditions of Blue Sky towards the end of Dickey's tenure with ABB when they were too loud and just overplayed the song. Last night, during the course of the entire show, the volume was reserved, and Blue Sky had the relaxed, easy, country feel of the original version, Dickey dancing around the other two guitarists with his pretty, reserved lead break, never overplaying.

The band then really cranked up the intensity a notch with an absolutely BLISTERING Hoochie Coochie Man, the likes of which I've not heard since I saw ABB do it (with Dickey) way back in 1995. If that didnt' get ya shakin', you had to be in a coma. Bassist Pedro Arevalo delivered some tremendous, intense vocals on the tune...........and most people here already know what a monster musician Pedro is. He proved it again last night.

You Don't Love Me, a good, funky version, the keyboard player with some strong vocals once again. Then came Jessica. I heard ABB do a mind-boggling version of it only three months ago at The Fox in Oakland. But again, there is nothing like hearing the man who wrote it deliver it. The three guitarists once again were locked in for the intricate melody lines, although to be honest, early in the tune it sounded like one of them was dragging just a half-step or so behind for maybe five seconds, and I believe it was Duane. I'll give him a break for one miscue. I wish I knew the keyboard player's name, I'm sure someone will add it for me here, but he delivered a completely fine, Leavell-esque electric piano solo which really added to the authenticity of the tune. Towards the end the band teased several verses of Hendrix' Third Stone From The Sun, a VERY tasty touch. Breaking back into the closing melody of Jessica, Dickey and company had the crowd in the palm of their hands, the three guitarists locked in harmony perfectly. A BLISTERING first set, at which point they left for a 1/2 hour break.

Without going into another song-by-song description, I'll detail highlights of the second set. Frank Hannon of Tesla (Dickey's son-in-law) replaced the most excellent Andy Aledort on guitar for Southbound and added some great fiery solos to the mix. In Memory of Elizabeth Reed was very, very special.........as I said, just nothing like hearing Dickey Betts and band deliver a classic which he wrote. This was a better version than I have heard ABB do in a long, long time and Dickey's current relaxed feel highlighted the intricacies of this tremendous instrumental. The keyboard player stood out once again, choosing to play a very tasty, complex and jazzy electric piano solo where one was used to hearing Gregg Allman's organ. The three guitarists were locked in again perfectly on Liz Reed. The band closed out the second set with a jumping, funky No One To Run With, Dickey picking up a Strat for the only time tonight.

The encore was Ramblin' Man. I've said it enough here, but it bears repeating: Hearing Dickey do the song live reminded me of what a great tune it really is, Dickey being in such a good place right now, never overplaying, very true to the tune's emotional vocals and pretty, economical guitar lines.

Dickey Betts and Great Southern delivered a 2-1/2 hour show, three hours with a 1/2 hour break. Good to hang with you Seth (sheep) and Scott, and let's do it again soon.

FIRST SET

High Falls
Statesboro Blues
Nothing You Can Do
Paradise
Franklin's Tower>Blue Sky
Hoochie Coochie Man
You Don't Love Me
Jessica

SECOND SET

Back Where It All Begins
Southbound
One Way Out
In Memory of Elizabeth Reed
No One Left To Run With

ENCORE

Ramblin' Man


And here's a whole lot of great photos:

http://www.allmanbrothersband.com/modules.php?op=m odload&name=XForum&file=viewthread&tid=96757
---





By 1st one's named Sweeeet Emily (Odessablue) on Tuesday, August 18, 2009 - 11:40 pm: Edit Post

.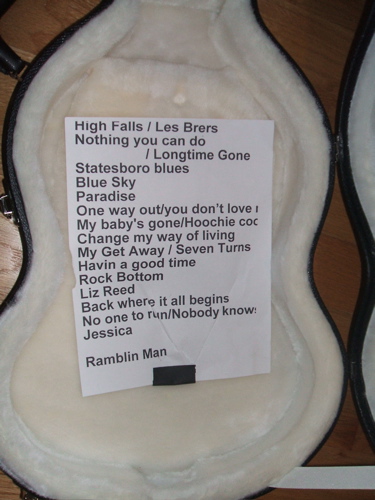 .
---





By ___________________WINO__ (Spatlese) on Sunday, August 23, 2009 - 11:06 pm: Edit Post

NICE !!!
---





By ...we just ride (Turtle) on Thursday, September 03, 2009 - 06:55 pm: Edit Post

really bummed i was on vacation when he came thru.