2012-09-02 ~ Phil & Friends Ramble, Grate Room, TXR
---
Philzone.org - Philzone Phansite Community Discussion Board: Setlists and Reviews: Phil Lesh & Friends: 2012: 2012-09-02 ~ Phil & Friends Ramble, Grate Room, TXR
---





By Rob Scalcione (Rscalcione) on Monday, September 03, 2012 - 04:51 am: Edit Post

Phil Lesh and Friends
Last Ramble of the Summer
Sun. 9-2-12
Grate Room, Terrapin Crossroads
San Rafael, CA

Phil Lesh - bass, vocals
Jon Graboff - pedal steel, acoustic guitar, percussion, vocals
Mark Karan - guitar, vocals
Neal Casal - guitar, vocals
Adam MacDougall - keyboards, vocals
Joe Russo - drums

Set 1 8:25pm - 9:35pm

Alabama Getaway JGR
Mississippi Half-Step NC >
Jam >
Brown Eyed Women JGR
Deal MK
It Must Have Been The Roses NC
Easy Wind MK (Traffic "Dear Mr. Fantasy" riffs) >
Cold Rain & Snow PL

Set 2 10:35pm - 12:40am

Jam >
Althea NC
St. Stephen all >
The Wheel all >
Estimated Prophet NC >
Eyes of the World PL
Death Don't Have No Mercy MK
Bird Song PL
Turn On Your Lovelight MK (w/MK "Terrapin rap")
E: Donor rap
Summer Days MK

Set list by Robert Scalcione
---





By Spencer Stewart (Warf_rat) on Monday, September 03, 2012 - 12:23 pm: Edit Post

Thanks for the Set list Bobby. The Phans appreciate it.
---





By Jake Blues (Blues_power) on Monday, September 03, 2012 - 03:53 pm: Edit Post

smokin' show last night. the entire 2nd set absolutely rocked and is one big highlight from start to finish. some of the most lush, velvety and textured jamming that i've heard in a while.
---





By Stuck Between Hope And Doubt (Canyon) on Monday, September 03, 2012 - 06:56 pm: Edit Post

Another night of Big Fun for us at the Crossroads! Going in I already known that I liked this version of Phil's Friends from listening to the recording of Thursday's show, so it was just a matter of set list.I was hoping to hear some more obscure summer related covers but this was a (mostly) GD night, not that there is anything wrong with that.

The entire show was well-played. Phil really leading the action, ebbing and flowing the music in different directions, familiar and new at the same time, searching for the sounds indeed. All these years with Phil and he always keeps it fresh with interesting approaches to the music we all love so much.

Personal highlights were the beautiful Must Have Been The Roses, Neal did a fantastic job on the vocal and it really was a true thing of beauty. Phil crushed the opening line of Cold Rain and Snow, rarely have I seen Phil put so much emotion into a lyric, that was powerful indeed. Pretty powerful version of Death Dont Have No Mercy, Mark did a great job on the vocal, always one of my favorites to hear live(especially considering the survivors on stage)

Really enjoyed the St.Stephen, Estimated>Eyes and Bird Song and of course all the sweet jams and transitions. As usual I didn't hear all these teases that others seem to hear but it seems its always that way. Once again I'll add that Adam Macdougall is a treasure, I am now a big fan of his style. Hope we see him will Phil a whole lot more(Neal too)

Glad we made the effort, thought I was going to have to miss this entire run but glad we went to the show.

As always a pleasure to see the Crossroad regulars and all the new and old Zoners I got to meet. Always a pleasure when the crowd is as good as the music...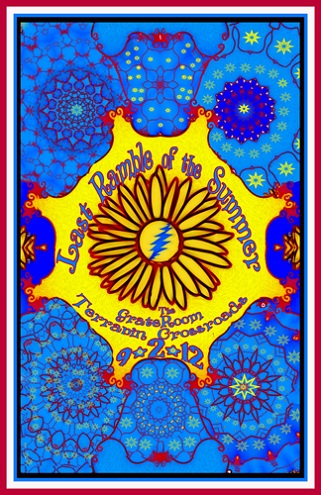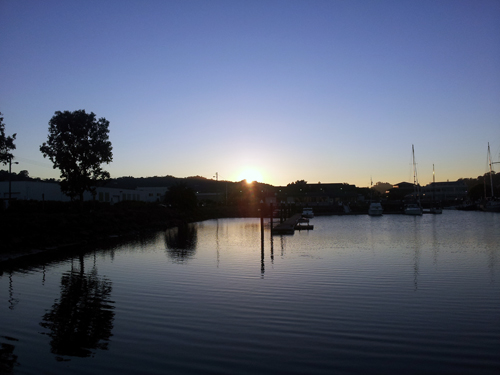 Crossroads Canal at sunset

you can download the show here
http://bt.etree.org/details.php?id=558256
---





By Rob Scalcione (Rscalcione) on Thursday, September 06, 2012 - 05:58 pm: Edit Post

Great review Canyon. A few thoughts on Set 1 - Graboff working the mic and acoustic guitar like Buddy Holly to kick it off with a jumping Alabama Getaway, and then like the other nights, some stellar vocals from Neal Casal, most notably Mississippi Half Step and It Must Have Been The Roses. Many noting the tenderness in his voice and his conintued sensitivity to the lyrics and phrasing. He so takes his time and digs into the words, great stuff.

First set however really kicked into overdrive with the raunchy Easy Wind, Mark's growling vocals were spot on all night and this was a beauty. Some of us heard some Rolling Stones song riffs in the jams (Can't You Hear Me Knocking, & Monkey Man), but most obvious was the Dear Mr. Fantasy Jam that Traffic used to do live towards the end of the tune. It was blazing. This jam led into a ripping high energy Cold Rain & Snow and Phil got his growl on too.