2012-11-09 ~ Wellmont Theatre - Montclair, NJ
---
Philzone.org - Philzone Phansite Community Discussion Board: Setlists and Reviews: Phil Lesh & Friends: 2012: 2012-11-09 ~ Wellmont Theatre - Montclair, NJ
---





By Starkdar (Starkdar) on Saturday, November 10, 2012 - 05:55 pm: Edit Post

Set 1:
Jack Straw
Loser
Mama Tried
Mr. Charlie
Pride of Cucamonga
Crazy Fingers (Jason Crosby on fiddle*)
Bertha
Cumberland Blues

Set 2:
The Wheel *
Magic Bus
Going Down the Road Feeling Bad*>
Life is a Carnival!!
Uncle John's Band *
Mountain Song
Wharf Rat>
Scarlet Begonias>
Fire on the Mountain

E: Lovelight!
---





By Cossmiiiccc Cha leeee (Cosmiccharlie) on Saturday, November 10, 2012 - 07:39 pm: Edit Post

fiddle player on bertha too he smoked.sat in on keys with chimenti as well. nice show very different sound than other phil and friends shows ive been to. looking forward to roseland and special guest. Doesnt sound like "furthur without bobby" to me. 2 cents.
---





By Starkdar (Starkdar) on Sunday, November 11, 2012 - 09:20 am: Edit Post

Both the 8th and the 9th shows smoked! Pretty much full-on solid start to finish. I didn't notice any meltdowns at all. Huge, positive vibe on stage. Crosby ripped on Crazy Fingers and everything he played. Magic Bus and Life is a Carnival were two rock solid covers!! Very upbeat. The floor did get crowded Friday and I must say we were really surprised at how few people were dancing hard on the floor. Struck us really weird how most people were just standing there. I suppose they're taking it in but I can't recall being at a "Dead" related show where people were not in full gigdown mode. Maybe it's a Jersey thing? Anyway, we had a blast and are looking forward to Port Chester!! Have fun tonight all. Loved the band Hugfest after the show Friday. Noticed Jackie picking Jeff up off the ground, then vice versa! Man are they having a good time!
---





By Alan Powell (Rippleish20) on Sunday, November 11, 2012 - 01:32 pm: Edit Post

These were great shows to say the least. The 7th and 9th were amazing and were heavily influenced/energized by Jackie Greene. The 8th was good but not as good (to me) and sounded more Furthur like than the other two. Jason played on fiddle on everything from Crazy Fingers to GDTRFB and then joined in later playing organ and keyboard; he was great and added a lot. The crowds varied quite a bit. The 7th and 9th had younger crowds, the 8th was a much older crowd in general. Crowd was not very animated in general. I personally thought the dynamics between JK and Jackie were interesting. Jackie appeared to annoy or intimidate JK but John started to be more aggressive by the third show.
---





By dan k (Phunky58) on Sunday, November 11, 2012 - 04:32 pm: Edit Post

this show absolutely rocked, the boys meant business tonite and it showed bigtime. locked in. i was dancin up a storm couchtour style.. thx taperrob
---





By scott gibson (Sgibson) on Sunday, November 11, 2012 - 09:02 pm: Edit Post

My vids are being uploaded to my YOUTUBE Channel sgibson818
Enjoy & Share them.
---





By Starkdar (Starkdar) on Tuesday, November 13, 2012 - 08:29 am: Edit Post

Love the vids Sgibson! Checking 'em out now!
---





By Chuckm (Cmonk4406) on Wednesday, August 14, 2013 - 08:50 am: Edit Post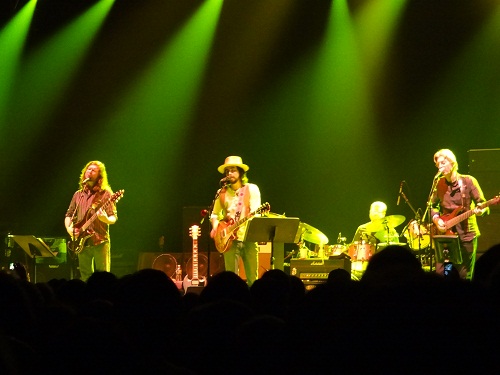 11/9/12 PLF Wellmont