2015-02-07 ~ P&F GD 1970 - TXR, CA
---
Philzone.org - Philzone Phansite Community Discussion Board: Setlists and Reviews: Phil Lesh & Friends: 2015: 2015-02-07 ~ P&F GD 1970 - TXR, CA
---





By Administrator (Admin) on Sunday, February 08, 2015 - 06:53 pm: Edit Post

Thanks Quinfolk!

Phil Lesh & Friends
1970 Grateful Dead Tribute
Saturday February 7, 2015
Grate Room
Terrapin Crossroads
San Rafael, CA

Phil Lesh – bass, vocals
Stu Allen – guitar, vocals
Scott Law - guitar, vocals
Jason Crosby - keyboards, fiddle, guitar, vocals
Cody Dickinson - drums, keyboards
Alex Koford – drums
Ross James – guitar, harmonica & vocals

History Lesson: 1970

Acoustic:
The Monkey And The Engineer
Friend Of The Devil
Black Peter
Electric:
Casey Jones
China Cat Sunflower>
I Know You Rider
Hard To Handle
Me & My Uncle
Cryptical Envelopment>
Drums>
The Other One>
Cryptical Envelopment>
Attics Of My Life
Good Lovin'>
Drums>
Good Lovin'
Cold Rain & Snow
Dark Star>
Saint Stephen>
Not Fade Away>
Turn On Your Love Light
Donor Rap
E: Candyman
Walkin' The Dog
Cocaine Blues
Band Intros & Blessing

Listen:
https://soundcloud.com/quinfolk/sets/1970a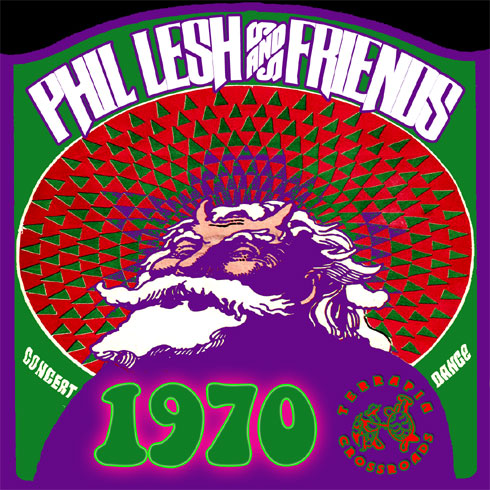 ---





By It's me, Dave, open up! (Davesnothere) on Monday, February 09, 2015 - 10:49 am: Edit Post

Yes, thanks Quinn for the capture and upload.

The long electric set is the setlist from 5/24/70, the GD's first European show. Great show! Phil was beaming throughout the evening.

The crowd was really respectful during Attics. It was a sublime show moment. I wasn't sure how it would come across in the recording, but you can tell when people finally "hoot" after the "wings to fly" line just how quiet they'd been the whole time. Ambitious 3-part harmony on the almost completely acapella tune, and well done. Worth a listen.
---





By Nugstradamus (Oaksterdan) on Wednesday, February 18, 2015 - 06:50 pm: Edit Post

Phil & Friends 1965, 1966, 1967, 1968, 1969, 1970 video's are all up on youtube...

https://www.youtube.com/user/loon1972/playlists