As you probably already know, Philzone.com along with Phil's management asked the fans to honor Phil's birthday and his deadication to organ, blood, and food donation by giving blood or food or signing an organ donor card on his birthday, this past March 15th. See Phil's Birthday Pages: flash movie & online card.
We were truly touched by the incredible response on the part of phans all over who steped up and happily obliged. Everyone who did something charitable in honor of Phil's birthday and wrote in to us about it received exclusive pre-release access to this incredible soundboard recording from November 30, 2003 at the Tower Theater in Upper Darby (outside Philly), PA. Some of those folks even won Phil & Friends posters & some were even signed! (To see the contest winners, click here).
We owe gratitude to those people that donated on Phil's birthday. It is only because of them & their generosity that we all have this soundboard. We ask that if you enjoy this soundboard that you too give blood or food (click here for info), or at the very least sign a donor card. Of course, we also owe thanks to Phil and the whole crew. THANKS!! This show kicks some major ass!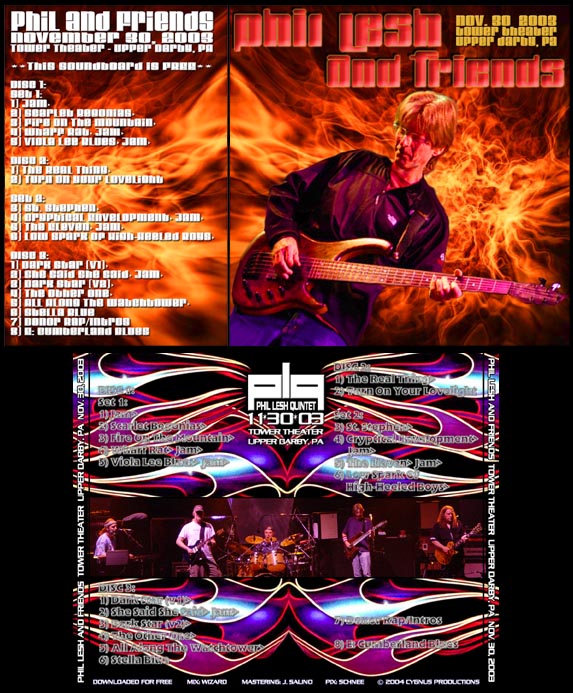 Download FLAC Decoder / Download SHN Decoder
Broadband users: We highly recommend using the above BitTorrent (BT) links.
It is the new, fast, easy, reliable, and best way to easily download entire shows.
Downloads involve first downloading a small application, then you get the whole show with one click!
For more info on BitTorrent go to here. BitTorrent downloads are also available from:

Users with 56K or lower connections: You should line up trades via traditional means
through discussion boards at Philzone.com or DeadNetCentral
Information on how to conduct trades can be found here.