ZONE OUT with the ROLLING RIDER
< < ~ ~ - - > > x )( < < ~ ~ - - < < ~ ~ - - > > )( x x ((< < - - ~ ~ - - > >)) x

Comes a Time
A Tribute to Jerry Garcia
Greek Theatre, Berkeley
September 24, 2005
_____________________________________________________________

"To everything turn turn turn
there is a season turn turn turn
and a time for every purpose under heaven"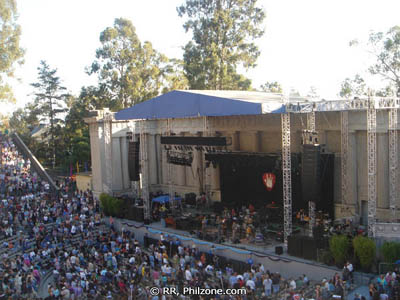 Most inhabitants are merely barnacles on the whale of Mother Earth. It is a case of nominae temporis pulvis: 'names are but the dust of time', surely to be whisked away by the passage of days.
As the faithful of all ages entered the Greek Theatre, it was plain as day that Jerome John Garcia is a name not soon to be forgotten.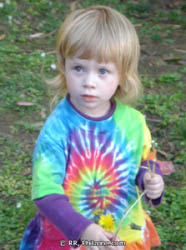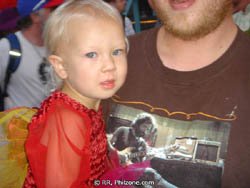 Festooned with regalia fit for some kind of bodhisattva or psychedelic prince, the university venue was not picked haphazardly. It was chosen carefully as one of our community's sacred sanctuaries, and as a mecca of mind expansion.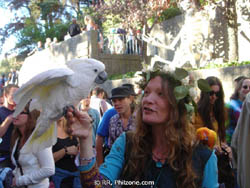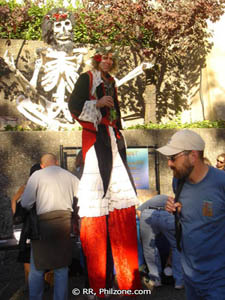 As Phil was across the globe escorting his son to college, the venue reminded us of the weight of his mission. The Greek was a giddy family reunion, collective minds opened up like wintry flower petals to the blazing sun.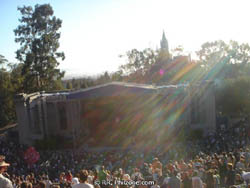 Acoustic Sets:
"Looking back I still remember, I was proud to be his friend"
After David Nelson and Sandy's Rothman's acoustic set which included OH THE WIND AND RAIN, String Cheese incident surprised us with a rendition of CATFISH JOHN. Perhaps truer words were never spoken about the old man:
"Come the morning I'd always be there, walkin' in his footsteps"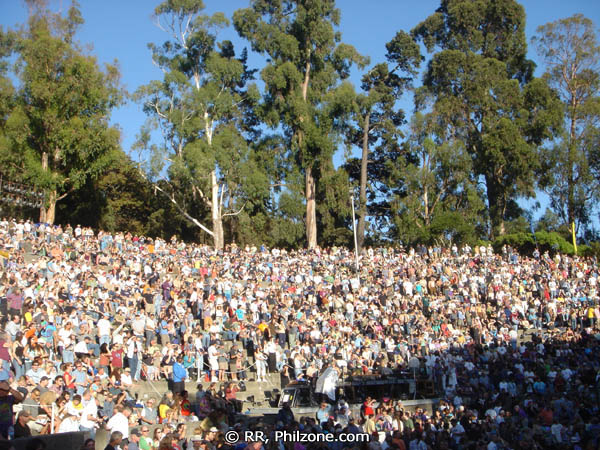 The 'Jerry Band'
"Got no thought to relate in that same old way"
Core members Melvin Seals and the Jerry Girls, along with Donna Jean, Billy K, and MVP Stu Allen, opened up with a flawless CATS UNDER THE STARS followed by the elusive RHAPSODY IN RED. "Takes me way back, where I don't mind/Takes me way back, in my time"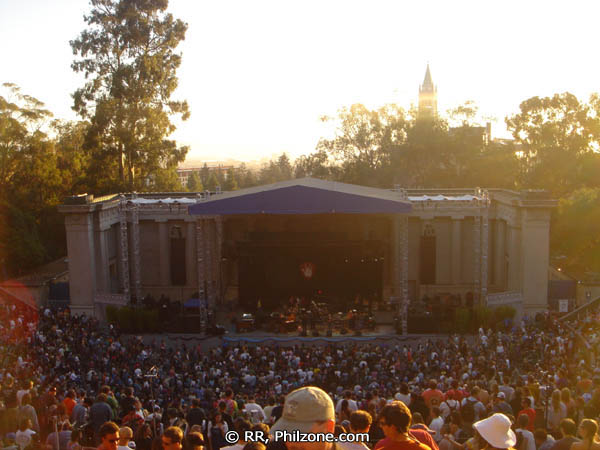 After a mellifluous LUCKY OLD SUN and the family anthem SISTERS AND BROTHERS, the first tear-jerker of the day ensued. Melvin helped to the keyboard one of Jer's dearest pals, Merl Saunders, for a rip-roaring DEAL.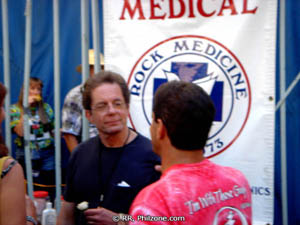 After Jerry's diabetic coma in 1986, it was Merl who taught him how to play again, via the tune 'My Funny Valentine'. Merl remembers: "I let him know I loved him. I wasn't there because he was Jerry Garcia. When I first met him, I never did know he was Jerry Garcia till about a year later. So he knew I wasn't around because of that"
Ratdog
"Never quite catch the tune
Stars fall down in buckets like rain"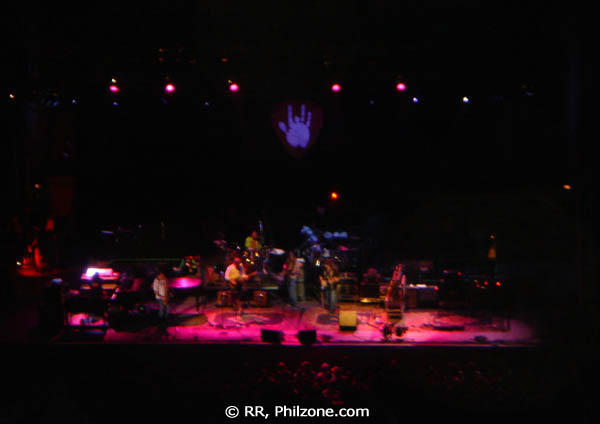 Ratdog didn't waste a moment, pairing MISSISSIPPI HALF STEP with a brilliant BIRDSONG. "If you hear that same sweet song again, will you know why?"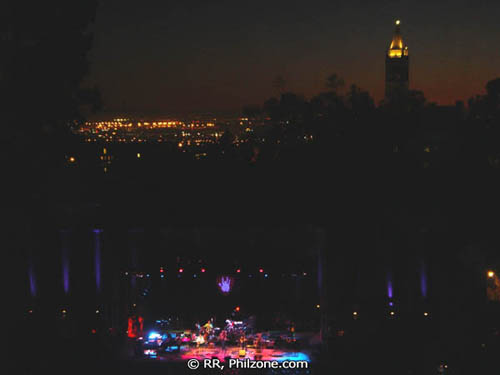 However, this was a day for unearthing the rarest of relics. Bobby deftly threaded the needle right through the eye with LAZY RIVER ROAD, working a seamless stitch between bright blue boxcars and BIG RAILROAD BLUES.


The Jerry Garcia Tribute Band
"A scrap of age-old lullaby down some forgotten street"
A drum procession began, led by Hamza El Din and Mickey Hart, and the Vista Cruiser set its course for HELP ON THE WAY, with Trey Anastasio at the helm.
Almost immediately, there was a power failure, and the house sound was completely out, eliciting chills, confusion, and laughter.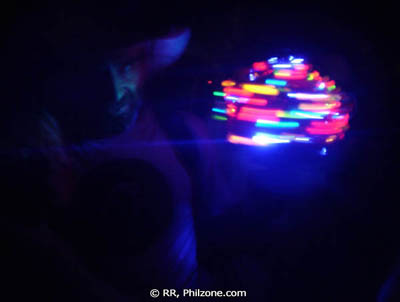 Warren Haynes took the reins for SUGAREE, and Bruce Hornsby anted up with LOSER. Keeping with the first-set Jerry-gem motif, Michael Kang led us through BROWN EYED WOMEN. Suddenly, it seemed as if this event, which by its very nature would be something Jerry himself might cringe at, was a musical force to be reckoned with...
DARK STAR>BERTHA set us up for the 'clean up' spot in the order, that big moment in a show where the crowd is waiting for the boys to knock it right out of the park. The coach called from the dugout Trey Anastasio, grinning like a Cheshire cat, as he stepped to the mic for a graceful, elegant EYES OF THE WORLD, looking like a child given the keys to the candy store.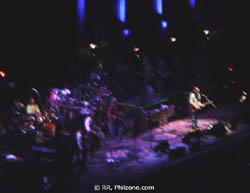 Hornsby's version of STANDING ON THE MOON was backed by Trey, and filled in with Bobby's signature, mind-bending chords. During Bruce's take on the crescendo of I'd Rather Be with You, at the risk of sounding trite, it felt as though we were channeling Jerry Garcia stronger than ever, ever before.
SCARLET BEGONIAS kicked in, and the crowd became delirious. There was Wavy Gravy grooving, and wait, it's another of Jerry's best pals, 6-foot-11 inch gentle giant and NBAer Bill Walton!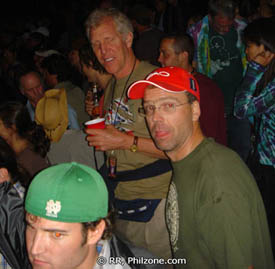 What's the connection between hoops and the Dead's improvisation? Walton explains: "It's the creativity, it's the electricity, it's the speed, it's the teamwork, it's the going back and forth, it's the intra-squad competition to see who can take it the furthest."
Mickey did his FIRE ON THE MOUNTAIN rap, and we all knew the inevitable moment would come: the slow-Jerry slot. No one can fill those shoes, so Warren Haynes' role was not an envied one, having to conjure up the emotion of STELLA BLUE, haunting, lonely, and crying like the wind.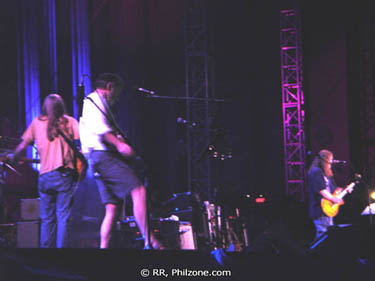 It was time for Grateful Dead 101 in the form of WHEEL>UNCLE JOHN'S BAND, drawing all the musicians from the night on stage. Bobby offered HE'S GONE, and Trey ended the seat with an upbeat FRANKLIN'S TOWER.
After Bobby's heartfelt BROKEDOWN PALACE, he tied up the DARK STAR, setting off, as if by magic, resplendent fireworks into the Berkeley horizon.
Someone next to me joked that the kaleidoscopic liquid bursts were Jerry's laughter, or some bodily function I can't recall.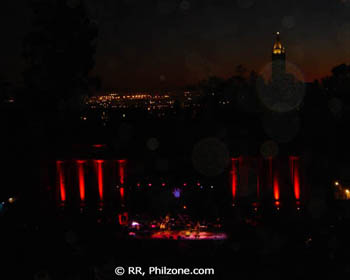 A smile on every face. We are an infinite family, in a small world. When Bobby sent us wandering into Berkeley after the show with TOUCH OF GREY, it was not just lip service. This family, this community, will survive.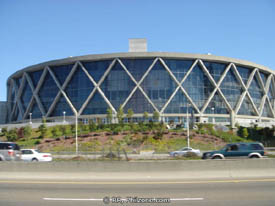 On my way to the airport, I took this snapshot out of the car window, the last on the roll, to take something of Jerry Garcia with me.
I thought of Robert Hunter's elegiac words, "we'll know you live inside us, with love that never parts/our good old Jack O' Diamonds become the King of Hearts".
See You in Vegas,
The Rolling Rider
< < ~ ~ - - > > x )( < < ~ ~ - - < < ~ ~ - - > > )( x x ((< < - - ~ ~ - - > >)) x

On The Rox - Denver Philmore & Red Rocks
Weekend - July 15-16, 2005

~ > > ~ ~ - - < < ~ ~ - - > > )) (( < < - - ~ ~ - - > > )) (( < < - - ~ ~> >