ZONE OUT with the ROLLING RIDER
< < ~ ~ - - > > x )( < < ~ ~ - - < < ~ ~ - - > > )( x x ((< < - - ~ ~ - - > >)) x

The Mardi Gras Ball
January 26, 2008
_____________________________________________________________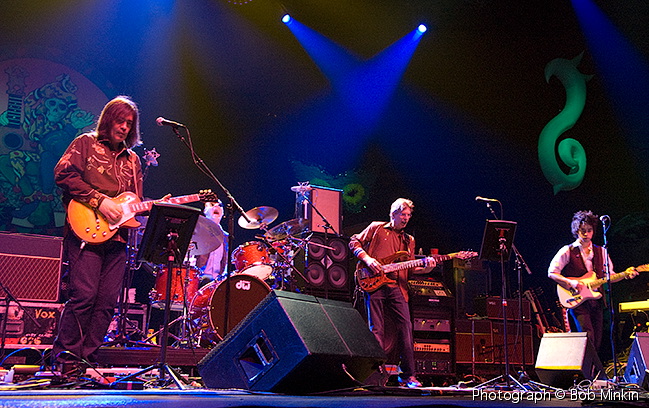 Bill Graham Civic Auditorium - San Francisco, CA
January 26, 2008
Set I: "Everybody's dancin' in a ring around the sun/Nobody's finished we ain't even begun…"
It's hard to believe that forty (40) years ago to the day, the Grateful Dead had gathered in Seattle with the Quicksilver Messenger Service for a marathon New Potato> Born Cross-Eyed> CAUTION. Sensing time travel may still be possible, I entered the Bill Graham Civic as the Floats were being tirelessly created, our community exhibiting that uncanny knack to come together whether during times of deepest trial or profound joy.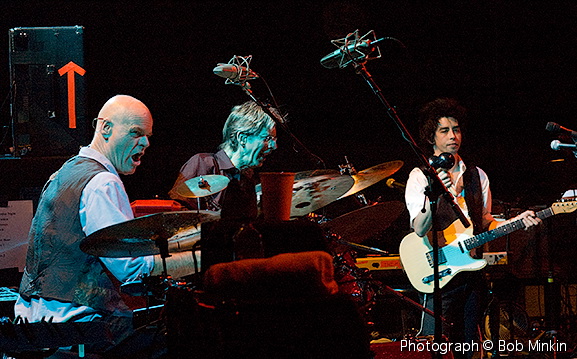 We burst out of the gate to ONE MORE SATURDAY NIGHT, and it was evident the boys meant to move mountains: "Writ in fire across the heaven, plain as black and white". BROWN-EYED WOMEN reached the most secret region of our hearts, with a tip-of-the-cap to the man who gave the best he had to give til' his dying day: "Gone are the days when the ox fall down/he'd take up the yoke and plow the fields around".
All week I'd been out on the porch picking through the chords to PRIDE OF CUCAMONGA, hoping we'd be graced with a tune not broken out until Red Rocks 2004, thirty years after its release. It was, indeed, majestic, as Larry Campbell's pedal steel shone as we raced toward the border along with the protagonist, "sixty days or double life, hail at my back like a shotgun blast, high wind chimes in the night".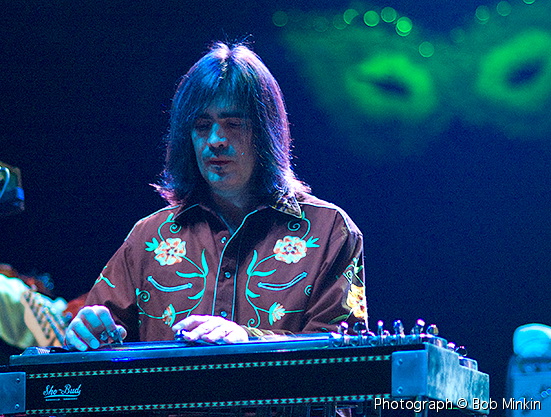 Perhaps no song generated such collective delight as the very first song from the very first album, aptly titled THE GOLDEN ROAD TO UNLIMITED DEVOTION. Unable to match any specific dance step to match my enthusiasm, I jumped skyward like a Ugandan warrior as we sang en masse, "See that girl barefootin' along, whistlin' and singin' she's a-carryin' on".
Firing up the vista cruiser and setting the dial to hyperspace, the band launched into MIDNIGHT HOUR, Jackie and Larry joining in a musical conversation started by Pigpen in 66'. VIOLA LEE BLUES seemed inevitable, Phil's signature on those particularly epic evenings, which he interpolated with a CAUTION JAM, harkening back to the heyday of 1/26/68 Seattle where they played it forty years ago to the date.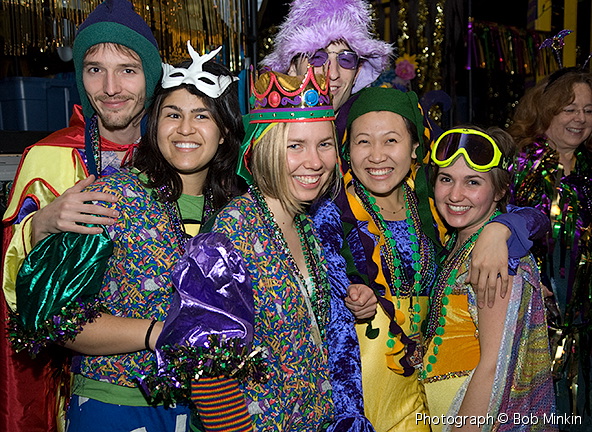 Set II: "My spy dog see your spy dog, Gonna set your tail on fire…"
As the Floats readied themselves to wander and high-step into town, I stood in awe of the beautiful and glorious revelers, strands of garland and flowers adorning wheels and Mother Earth. Phil called for SHAKEDOWN STREET, his bass crackling like a thunder cloud. Alas, the time had come, and Ivan Neville joined in on a seemingly never-ending IKO IKO, performers and crowd bleeding into one as the Floats milled about the crowd like enormous, rumbling partygoers. Confetti cannons blasted off and the colorful Clown Prince of the Counterculture Wavy Gravy tossed the traditional beads to the deadicated.
Everyone from the builders of the floats to the costumed dancers - anyone who had a hand in this event from the meticulous planning to the party itself - deserves infinite thanks. You showed what our scene is really all about - a celebration of love, kindness, and community.
TRUCKIN'>JACK STRAW kept to the theme of Grateful Dead 101, and my mind fixed on a rather poignant and apropos lyric, "Busted - down on Bourbon Street/Set up - like a bowling pin". As Robert Nesta Marley once said, "Good friends we've had, or good friends we've lost, along the way". Certainly, more than one of us would have liked to have absent loved ones present for such a glorious event.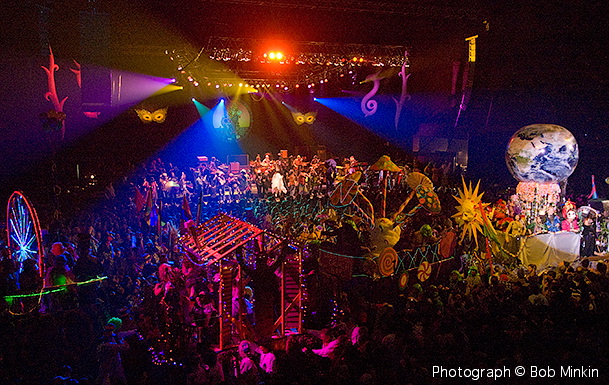 No attempt at time travel would be complete without our flagship coupling of ST. STEPHEN>THE ELEVEN JAM, spinning that curious sense of your own. Phil's query of "What would be the answer to the answer, man?" summoned a radiant response in UNBROKEN CHAIN, the current configuration of Phil and Friends giving this crown jewel a lustrous polish as they reminded us that "forgiveness is the key to every door". This truly was a night like forever.
FIRE ON THE MOUNTAIN>I KNOW YOU RIDER once again conjured up thoughts of Garcia, the dragon with matches loose on the town, an elliptical mirror of the Chinese New Year's Dragon which led this year's parade. Phil offered us a haunting rendition of MORNING DEW, first played in 1967 at the Golden Gate Park Human Be-In. UNCLE JOHN'S BAND closed the set, and though the current political mud-pit had slipped from my conscious, it took center stage with the line, "Their walls are built of cannonballs, their motto is 'Don't tread on me".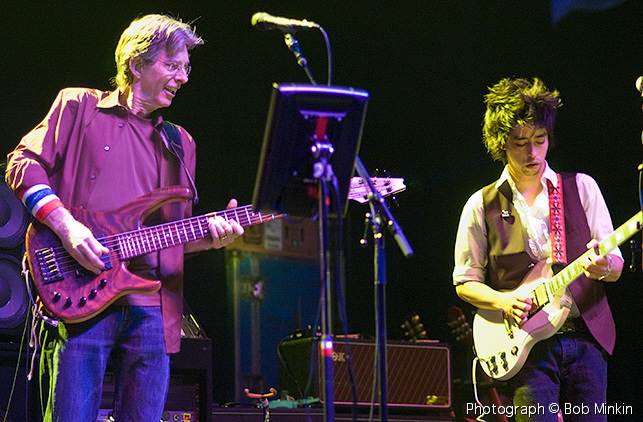 Before the BOX OF RAIN encore, Phil brought Jen Setzekorn to the stage, wife of Jeff Setzekorn, a long-time head who died last month in a car accident but so far has saved four lives as an organ donor. Another beautiful remembrance at the soul of a passing brother, which Phil punctuated with the lyric, "What do you want me to do, to do for you to see you through?"
It seemed like only the next day I was in front of the computer, refreshing the Ticketmaster website in a frantic attempt to score tickets for something that emerged at the speed a rumor flies, Deadheads for Obama: Bob, Mickey, Phil & Friends at the hallowed Warfield Theatre on 2/4/08. Whatever your political affiliation, certainly they're ain't no time to hate. The boys are coming together one more time, and it promises to offer the same sense of community and pride and family values we hold sacred.
See you at the Warfield,
The Rolling Rider
2/2/2008
PS. Lest we forget one of our reasons for being here, I leave you with poem by Paul Kantner written for Uncle Bill Graham:
.....Love Haight
.....At the Fillmore Late
.....With a broom in his hand
.....He made the world a safer, better place
.....For our tribe
.....And our band."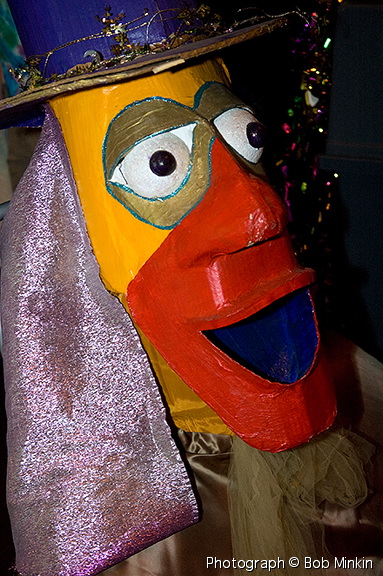 Thanks to Bob Minkin for the gorgeous photos!

< < ~ ~ - - > > x )( < < ~ ~ - - < < ~ ~ - - > > )( x x ((< < - - ~ ~ - - > >)) x

Happpy Birthday Jerry - 8.1.06

~ > > ~ ~ - - < < ~ ~ - - > > )) (( < < - - ~ ~ - - > > )) (( < < - - ~ ~> >