.
ZONE OUT with the ROLLING RIDER
< < ~ ~ - - > > x )( < < ~ ~ - - < < ~ ~ - - > > )( x x ((< < - - ~ ~ - - > >)) x

Phil's Septuagenarian Celebration!
Bill Graham Civic Auditorium, San Francisco, CA
March 12, 2010
_____________________________________________________________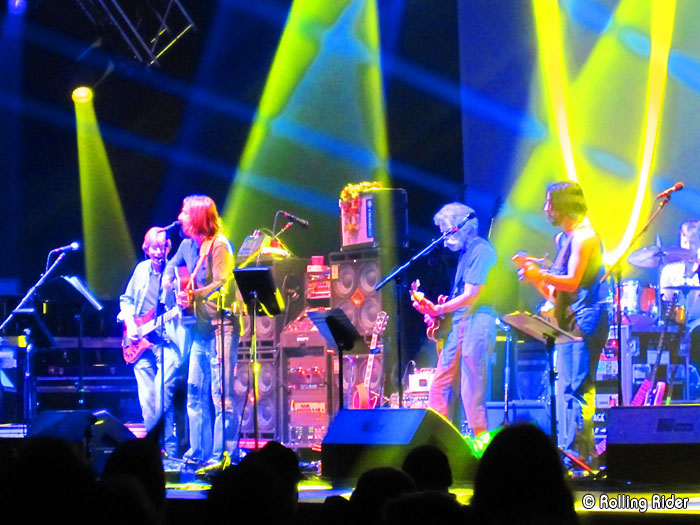 2010 has ushered in a real renaissance, and it's only fitting Phil marked his septuagenarian celebration in SF where our musical family formed forty-five years ago. Flanked by his familiar partner in the rhythm section and a salt-of-the-earth lead, Phil and Furthur are traversing uncharted terrain.
After being pilloried on our discussion boards in between moments of fawning adulation, Phil even came out of the woodwork to dispel some ugly rumors. Jerry, as Hunter remarked: "I feel your silent laughter at sentiments so bold." In other words, although the old man wouldn't have been caught dead in that kind of public repartee, the paradigm has shifted with the Philzone experience.
I, for one, was glad to get back on the road to Denver for what brings us together in the first place: the music! The sequence to open up set two said it all. MUSIC NEVER> WHEEL> UNBROKEN captured the generous heaping of shows bestowed on the faithful so far this year, and the familiar first note to SHAKEDOWN sounded a crystalline statement on the scene there. First played in Colorado in '78, it is the band's signature of approval on a city's hospitality.
Saturday night included an unlikely interstellar pairing, DARK STAR finding its way to Dark Side of the Moon with TIME, Pink Floyd's lament of the rapid passing of hours with age, and "half a page of scribbled lines." Its ensuing coda, BREATHE REPRISE, encapsulates our journey rather well:
Far away across the field
The tolling of the iron bell
Calls the faithful to their knees
To hear the softly spoken magic spells
From there, the boys bookended verse 2 of DARK STAR, posing the quintessential query, "Shall we go..., you and I while we can?" Judging by the recent announcement of the Furthur Fest at Mountain Aire and the first leg of a summer tour that ends up with two muggy nights at the legendary Mann in Philly, the answer is a resounding "YES!"
It's Phil's 70th, and if there was ever a time to be grateful, this is it. The loss of Jerry, for ineffable reasons, felt like the loss of a dear family member. Phil has given us another 15 solid years of music for us to build our community around. As we gathered at the Bill Graham Civic in SF to pay our respects, it seemed pretty clear from the get-go that Phil was going to get his birthday wish:
It was a night all about kindness and unity.
The acoustic set featured Chris Robinson's rendition of TWO SOULS IN COMMUNION (!), and set two offered a rollicking VIOLA LEE interpolated by Chris's other Pigpen homage, HARD TO HANDLE. It went back through VIOLA and into Phil's birthday staple, LIKE A ROLLING STONE..., with Phil on the bass this time as opposed to the red Fender Strat he broke out on his 60th B-day at the Kaiser. "You're invisible now, you've got no secrets to conceal..."
Even with Jackie and Chris sharing the brimming stage, this night was just characterized by a palpable feeling of convergence. Set three began with birthday cake parade float festivities, and the Vista Cruiser eventually launched into hyperdrive with an unforgettable ST. STEPHEN into OTHER ONE followed by a beautiful birthday UNBROKEN matched with COMES A TIME..., Chris belting out, "Don't give up..."
Finally, the ultimate 60s surprise, CREAM PUFF WAR, with rare lyrics by none other than the inimitable Jerome Garcia: "Wait a minute, watch what you're doin' with your time..., all the endless ruins of the past must stay behind...!"
If the Dead's past could be likened to endless ruins, then they are Giza-like, a magic and often inexplicable archeology of sacred monuments left behind as signsposts for our current voyage.
Thanks to Phil and to our community as we continue to evolve together,
and as always, see you furthur on the road!
~ Rolling Rider ~
3/13/2010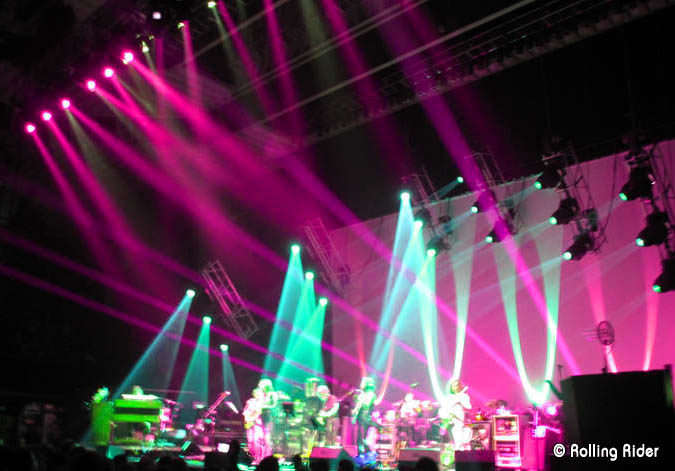 < < ~ ~ - - > > x )( < < ~ ~ - - < < ~ ~ - - > > )( x x ((< < - - ~ ~ - - > >)) x

Full Throckle - Mill Valley FURTHUR - 1.3.2010

~ > > ~ ~ - - < < ~ ~ - - > > )) (( < < - - ~ ~ - - > > )) (( < < - - ~ ~> >