ZONE OUT with the ROLLING RIDER
< < ~ ~ - - > > x )( < < ~ ~ - - < < ~ ~ - - > > )( x x ((< < - - ~ ~ - - > >)) x

Phil Lesh and Friends Mardi Gras Spectacular
Bill Graham Civic Auditorium SF, CA
12 February 2005 - Part 3
_____________________________________________________________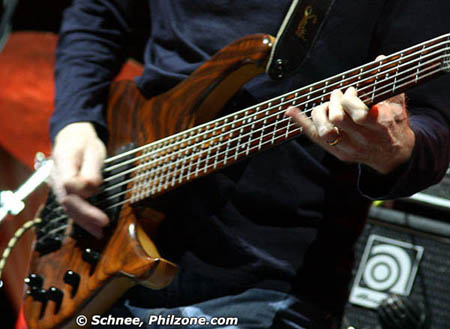 Set Two: "This is all a dream we dreamed, one afternoon long ago"
For a moment we reached the apogee, orbiting so far from earth we
barely lost our toe-hold, as the Mayan pyramid erupted in a volcanic,
diamond-spangled spray of confetti, and then the immediate afterglow of the
Mardi Gras parade felt like the hazy moments after a morning-long dream.
NEW SPEEDWAY BOOGIE served to ground us, even if for a moment, the
carton of milk in our gullets after too much Orange Sunshine, but just when
I thought my gray matter might receive a respite, the first bars kicked in
of a breakout so profound, I was pinching myself.

"Here comes the story of The Hurricane, put in a prison cell but one
time he could've been the Champion of the World." Chris Robinson made me a
fan as he did justice to Bob Dylan's revolutionary epic ballad of Rubin
Carter, nailing every meticulous verse.

One of the most poignant passages came in the falling action, with the
words too often germane to our scene: "when it's over I'd just as soon go
on my way/up to some paradise/where the trout streams flow and the air is
nice/and ride a horse along a trail/but then they took him to the jailhouse
where they try to turn a man into a mouse."

The eyes of the Deadheads were flickering like phosphorescent little
seas as they absorbed another breakout, the Beatles' classic YOU'VE GOT TO
HIDE YOUR LOVE AWAY. It was truly a family reunion: old Uncle Ben down from
the hills, Joey Scungilli grinning like a Cheshire Cat, and Big Wave pensive
like a psychedelic James Dean.

Through the nebula of SPACE, the boys found the familiar notes of
PLAYIN' IN THE BAND for a REPRISE, and surprised even themselves with a
resonant DON'T EASE ME IN. Defying even telepathy, I had a fleeting thought
of SCARLET BEGONIAS, and nanoseconds later they steered the Vista Cruiser
there. "I had one of those flashes, I'd been there before."

At midnight, when ugly rumours had it that curfew would turn our heroes
into pumpkins, instead we heard a thunderous BROWN SUGAR, my old man's
favorite. You had to admit it was appropriate for Mardi Gras, with the
opening phrasing, "Gold coast slave ship bound for cotton fields/sold in a
market down in New Orleans."

It must have been just around Midnight, because the groove guru
Houseman boarded the stage, in natty cream top-hat and tails, and gave us an
Old School AFTER MIDNIGHT into THE MIDNIGHT HOUR. Phil was visibly impressed
during his DONOR RAP, and after some words from the heart of compassion, it
was time for a lullaby.

First, though, the meat and potatoes came, in the form of US BLUES, and
on this night, certainly no one was afraid to wave their freak flag Wide and
High. For our recessional, bathed in emerald green light, BOX OF RAIN, as
always, reached in and grabbed a hold of you.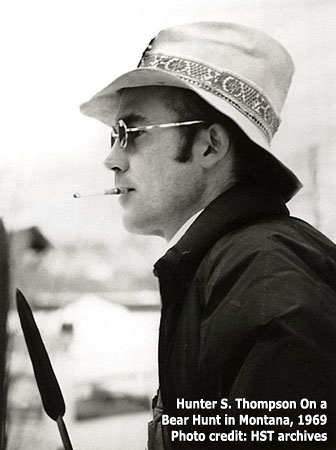 Epilogue: "Mahalo, Dr. Thompson"
Barely eight suns had risen when the fabled Hunter S. Thompson made his Hemingway exit from our pages, and our periphery, but surely not our consciousness. At the risk of sounding cliché, our community has literally
embodied his mantra, "when the going get weird, the weird turn pro" for forty-plus years and counting.

When I learned of his wish of wanting his ashes to be blasted from a cannon, my colleague reminded me of his obvious penchant for the thrill of gunpowder. I couldn't help but offer the confetti blasters atop the Mayan pyramid, as our parade was a symbol of the Personal Freedom so sacred to the Good Doctor.

I've heard Hunter S called a Literary Grateful Dead Concert, and it's
no wonder. To read him was like watching Jer "flickering in and out of the
woodpile." As his flagship work ends:

"We had all the momentum; we were riding the crest of a high and
beautiful wave. So now, less than five years later, you can go up on a steep
hill in Las Vegas and look West, and with the right kind of eyes you can
almost see the high-water mark, the place where the wave finally broke and
rolled back."

The wave may have finally broke and rolled back, but the legend will
die hard.
- Rolling Rider
< < ~ ~ - - > > x )( < < ~ ~ - - < < ~ ~ - - > > )( x x ((< < - - ~ ~ - - > >)) x

P&F Mardi Gras Spectacular - 2/15/05 - Part 2

~ > > ~ ~ - - < < ~ ~ - - > > )) (( < < - - ~ ~ - - > > )) (( < < - - ~ ~> > - -
x )( < < ~ ~ - - < < ~ ~ - - > > )( x